Is there anything better with a cold beer than mac n cheese? Maybe jalapeños, which really do make this just about the best appetizer you can serve for a football party! Just to warn you: Once you make this for a crowd, it will become the number one request of you for all future gatherings.
Things You'll Need
1 ½ cups (packed) shredded cheddar cheese (plus additional for topping)

1 tablespoon cornstarch

½ teaspoon garlic powder

½ teaspoon salt

½ cup whole milk

1 (5 ounce) small can evaporated milk

1 cup elbow macaroni

12 large jalapeños
Step 1
Preheat oven to 350F°.
Add the cheddar, milk, evaporated milk, cornstarch, salt and garlic powder to a blender. Blend until smooth.
Step 2
Simmer the cheese sauce until thickened.
Step 3
Boil the macaroni until al dente.
Step 4
Add the cooked macaroni to the cheese sauce and stir until well combined.
Step 5
Cut the jalapeños in half lengthwise, then remove the seeds. Add the jalapeños, cut-side up, to a baking sheet.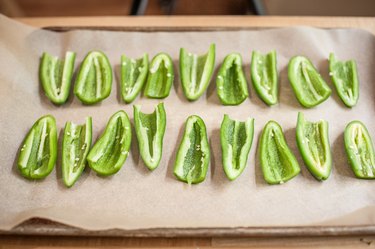 Step 6
Fill the jalapeños with mac n cheese, then top with cheese.
Step 7
Bake for 15 minutes at 350°F.
Step 8
Add to a serving platter, serve warm. Enjoy!