You've found it – your new favorite dipping sauce, marinade and do-it-all condiment. It takes about five seconds to throw it together, and it can pull triple duty in the kitchen (or at the backyard grill). Although you might just be hearing about it now, it has actually been around since 1925. This delicious sauce is so addicting that I suggest you make a double batch!
Video of the Day
Things You'll Need
1 cup mayonnaise

1/4 cup apple cider vinegar

2 tablespoons brown sugar

1 tablespoon mustard

1 teaspoon lemon juice

2 teaspoons horseradish cream

1/2 teaspoon salt

1/2 teaspoon black pepper

1 teaspoon garlic powder

1/4 teaspoon cayenne pepper
Step 1: Mix
Add all of the ingredients to a mixing bowl and stir to combine.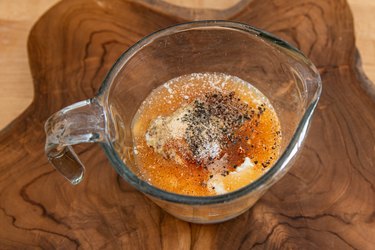 Step 2: Blend
If the sauce isn't as smooth as you'd like, use an immersion blender to smooth it.
Step 3: Serve