If you're looking for a healthy snack, try this artichoke white bean dip recipe. It's easy, delicious and calls for just a few minutes of your time. Plus, many of the ingredients are canned goods and kitchen staples, which means you can throw this together whenever you please. It doubles as a budget-friendly party dip, too! Read on to learn how to make it.
Video of the Day
Things You'll Need
15-ounce can white kidney beans, drained

15-ounce can whole artichokes, drained

1/4 cup olive oil

1 to 2 tablespoons fresh lemon juice

1 tablespoon minced garlic

1 teaspoon dried oregano, thyme or rosemary (or a mix)

1 teaspoon salt

1/4 teaspoon ground black pepper

Reserved artichoke water (if necessary)
Step 1
Wrap the canned artichokes in a paper towel and squeeze out the excess water. Canned artichokes hold a lot of water, so this is an important step.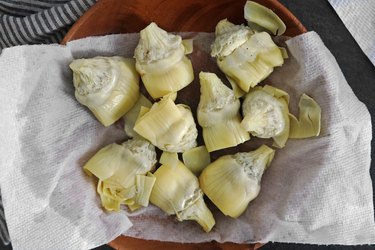 Step 2
Add the artichokes, white kidney beans, garlic, lemon juice and spices to a food processor. Don't add the olive oil just yet.
Step 3
Pulse the food processor until the ingredients are thoroughly combined.
Step 4
Slowly add olive oil as you continue blending the mixture. Thin with reserved artichoke water, if needed.
Taste the dip and adjust as necessary. Feel free to add more lemon juice, minced garlic or spices, depending on your preference.
Step 5
Garnish the artichoke white bean dip with a drizzle of olive oil and fresh or dried spices. Serve with pita bread, veggies or your favorite crackers.