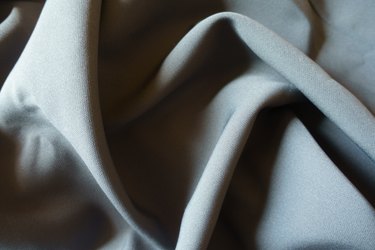 Use a standard iron to remove viscose wrinkles. Image Credit: apugach/iStock/GettyImages
Viscose (also called rayon) is one of the most frequently used textiles on the planet, but this smooth, luxurious fabric wrinkles easily. Using a viscose iron setting is one of the best ways to remove these imperfections but only if you know which setting that is. It is also important to never ball or fold viscose because the wrinkles quickly settle into the material.
Video of the Day
Viscose Iron Setting
Experts agree that viscose wrinkles easily and that it can be ironed if the proper precautions are taken. As with any delicate fabric, you should read the label before laundering or ironing. You should iron the material while it is still slightly damp. The proper viscose iron setting is that for silk or rayon. As an added protective measure, place a clean piece of cotton cloth on top of the viscose and iron on that. Doing so keeps the viscose away from direct heat.
Be sure to check that you chose the right viscose iron setting before ironing and keep the iron moving quickly over the material. Using too high of a heat setting or using direct heat could ruin the clothing. You can keep lifting the iron and checking the viscose to make sure you are not damaging it.
You may also be able to use the iron's steam function to get creases out of viscose as long as the heat is not too high. A steamer is another option, but you may have to touch up the material with your iron afterward. Remember that viscose does not do well with a lot of heat, so be careful.
What Materials Are Wrinkle-Free?
Viscose clothing is inexpensive and durable and has that desirable silklike appearance, but you might want to try some other clothing materials if you don't like to spend time ironing. There are other clothing materials that are less prone to wrinkling. If you travel a lot, these are great options to consider.
The first choice of many experts is wool, which is very wrinkle-resistant. Of course, it is not always practical in hot weather, but it is a perfect choice for the fall and winter. Polyester is another good pick, as this soft and synthetic fabric is also durable and inexpensive.
Synthetic, cotton and wool knits (especially thicker ones) are also less likely to crease and wrinkle. Lyocell is a less familiar name, but you may be familiar with its brand name, Tencel. This semisynthetic form of viscose has a nice feel and is machine-washable. Other alternatives include spandex and cashmere. Cotton is cool but is known to wrinkle.
Tips for Better Ironing
Some people actually like to iron and are good at it, but many people would benefit from some helpful ironing tips. For starters, never iron dirty clothing because any stains will get worked into the fabric. Use a full-size ironing board and place as much of the material onto the board as possible. Work from the outside in and from the sides to the center, as this is the best way to get out wrinkles.
Do not overiron a garment because this can damage the clothing. Some wrinkles are frustratingly hard to iron out, but going back and forth with the iron and using excess pressure is the wrong move. Instead, spritz on a bit of water, use the steam function or try some ironing spray. As a last resort, you can dip a bit of vinegar into those stubborn creases and try ironing them again.