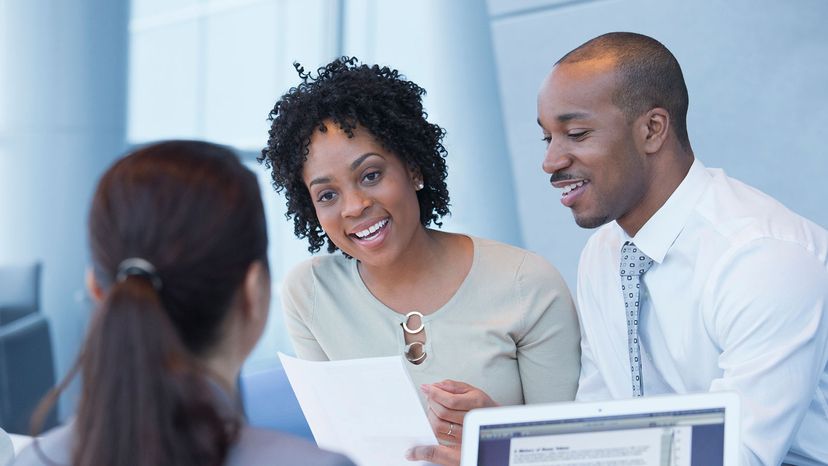 "Refinancing your mortgage can often be a good thing but make sure you do the math first. Ariel Skelley/Getty Images
If you already have a home mortgage, but want to pay less each month, refinancing could be a good option to pursue. Take pains to do your research, though, because although it seems like a no-brainer, refinancing isn't an obvious win for everyone.
"There are a lot of things that go into refinancing," says Tony Garcia, market manager for Wells Fargo Home Mortgage, such as the cost involved in the actual refinancing process, as well as the fact that many such transactions lengthen the time frame of the average mortgage. "With rates where they're at [around 2.625 percent for a 30-year fixed rate mortgage in September 2020] it makes a lot of sense for some customers. For [others], you're better off staying where you're at because you have a great loan now," he adds.
So, how do you know which side of the fence you fall on? Use the indicators below to figure out if refinancing is a good option for you. Consider refinancing:
When You Can Get a Better Deal
The main thing that typically piques a homeowner's interest in refinancing is a lower interest rate. Experts say you should consider a refinance if the rate is at least one-half to three-quarters of a percentage point lower than what you currently pay.
"Generally speaking, refinancing when interest rates are low could reduce your overall interest payments, depending on the length of time you had your loan," says Michelle McLellan, senior vice president and product management executive, Home Loans with Bank of America in an email interview. "If you bought your home a few years ago and rates were higher than today's market rates, and/or you have an adjustable-rate mortgage (ARM) and plan on living in your home for more than just a few years, you might want to consider refinancing to a lower fixed-mortgage rate." (An adjustable-rate mortgage typically has a very low interest rate at the start of the loan that tends to increase after a certain number of months or years. A fixed-rate mortgage has the same interest rate throughout the entire life of the loan.)
Don't forget to factor in how much you'll pay in additional closing costs for your new mortgage, which are generally 2-5 percent of the amount of the loan. If you save $200 a month with your new loan but the additional closing costs are $10,000, then it will take 50 months – that's more than four years – to break even. (You divide the closing costs by the monthly savings to determine how long it will take to break even.) If you plan to move homes before this time period is up, refinancing may not make sense.
When You Need Cold, Hard Cash
Sometimes, refinancing is a great option if you have big bills to pay off. Many consumers turn to cash-out mortgage refinancing in such cases, which allows them to draw on their home equity and get cash in return to pay other bills their savings account simply can't foot. But crunch the numbers beforehand, though, to make sure it's really a win-win.
"Consider refinancing when the cost to refinance is lower than other types of financing [like a home equity loan] to save in interest over the life of the loan, consolidate debt, pay for home improvement projects, college, health expenses or other major purchases," McLellan explains.
When You're Ready for a Term Change
A lot of people opt to refinance in order to change the terms of the original loan, whether it's to move from a 30-year to a 15-year loan, or to go from a fixed interest rate to an adjustable rate or vice versa. Again, this choice is highly specific to an individual's situation.
"Fixed-rate mortgages tend to be the most popular because they protect homeowners from the possibility of future monthly payment increases, but they are not for everyone," McLellan says. "An ARM can be beneficial to a homeowner who plans on moving in a few years or would prefer to pay a lower monthly amount initially." Since people's situations and goals change periodically, it's worth revisiting from time to time whether the terms of your loan are copacetic with where you currently stand personally and financially. For instance, you might be able to save a bundle in interest payments long-term if you switched from a 30-year to a 15-year mortgage; if the interest rate has fallen significantly from when you took out your original loan, your monthly payments may not change or change only slightly.
Once you've figured out your end game, as well as a desired monthly mortgage budget, you'll have some talking points to go over with a potential lender. Garcia recommends sitting down with someone you trust, whether that's your credit union or bank to discuss if a refinance makes sense for your needs and situation.
"If [the homeowners] have a great interest rate now they may not want to change that," Garcia says, adding that it could pay off instead to look at different alternatives to financing, such as a home equity loan or a car loan. "It's not a one size fits all scenario; no two customers are the same. All have different goals and needs."
HowStuffWorks may earn a small commission from affiliate links in this article.
Now That's Helpful
Even people going through bankruptcy proceedings may be able to refinance, provided the rules are followed, which vary by state. While in the Chapter 13 bankruptcy process, a person isn't normally allowed to accrue any form of new debt. So, if refinancing during this time is something you'd like to do, be sure to consult your attorney and the court to follow all the appropriate steps.