Faux sheepskin rugs are so trendy right now. They are super plush, and can take a room from bleak to chic in a snap! They also get dirty pretty easily and can be a little tricky to clean. While real sheepskin can usually be tossed in the washer and dryer for cleaning, the heat of hot water or the dryer can ruin a faux sheepskin rug. Follow these easy steps to clean your faux sheepskin rug without the worry.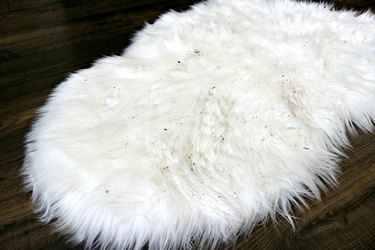 Things You'll Need
Large tub

Cold water

Castile soap
Step 1: Fill a large tub with cold water.
You could also do this in a bathtub or sink. Add 3 tablespoons of Castile soap. Castile is a plant based soap that will help lift any dirt or stains out of the rug.
Step 2: Completely submerge the rug in the water.
Step 3: Use your hands to work the soapy mixture into the rug.
Use your fingers to work any dirt and stains out gently.
Step 4: Rinse in cold water.
Be sure to rinse any particles that may have attached to the rug during this step.
Step 5: Wring out excess water, leaving the rug damp.
Step 6: Lay flat or hang to dry.
Warning
Never put a faux sheepskin rug in the dryer because they are typically made with flammable material.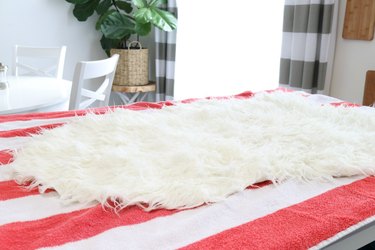 Step 7: Once dry, shake the rug to fluff.
You can also use a soft brush to fluff the rug.