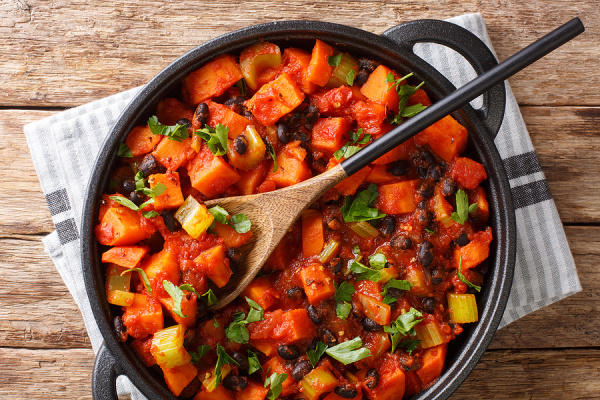 Whether you bake, roast, air fry or throw them in a casserole, there are plenty of delicious ways to enjoy sweet potatoes. Not only do they have a naturally sweet flavour, they're also packed with nutrients and vitamins that are beneficial to your health. Their deep orange colour is thanks to beta-carotene, an antioxidant that's essential for your health, plus they're low in fat and calories, making them great weight loss warriors. We can all benefit from getting more sweet potatoes in our diets, so take a look at our favourite healthy sweet potato recipes to try this fall.
4 Health Benefits of Sweet Potatoes
1. Weight Loss
Not only are sweet potatoes low in calories and fat, they're also known to reduce your appetite. They're loaded with fibre, which makes you feel full for longer, and helps you steer clear of overeating and unnecessary snacking between meals. Sweet potatoes are considered a low-glycaemic food, which means they don't cause an instant spike in blood sugar levels, helping maintain weight efficiently. Unstable glucose levels can cause conditions like obesity and diabetes.
2. Rich in Vitamin A
Vitamin A is important to your health for a number of reasons. It's essential in helping the body fight off infections, and it's important for vision, growth, cell division and reproduction. Sweet potatoes are rich in the vitamin and are an important source of vitamin A because they contain the antioxidant beta-carotene. It can protect the body from free radicals, slow down cognitive decline and keep your lungs healthy.
3. Gut Health
The fibre and antioxidants present in sweet potatoes are beneficial for your gut. They contain both soluble and insoluble fibre and since your body can't digest either type, it stays within your digestive tract and provides a variety of gut-related health benefits. Some types of soluble fibre absorb water and soften your stool, while certain types of insoluble fibre don't absorb water and add bulk. The antioxidants in purple sweet potatoes also stimulate the growth of healthy gut bacteria.
4. Help Manage Stress
Sweet potatoes are a significant source of magnesium, which is known to have calming effects on the brain. It helps reduce stress and anxiety and can improve sleep. It plays an important role in your nervous system, benefitting your neurological health. Magnesium deficiency has been linked to depression, mood disturbances and headaches, so if you have high stress and anxiety, magnesium is essential.
3 Tips for Cooking Sweet Potatoes
1. Cook with Thinner Sweet Potatoes
When you're at the grocery store, do you naturally try to find the biggest, fattest sweet potatoes? Although this may seem like the way to go, using thinner sweet potatoes offers a much better cook. While baking, the heat will uniformly cook even the very centre of the thinner potatoes, whereas with fatter potatoes the outside will be done before the centres have a chance to cook.
2. Poke Holes
Be sure to poke holes into your sweet potatoes when baking them. This allows steam to escape, otherwise the sweet potato could explode. Sweet potatoes are full of water and the skin acts like a pressure vessel. If you don't let the steam escape, it builds up pressure and can pop the skin.
3. When Roasting, Cut Into Chunks
Roasted sweet potatoes are the perfect addition to a salad, or to be used as a side to a main. Cut them into large chunks- around 1-inch, and make sure not to crowd the pan. Roast at 425 degrees Fahrenheit. This is hot enough to crisp the outsides and allows the flavours to caramelize and concentrate. Cutting them roughly around the same size will ensure all the pieces cook evenly.
12 Baked Sweet Potato Recipes
1. Baked Sweet Potato with Avocado Cilantro Lime Dressing | Love and Lemons
2. Roasted Sweet Potatoes with Brown Sugar | Chelsea's Messy Apron
3. Mediterranean Baked Sweet Potatoes | Minimalist Baker
4. Baked Sweet Potato (Sweet or Savoury) | Spend with Pennies
5. Perfect Roasted Sweet Potatoes | Cookie and Kate
6. Roasted Sweet Potatoes with Honey and Cinnamon | Food Network
7. Quick Baked Sweet Potato | A Couple Cooks
8. Perfectly Seasoned Roasted Sweet Potatoes | Downshiftology
9. Twice-Baked Sweet Potatoes | Barefoot Contessa
10. Spiral Sweet Potato Bake | Recipe Tin Eats
11. Dessert Baked Sweet Potatoes | Eating Bird Food
12. Garlic Parmesan Roasted Sweet Potatoes | Eat Well 101
12 Air Fryer Sweet Potato Recipes
1. Air Fryer Sweet Potato Fries | Delish
2. Air Fryer Baked Sweet Potato | Vegetarian Mama
3. Best Damn Sir Fryer Sweet Potatoes | Recipe Teacher
4. Crispy Air Fryer Sweet Potato Fries | Skinny Taste
5. Air Fryer Sweet Potatoes- 3 Ways | Momma Fit Lyndsey
6. Fluffy Sweet Potato in the Air Fryer | The Typical Mom
7. Air Fryer Sweet Potato Chips | Mealthy
8. Cinnamon Honey Glazed Air Fryer Sweet Potato Bites | The Millennial SAHM
9. Air Fryer Japanese Sweet Potato Fries | Rachl Mansfield
10. Easy Air Fryer Crispy Crunchy Sweet Potato Fries | Stay Snatched
11. Air Fryer Seasoned Sweet Potato Wedges | Mad About Food
12. Air Fryer Sweet Potatoes with Hot Honey Butter | My Forking Life
12 Vegan Sweet Potato Recipes
1. Curried Sweet Potato Lentils | The Full Helping
2. Sweet Potato Black Bean Burger | Minimalist Baker
3. Carrot Ginger Sweet Potato Soup | Stacey Homemaker
4. Easy Vegan Chilli with Sweet Potatoes | Delish
5. Sweet Potato Pizza Crust | From My Bowl
6. Sweet Potato and Black Bean Tacos | Cookie and Kate
7. Sweet Potato and Beet Wild Rice Salad with Tarragon Vinaigrette | Rhubarbarians
8. Sweet Potato Salad with Tahini Dressing | Loving It Vegan
9. Sweet Potato and Black Bean Enchiladas | Stacey Homemaker
10. Roasted Sweet Potato Sushi | Connoisseurus Veg
11. Naan Pizza with Pesto and Sweet Potato | Shivani Loves Food
12. Sweet Potato Peanut Noodles | Stacey Homemaker
12 Casserole Sweet Potato Recipes
1. Pecan Sweet Potato Casserole | Cookie and Kate
2. Sweet Potato Casserole with Marshmallows | Spend with Pennies
3. Mini Sweet Potato Casseroles | The Full Helping
4. Sweet Potato Casserole with Brown Sugar Topping | Pinch of Yum
5. Savoury Sweet Potato Casserole | Southern Living
6. Buffalo Chicken and Sweet Potato Casserole | Erin Lives Whole
7. Sweet Potato and Sage Butter Casserole | Martha Stewart
8. Sweet Potato and Turnip Gratin | Epicurious
9. Spiralized Sweet Potato Spaghetti Casserole | Cotter Crunch
10. Southwest Sweet Potato Casserole with Chorizo | The Cozy Apron
11. Sweet Potato Casserole with Coconut Pecan Topping | Favourite Family Recipes
12. Sweet Potato Casserole with Black Beans, Kale and Quinoa | Happy Kitchen
Sweet potatoes are delicious, healthy and perfect for fall. Use these recipes to impress even your toughest critics!