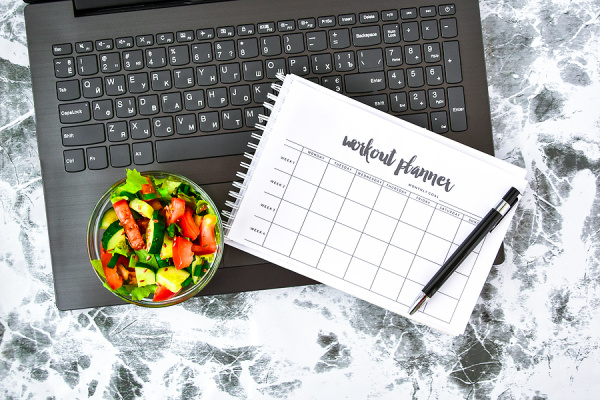 Working out midday can increase your efficiency and focus, boost your productivity and reduce stress levels. But if you've ever done a lunchtime workout, you know it can be tough to stick to. That's why we've rounded up our best tips and favourite exercises to help you stay on track. Creating a lunch workout routine allows you to establish a genuine work-life balance and helps reinvigorate you for the rest of your work day! Whether you work from home or from the office, check out our best tips and exercises.
How to Create & Stick with a Lunch Workout Routine
1. Schedule It
Workouts need to be scheduled and prioritized or else they're usually the first to go out the window. If you can, schedule your lunch workout around the same time each day and make sure you have about 20 to 40 minutes to dedicate to it. On busy days, you may only be able to do a 15 or 20 minute workout, but if you carve out more time, you'll have the extra buffer room.
2. Prep Your Gear
If you work from the office, no-equipment workouts will be your best friend, however if you work from home, having a few pieces of equipment will be super helpful. Dumbbells and a workout mat will help you get the most out of your lunchtime sweat seshes, as will extras like resistance bands and kettlebells.
3. Find Exercise Routines You Love
You'll be more likely to stick to your lunch workout routine if you're doing a workout you enjoy. If the thought of running outside makes you anxious, try an at-home HIIT workout, or if you love yoga or Pilates, work those into your routine. The more excited you are for your workout, the less likely you'll be to skip it.
4 Lunch Workout Routine Essentials
1. Wireless Headphones
Wireless headphones are a game changer when it comes to at home or office workouts. You don't have to worry about disrupting anyone else and they allow you to listen to your workout video as loud as you like. They're perfect for lunch workouts when there may be others around and you just want to do your thing.
2. Dumbbells
Dumbbells are small and easy to store or even bring with you if you work out at the office. They're key to building muscle and toning up so should be part of your lunch workout routine at least a few days a week!
3. Water Bottle
It's key to stay hydrated while you're working out to ensure your body temperature is regulated and that you're getting enough fluids. You lose fluids when you sweat, so it's important to replace them by drinking water before, during and after your workout. This will reduce the risk of heat stress, maintain normal body function and maintain performance levels.
4. Resistance Bands
Resistance bands are another great piece of equipment as they're easy to store and travel with. They allow you to do a number of versatile workouts, from yoga to resistance training.
How to Look Good After a Lunch Workout
1. Workout with Your Hair Up
Before you start your workout, pull your hair into a ponytail, bun or braid. You want to keep your hair off your neck, which will not only help you stay cool but prevent your hair from getting too sweaty and greasy. Use a scrunchie or spiral elastic so you don't get the dent that often comes with a rubber hair band.
2. Use Waterproof Makeup When You Can
Waterproof makeup is a blessing for those who workout at lunch. While waterproof mascara is a staple in every gal's makeup bag, they also make waterproof eyeliner, eyeshadow, bronzers, and foundations. If you're planning a lunchtime sweat sesh, waterproof makeup is key.
3. Dry Shampoo
If you don't have time to wash your hair after your workout, stock up on dry shampoo. Blast your hair with a hairdryer immediately post-workout to evaporate the sweat, then apply the dry shampoo. Avoid spraying it right on top of your head so you don't see the powder and massage it with your finger tips for a refreshed look!
8 Pre- and Post-Workout Snacks and Meals
1. Carbs For Pre Workout Fuel
Fuel up before you exercise by eating healthy carbohydrates such as whole grain cereals, whole wheat toast, whole grain pasta, brown rice, fruits and vegetables. These are all easily digested carbs that won't make you feel sluggish.
2. Protein for Post Workout Repair
You should eat foods with protein post-workout to help repair and grow your muscles. Protein prevents the loss of lean mass, which contributes to a muscular and toned appearance. Think: a healthy chicken salad, quinoa bowl or whole grain toast with eggs and avocado.
Grab-and-Go Pre-Workout Meals and Snacks
1. Berry Fruit and Yogurt Granola Parfait | My Kitchen Craze
2. Fresh Strawberry Parfait with Cottage Cheese | Easy Peasy Creative
3. Pre-Workout Energy Boosting Smoothie | Amy Savage Nutrition
4. Healthy Egg Muffin Cups | Show Me The Yummy
Make-Ahead Post-Workout Meals and Snacks
1. Avocado Tuna Salad | Healthy Maven
2. Sweet Potato Protein Bars | The Lean Green Bean
3. Paleo Chicken Hash | Wicked Spatula
4. Sweet and Salty Trail Mix | Neighbour Food Blog
4 Lunch Workout Routine Videos You Can Do Anywhere
20 Min Home HIIT Workout | No Equipment, No Noise, No Impact | Natacha Oceane
This is a 20 minute fat burning HIIT workout that you can do anywhere! It's a no equipment, no noise and no impact workout that's easy to follow along. All you need is yourself and a little bit of space for exercises like explosive halo slams, alternating knee strikes and single leg body saw crunches.
Office Break Yoga | 14 Min. Yoga Practice | Yoga with Adriene
If you're feeling a nice midday stretch, this lunchtime workout routine is for you. It will allow you to connect to your breath, focus on your mind and replenish your body so you can move through the rest of your workday with ease and grace. This is a perfect workout if you're short on time and don't want to break too much of a lunchtime sweat!
10 Minute Exercises at Work – Quick Office Workout Routine | 1 Workout a Day
This quick 10-minute workout is perfect to help you take a break and get back your energy and flow. You can do it from anywhere since you don't need any equipment and only need minimal space. You'll work through simple moves like calf raises, squats, side knee lifts and shoulder pulls.
30 Min Full Body Workout | At-Home Pilates | Move with Nicole
This full body pilates workout will sculpt and tone your entire body and is easy to do anywhere. All you need is room for a yoga mat and yourself for a 30 minute class that will make you feel stronger and energized and leave you with a post-workout glow!
Working out midday may require a bit of motivation but these tips and exercises are here to help!