Fall is finally here and you know what that means, right? Time for pumpkin everything! Including chili. This dish made with black beans and pumpkin is healthy, hearty, and sure to please vegetarians and carnivores alike. I love serving this chili with lime wedges, sharp cheddar cheese, fresh cilantro, crunchy tortilla chips, and sour cream.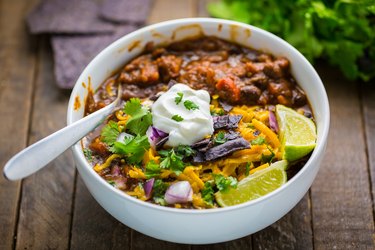 Video of the Day
Things You'll Need
2 tablespoons olive oil

1 teaspoon crushed red pepper flakes

2 medium yellow onions, diced

2 carrots, peeled and diced

1 red bell pepper, diced

1 jalapeno pepper, minced

5 cloves garlic, minced

3 tablespoons chili powder

2 teaspoons ground cumin

1/2 teaspoon ground cinnamon

1 teaspoon salt

1/2 teaspoon cayenne pepper

28-ounce can crushed tomatoes, (1)

1 ½ cups pureed pumpkin

2 cups vegetable stock

15-ounce cans black beans, drained and rinsed, (3)

2 tablespoons fresh lime juice

2 cups shredded cheddar cheese

1 cup cilantro, stems removed

Tortilla chips, for garnish

Sour cream, garnish

Lime wedges, garnish
Tip
For this recipe you can use fresh pumpkin puree or canned pumpkin puree, but not pumpkin pie filling.
Step 1
Heat the oil in a large soup pot over medium heat. Add in the crushed red pepper flakes, onions, carrots, and red bell pepper and saute for 5 minutes, or until they begin to soften and slightly brown. Add in the jalapeno pepper, garlic, and spices and cook for another minute.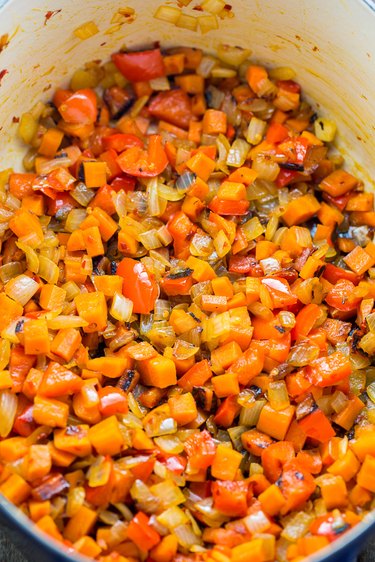 Step 2
Add in the tomatoes, pumpkin puree, vegetable stock, and black beans; stir well to combine. Bring soup to a boil, then reduce the heat, cover, and simmer for 30 minutes, stirring occasionally.
Step 3
Remove chili from heat. Stir in the lime juice. Scoop into bowls, top with cheese, cilantro, and tortilla chips. Serve hot, with extra lime wedges.