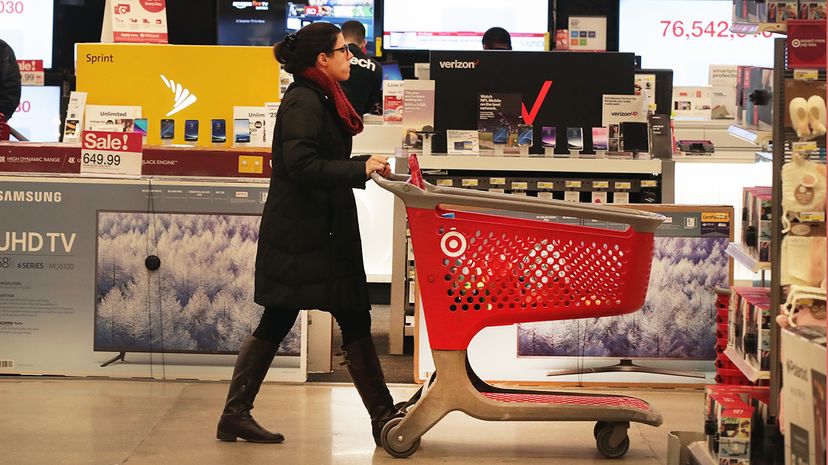 "Customers at many Target stores in the U.S. shop to the background beat of music curated specifically for the Target brand. Scott Olson/Getty Images
If you thought Muzak, the "elevator music" we loved to hate, was a thing of the past, think again. OK … technically, Muzak as a company is gone; it was acquired in 2011 for $345 million by a Texas company called Mood Media. But its focus remains as solid as ever. Why? Because that music you hear in your favorite retailer most likely isn't being played at random.
Muzak launched in 1934 based on a groundbreaking idea called "stimulus production," which was that background music (mostly instrumental music played at very low levels) boosted worker productivity in offices. Based on this idea, the company sold its services to workplaces for decades. Its acquisition by Mood Media, which at the time was the leading provider of sensory marketing (retail music, visuals and scent marketing to help clients drive sales), made perfect sense.
Now, more retailers are banking on that idea to sell their products, and music is a critical component in that strategy.
Target, a client of Mood Media, began experimenting with the idea of curated music playlists in 2011, according to Liz Hancock, a spokesperson for the retail giant. As of July 2017, the company had music in 180 of its stores and was still rolling it out in others.
"Target first tested overhead music in fall 2011 when our Ridgedale store in Minnetonka, Minnesota was remodeled," Hancock said via email. "Guest and team member feedback was almost universally positive. Since then, speakers to play overhead music have been added to our small-format stores, as well as to select locations that have been renovated."
But what's the point? Mood's senior vice president Danny Turner told the Los Angeles Times that its songs help create emotional connections between stores and their customers. Simply playing a popular FM radio station won't cut it because today's brick-and-mortar shopping has to be about the experience.
So, with that much emphasis on personal connections and experiences, it's only natural to wonder: Who's selecting the music? That responsibility is shared between the music provider and the client. Target's Hancock said the two teams collaborate, but wouldn't say to what extent. "Target works with Mood Media to create playlists with music that is upbeat, positive and has a playful personality," she said.
Mood's Turner told the Los Angeles Times he and "dozens" of DJs compile the playlists to complement Target's brand identity, with some input from Target. They follow a similar process for all their clients, which include retail giants like Macys, CVS, Williams-Sonoma and T.J. Maxx, depending on what the store desires.
Of course, to create these curated playlists, it was essential that Mood Media branch out beyond Muzak's modus operandi. Whereas Muzak featured instrumentals of popular music, Mood actually licenses the original pop tracks in their entirety, so listeners hear songs they know. At the time Mood acquired Muzak, the two companies' combined catalog consisted of 1.7 million "rights-included tracks" (that is, licensed songs) and more than 30,000 original recordings, and it continues to grow.
And while Mood Media definitely is not Muzak, it hasn't strayed far from that original philosophy that music helps make emotional connections. Studies have been commissioned over several decades looking at everything from tempo, volume and genre, and how each effects shoppers, including a landmark 1982 study published in the Journal of Marketing that concluded "it is possible to influence behavior with music."
And the timing couldn't be better for companies that want to energize their brands via music. A 2015 study from live event promoter AEG and marketing agency Momentum Worldwide found 93 percent of those coveted Millennials (18- to 34-year-olds) said they like brands that sponsor live music events. Those brands are counting on that to influence their sales.
Now That's Interesting
Mariano's is a Chicago-area grocery chain that has been entertaining shoppers with live music since 2014. It's not unusual to walk into a Mariano's store and hear a pianist's rendition of Billy Joel or The Beatles; the pianist in the Bridgeport neighborhood has even been known to play Britney Spears' "Oops, I Did It Again." A Mariano's pianist named James Callen told the Chicago Reader in 2014 that he tailors his set list based on the demographics of each store where he performs.