If you like to host parties and potlucks, you know what it's like to feed a crowd. One guest likes this but not that. The next person prefers what the first one hates, while another guest is a picky eater. You know how it goes. But thanks to this clever mix & match pull-apart bread, you can please the taste buds of every guest. It features deliciously flaky biscuits coated with six different coatings. Plus, since each variation only calls for 1/2 cup of toppings, it's excellent for using up leftover ingredients. Let's get started!
Video of the Day
Things You'll Need
2 16-ounce cans refrigerated buttermilk biscuit dough (8 pieces each)

1/2 cup (1 stick) butter, melted

Oil or butter for pan

6 topping ingredients (1/2 cup each)
Tip
When it comes to the toppings, anything goes. You'll need about 1/2 cup for each one. For finer ingredients like poppy seeds or dried herbs, you'll need slightly less — about 1/4 to 1/3 cup.
Need some inspiration? Here's what we used in our version:
1/2 cup shredded cheddar cheese + 1 tablespoon taco seasoning
1/2 cup grated Parmesan cheese + 1 tablespoon each dried parsley, dried oregano and minced garlic
1/4 cup chopped ham + 1/4 cup shredded cheddar cheese
1/2 cup dried cranberries + 1 tablespoon fresh rosemary
1/4 chopped olives + 1/4 cup crumbled feta + 1 tablespoon fresh dill
1/4 cup everything bagel spice (or poppy seeds)
Feel free to use whatever spices, herbs and fixings you have on hand.
Step 1
Pre-heat the oven to 350° Fahrenheit.
Liberally grease a Bundt pan with melted butter or oil. Set aside.
Step 2
Split each biscuit in half and roll each piece into a ball. You should have 32 pieces total.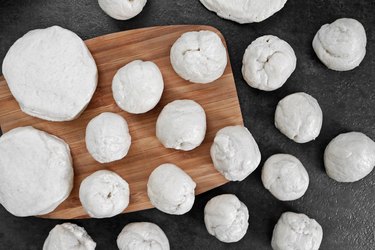 Step 3
Dip each ball into melted butter.
Step 4
Roll balls in toppings until completely covered. Place in the greased Bundt pan.
Step 5
For chunkier toppings like ham and cheese, press and roll the dough to incorporate the ingredients.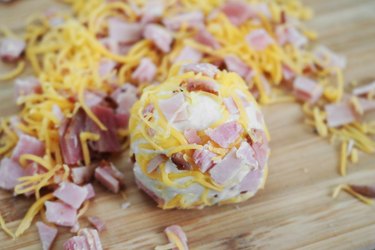 Step 6
Add the second piece of dough next to the first one.
Step 7
Repeat with the remaining dough and toppings. Layer the dough pieces in the Bundt pan, making sure to alternate the coatings. You should have one row on the bottom and two on top. If you have leftover butter, drizzle it on top.
Step 8
Loosely cover the pan with aluminum foil. Bake for 30 to 35 minutes or until golden brown. Let cool for 10 minutes and run a spatula along the sides. Flip the pan upside down to release.
Step 9
If you'd like, leave the golden brown side up to keep the toppings a "surprise." Alternatively, you can flip the bread again to display the various coatings.
Remember, this recipe can be customized as much as you'd like. Other tasty topping ideas include chopped nuts, crumbled bacon or sausage, chopped bell peppers, diced pepperoni, shredded mozzarella and red pepper flakes. Don't be afraid to experiment!