Homemade almond butter is surprisingly easy to prepare at home. With just a few simple ingredients, you can have an all-natural nut butter that's free of preservatives and stabilizers. This recipe comes together in less than 30 minutes, and is a healthy condiment that can be enjoyed all year long.
Video of the Day
Things You'll Need
2 cups raw almonds

1 teaspoon neutral oil (such as vegetable)

1 teaspoon kosher salt (or more to taste)

Optional: 1 tablespoon honey, maple syrup or light agave nectar (or more to taste)

Baking sheet

Food processor
Step 1: Gather Your Ingredients and Tools
Preheat the oven to 350 degrees Fahrenheit. You'll want to use a small amount of neutral flavored oil (such as vegetable, grapeseed, or safflower) to help release the natural almond oils while processing. Salt helps to enhance the flavor. Sweetener is completely optional.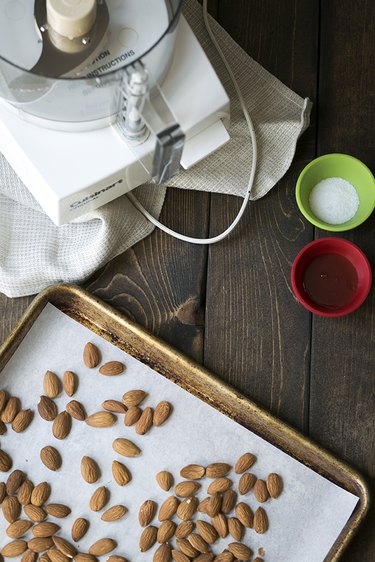 Step 2: Roast the Almonds
Place the almonds on the baking sheet in a single layer and roast for approximately 10 minutes, or until fragrant. Allow to cool briefly. It helps to process them while warm, but you don't want to put the nuts directly into the food processor while they're too hot to touch.
Step 3: Place the Ingredients in a Food Processor
Place the almonds, oil, salt and sweetener (if using) in the food processor.
Step 4: Pulse the Ingredients
Start pulsing the machine to chop the nuts, scraping down the sides several times.
Step 5: Allow the Food Processor to Run for Approximately 7 to 10 minutes
This step takes some time and requires patience. It takes awhile for the almonds to break down completely, and for their natural oils to release. It's a good idea to scrape down the sides once or twice during the process. Also, if the food processor ever feels like it's getting too hot, allow to it cool down for a few minutes and then continue.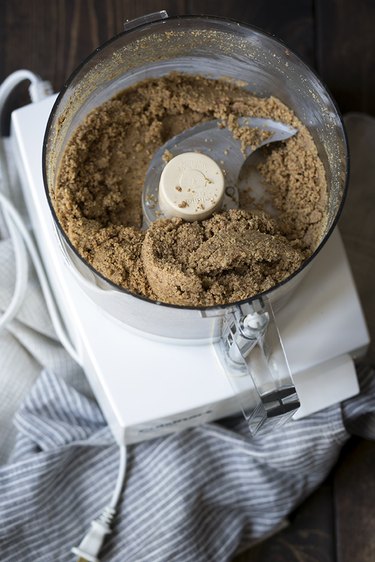 Step 6: Add More Salt and Sweetener, If Desired
The almond butter is ready when it is smooth and creamy. Taste, and adjust the seasonings if desired. Store in an airtight container in the refrigerator.
Tip
Like crunchy almond butter? Stir in an additional 1/2 to 3/4 cup chopped, toasted almonds at the end.