Carrot soufflé might sound fancy, but it's extremely easy to make. Simply boil carrots, mash them up and add the remaining ingredients. Once baked, you'll have a wonderfully creamy and rich dish that will brighten up your dinner table. The best part? You can serve it as a side or dessert – or both!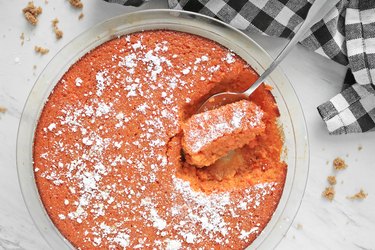 Video of the Day
Things You'll Need
4 cups carrots (about 4 to 6 carrots), peeled and sliced

3 eggs

1/2 cup white sugar

1/2 cup brown sugar (or more white sugar)

2 tablespoons all-purpose flour

1 teaspoon baking powder

1/4 teaspoon salt

2 teaspoons vanilla extract

1/4 cup unsalted butter, melted

Powdered sugar (optional)

Butter (for greasing)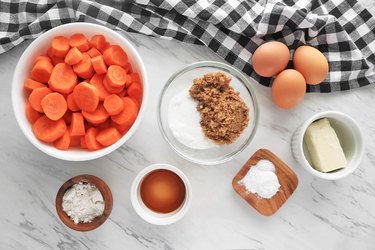 Step 1
Preheat the oven to 350°F. Grease a 9-inch baking dish with butter. Add the carrots to a large pot, cover with water and bring to a boil. Reduce the heat and simmer for 15 to 20 minutes or until the carrots are tender and easily pierced with a fork.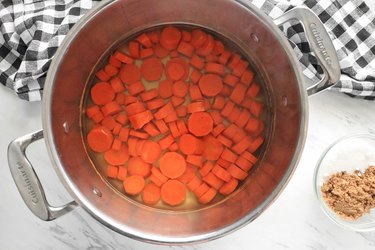 Step 2
Let cool slightly. Drain the carrots, making sure to save a bit of boiling water. Add the carrots to a blender or food processor. Blend until smooth, slowly adding the water 1 tablespoon at a time. This will help blend and smooth the carrots.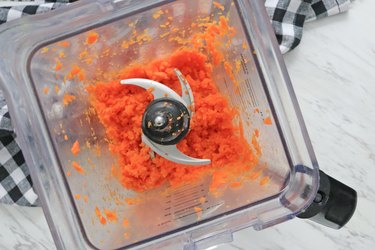 Transfer the carrot mash to a large bowl.
Step 3
In a small bowl, lightly beat the eggs. If you haven't already, melt the butter as well.
Step 4
To the carrots, add the eggs, melted butter, sugars, flour, baking powder, salt and vanilla extract. Mix until smooth and combined.
Step 5
Pour the mixture into the greased baking dish.
Step 6
Bake for 50 to 55 minutes or until a toothpick comes out clean. The soufflé should have a creamy, custardlike texture. Top with powdered sugar if you'd like. Serve warm or at room temperature. Enjoy!