"A well-stocked pantry can help you put together meals in minutes. See more easy weeknight meals pictures.Photos.com/Thinkstock
Unless you're an aspiring chef, chances are you aren't whipping up elaborate gourmet meals every night. On weekday nights, most of us — if we're not heading for the nearest drive-thru — just want to make a quick dinner to fill our bellies after a long day. But "quick" too often means heating up a prepackaged or frozen meal that's loaded down with sodium, fat and artificial ingredients. After a long day though, chopping vegetables or firing up the grill often seems like more trouble than it's worth.
But really, it's not that much harder — and it's always healthier — to throw together a few fresh, simple items. Most of these five ideas for quick and light dinners involve pantry staples like pasta and beans, or they're flexible recipes that allow you to use the ingredients and seasoning that you happen to have on hand (great for using up leftovers!). So the next time you go to the grocery store, bring these meal ideas with you — it might help you resist the temptation to fill your shopping cart with TV dinners and even more boxes of mac and cheese.
Contents
Beans and Rice
Grilled or Baked Packets
Skillet Shrimp
Stir Fry
Kitchen Clean-out Pasta Salad
5: Beans and Rice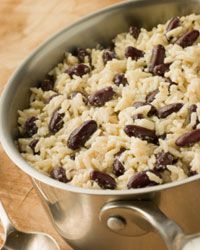 "You can get this meal on table in about 15 minutes by using canned beans and quick-cooking rice.Hemera/Thinkstock
Some recipes for beans and rice involve overnight bean-soaking, 10 kinds of spices and lots of simmering and stirring. But it doesn't have to be that way — you can prepare a pot in a matter of minutes using ingredients you probably already have on hand. Sauté some garlic, bell peppers and onions, then throw in a can each of tomatoes and beans (rinse the beans first to cut down on sodium), a dash of oregano and some hot sauce or cayenne pepper. Simmer for a few minutes and serve with cooked rice. If you've got any leftover chicken, sausage or shrimp, just add it to the bean mixture in the last few minutes of cooking so it heats through.
4: Grilled or Baked Packets
Sometimes you have the basic ingredients for a good meal — chicken breast, potatoes and carrots, let's say — but you draw a complete blank on how to prepare everything. Do you grill the chicken and bake the potatoes? Steam the carrots? If you keep a roll of aluminum foil handy, you'll never torture yourself with these questions again.
Put a chicken breast and some cubed potatoes and sliced carrots on a piece of foil. Add your choice of seasoning and a splash of liquid (wine, beer, broth or water are all fine), then fold up the sides of the foil to make a packet. Make a packet for each person you're serving, then grill or bake them all at once.
You can use the packet technique with other poultry and pork, even fish and shellfish, and with no pots or pans involved in this meal, cleanup will be breeze!
No Foil, No Problem
If you don't have any foil on hand, you can substitute parchment paper for creating the packets. You can bake the packets but not grill them — parchment paper is ovenproof but will burn on the grill.
3: Skillet Shrimp
There's a certain amount of prep work involved with shrimp, so you might not consider it when you're looking for a quick dinner fix. But if you buy already-cleaned and peeled shrimp, this incredibly simple dish will make you think again. Lightly brown some garlic slices in olive oil, drop in a pound of shrimp, sprinkle with salt, pepper and whatever dried herbs and seasonings you like. Cook for about five minutes, just until the shrimp are pink. Serve over rice or pasta. That's it.
2: Stir Fry
Stir-fries are always a great idea for a quick, healthy meal, and they're forgiving, too. If you have the basics — vegetables, garlic, soy sauce, maybe some ginger — you don't necessarily have to follow any recipe. If you want to add a protein, chicken, shrimp, beef, pork and tofu all work equally well. Serve it over rice or noodles, or go carb-free with just the meat and veggies.
Did You Know?
Timing is everything with stir-frying. You should wait until the cooking oil is piping hot before you add anything to your wok, and the aromatic ingredients (garlic, ginger, onions) should go in first.
1: Kitchen Clean-out Pasta Salad
"Just about any ingredient in your fridge, freezer or pantry can go in a pasta salad.iStockphoto/Thinkstock
Is your refrigerator's produce drawer a collection site for singled-out veggies — one lonely carrot here, half a bell pepper there? Got leftover chicken, beef or pork from your Sunday roast? Are there more than a few nearly-empty pasta boxes in your pantry? Use them all up in one fell swoop by making a pasta salad. Cook up the pasta and then throw in your extra veggies (frozen vegetables work too, just defrost them first), meat, cheese and whatever else seems tasty. Toss in what's left of those bottles of vinaigrette salad dressing in your fridge, and dinner is served.
Lots More Information
Related Articles
10 Essentials for Crock-Pot Recipes

10 Meals to Make from Leftovers

10 Ways to Spice Up Your Pasta

5 Soups and Stews Any Guy Can Make

5 Foolproof Meals

How to Cook for 10 People in 60 Minutes
Sources
Bittman, Mark. "Simplest and Best Shrimp Dish." Mark Bittman. (Oct. 29, 2011) http://content.markbittman.com/node/194

Blue Dragon. "Facts and Tips: Secrets to the Perfect Stir Fry." (Oct. 29, 2011) http://www.bluedragon.com/cooks-guide/hints-tips/secrets-to-the-perfect-stir-fry.aspx

Simply Recipes. "Easy Black Beans and Rice." June 26, 2007. (Oct. 29, 2011) http://simplyrecipes.com/recipes/easy_black_beans_and_rice/