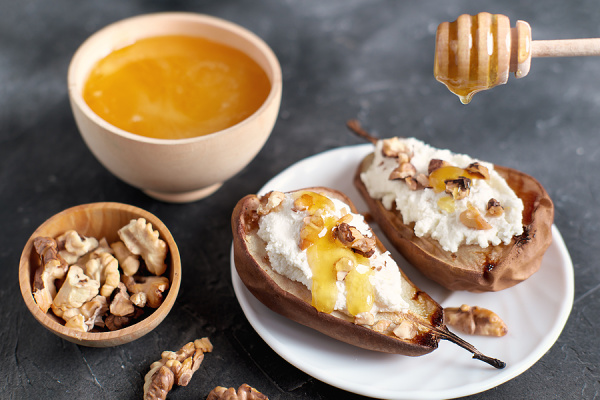 If you're following the Mediterranean diet, you likely won't be eating dessert every day, but there are certain occasions when ending your meal with something sweet just feels right. Plus, there's a heart healthy way to satisfy your sweet tooth, so you'll be doing things like swapping out butter for olive oil and adding whole wheat flour instead of its refined counterpart. Desserts without the guilt? Count us in! Check out 25 heart healthy Mediterranean diet desserts for every occasion below.
What is the Mediterranean Diet?
The Mediterranean diet is a heart-healthy eating plan based on the traditional cuisines of the countries surrounding the Mediterranean Sea, such as Greece, Croatia and Italy. The diet emphasizes a plant-based eating approach loaded with lots of fruits, vegetables, healthy fats, whole grains, seafood, nuts and legumes. The plan tends to avoid or limit red meat, sugary foods, processed foods and dairy (though small amounts of yogurt and cheese are included).
The Mediterranean diet is a well-balanced approach to eating that isn't restrictive. Although the diet wasn't designed for weight loss, it happens to be one of the healthiest diets out there and is effective for keeping your weight down. It doesn't require you to count macros or calories or cut out any particular food groups. Instead, it focuses on a healthy pattern of eating real, whole foods within every food group.
What Are the Health Benefits of the Mediterranean Diet?
1. Heart Healthy
The Mediterranean diet is known as a heart healthy diet as it lowers your risk of heart disease, decreasing your levels of LDL or "bad" cholesterol and reducing your risk for cardiovascular conditions. The diet has also been found to possibly reduce the risk of stroke in women. Swapping out bad fats for healthy ones, such as butter for olive oil, and red meat for fish is protective against various forms of heart disease as well as death from cardiovascular causes. The high amount of fruits and veggies also increases the antioxidants in your body.
2. Chock Full of Healthy Fats
In the Mediterranean diet, olive oil is the primary source of added fat. It's a monounsaturated fat, which lowers total cholesterol and "bad" cholesterol levels. Nuts and seeds also contain monounsaturated fats and are a key part of this diet. Fatty fish such as mackerel, salmon, albacore tuna, herring and sardines are rich in omega-3 fatty acids, which help fight inflammation in the body. Omega-3 fatty acids also help decrease triglycerides, reduce blood clotting and lower the risk of stroke and heart failure.
3. Helps with Anxiety and Depression
A diet rich in vegetables and healthy fats has a helping hand in mental health issues such as anxiety and depression. The carotenoids in foods like kale, spinach and eggs have been shown to boost the good bacteria in your gut, and in turn your mood. 90% of serotonin receptors are located in the gut, so a healthy gut means a healthy mood as well.
4. Healthy Weight Management
Although the Mediterranean diet was not created as a weight loss diet, it is effective for healthy weight management. Due to the high amounts of fibre in the diet, it's helpful for managing fullness. You feel more satiated with high fibre foods, which helps with healthy weight loss and metabolism. Replace simple carbs with fibrous fruits, vegetables, legumes and beans for healthy weight management.
5. Reduced Cancer Risk
The Mediterranean diet contains high amounts of antioxidants from a variety of plant foods. Antioxidants are key to your health as they stop or slow oxidative damage and reduce inflammation throughout the body. For this reason, antioxidants are associated with reduced cancer risk. The diet has been found to be associated with a reduced risk of breast cancer, colorectal cancer and gastric cancer, likely due to its high intake of fruits, vegetables and whole grains.
6. Gut Health
Since the Mediterranean diet is so high in whole grains, fruits and vegetables, it means it's also high in fibre, vitamins, minerals and antioxidants. All of these things benefit gut health by feeding the beneficial probiotic bacteria living there, as well as reducing inflammation.
14 Foods to Eat and Avoid on the Mediterranean Diet
Foods to Eat on the Mediterranean Diet
1. Vegetables like spinach, kale, arugula, tomatoes, broccoli, carrots, Brussels sprouts, onion, garlic, cucumber, cauliflower, bell peppers, eggplant, mushrooms, squash, cabbage, leeks, beets, potatoes, sweet potatoes and turnips.
2. Fruits such as berries, oranges, grapes, figs, melons, peaches, plums, apples, pears, pomegranates, grapefruit, apricots and avocados
3. Nuts and seeds like walnuts, almonds, hazelnuts, pistachios, pine nuts, cashews, pumpkin seeds, sesame seeds and sunflower seeds.
4. Legumes including lentils, chickpeas, beans, peas and peanuts.
5. Grains like quinoa, barley, buckwheat, farro, millet, oats, rice, whole grain bread and whole grain pasta.
6. Dairy including yogurt, cottage cheese, feta cheese, ricotta, mozzarella and parmesan.
7. Seafood like salmon, tuna, trout, mackerel, halibut, sea bass, sardines, anchovies, shrimp, oysters, muscles, clams and crabs.
8. Meats including chicken, turkey and duck (limit red meat to a few times per month).
9. Condiments and spices like olive oil, avocado oil, balsamic vinegar, honey, salt, pepper, cayenne, turmeric, oregano, thyme, rosemary, mint, dill, paprika, basil, cinnamon, cloves and nutmeg.
Foods to Avoid on the Mediterranean Diet
1. Highly processed foods
2. Foods and drinks high in excess sugar
3. Refined grains like white bread, white rice and white flour, and foods made from them
4. Trans fats like margarine, frozen pizza, fried foods and baked goods
5. Refined vegetables oils like corn oil, soybean oil
25 Mediterranean Diet Desserts You'll Love
1. Flourless Chocolate and Olive Oil Cake | Hanady Kitchen
2. Easy Roasted Fruit | She Wears Many Hats
3. Popped Quinoa Crunch Bars | The Garlic Diaries
4. Italian Apple Olive Oil Cake | The Mediterranean Dish
5. Olive Oil Brownies with Greek Yogurt | Olive Tomato
6. Maple Vanilla Baked Pears | Sally's Baking Addiction
7. Lemon Olive Oil Cake | Culinary Hill
8. Balsamic Berries with Honey Yogurt | Kitchn
9. Tahini Chocolate Chip Cookies | The Mediterranean Dish
10. Gluten-Free Fig Almond Olive Oil Cake | Gourmande
11. Chocolate Avocado Pudding | Downshiftology
12. Cinnamon Walnut Apple Cake | Mediterranean Living
13. Paleo Chocolate Banana Muffins | Texanerin
14. Greek Orange Honey Cake with Pistachios | The Mediterranean Dish
15. Hazelnut and Olive Oil Shortbread | Kitchn
16. Lemon Cream Pavlova with Berries | Better Homes and Gardens
17. Dark Chocolate Covered Strawberries | Tasty Mediterraneo
18. Strawberry Greek Frozen Yogurt | Better Homes and Gardens
19. Healthy Chocolate Mousse | Living Well Mom
20. Easy Apple Strudel with Phyllo Crust | The Mediterranean Dish
21. Blood Orange Olive Oil Cake | The Kitchn
23. Lavender Honey Lemon Tart | Better Homes and Gardens
24. Strawberry, Banana and Yogurt Popsicles | Tasty Mediterraneo
25. Blueberry Clafoutis | Living the Gourmet
If you've been interested in the Mediterranean diet, try out these delicious desserts to stay heart healthy while you indulge!