This one-pot cast iron skillet lasagna is a delicious and easy weeknight meal. It's filled with cheesy comforting goodness, tomato-y richness, and crisp caramelized edges. It has all the things to love about it as a traditional lasagna–but it comes together within half an hour!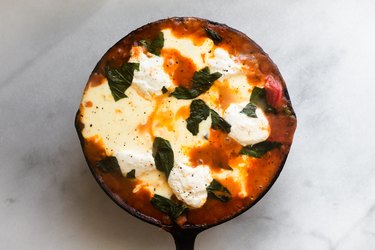 Video of the Day
Things You'll Need
3 tablespoons olive oil

1 small onion, finely chopped

3 garlic cloves, minced

1.1 pounds (500 grams) roasted vegetables: zucchini, red peppers, eggplant (or your choice of meat filling)

4 cups tomato passata

1 teaspoon dried oregano or basil

7 ounces (200 grams) (about 7) dried curly lasagna noodles

1/2 cup parmesan, finely grated

1/4 cup smooth ricotta, cream cheese, or mascarpone

1/2 cup fresh mozzarella, thinly sliced

A handful of basil leaves

Salt and pepper
Step 1: Cook Onion & Vegetables
Heat the oil in a large cast iron skillet over medium heat. Add the onion, garlic and a pinch of salt. Cook until the onion is soft and translucent, about 5 minutes. Stir occasionally.
Add the roasted vegetables, stir them in and cook until just beginning to take on some color and turn translucent, about 5 minutes.
Step 2: Make Sauce
Reduce the heat to medium-low. Add in the tomato passata, dried oregano or basil, and another pinch of salt and pepper. Cook, stirring occasionally, until the sauce is just simmering, 5 more minutes.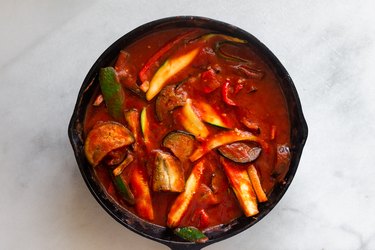 Step 3: Add Noodles
Roughly break up half of the lasagna noodles. Push them into the sauce mixture, distributing them evenly throughout the pan. Cover the cast iron skillet with a large-fitting lid and gently simmer until the noodles are tender and the sauce has thickened, 10 minutes.
If dry, add a few tablespoons of water at a time to loosen the sauce. Stir in the parmesan cheese.
Step 4: Add Cheese
Dot tablespoons of the ricotta, cream cheese, or mascarpone over the top, then layer over the mozzarella slices. Sprinkle over the basil leaves and season again with salt and pepper.
Step 5: Cook Until Simmering
Re-cover the skillet and return it to the heat. Gently continue to simmer until the mozzarella has melted, another 3 to 5 minutes.
Step 6: Serve & Enjoy
Let the lasagna rest uncovered for about 5 minutes before serving!