Salmon croquettes are an easy yet impressive meal to make. The beauty of these croquettes is that they come together quickly in a single bowl but taste incredible. And if fresh salmon is not an option, then a can of wild salmon will do the trick while cutting your prep time in half. These croquettes are packed with flavor, with bright bursts of herby goodness in every bite.
Video of the Day
Things You'll Need
1, 14.75 oz canned salmon, drained, skin and bones removed

¼ cup diced jalapeño peppers

3 tbs freshly chopped dill

3 tbs freshly chopped chives

1 tbs chopped capers

4 tbs mayonnaise

2 garlic cloves, minced

2 tsp dijon mustard

1 large egg, beaten

1 cup panko bread crumbs, divided

1 lemon, zested

1 ½ tsp lemon juice

1/4 tsp kosher salt, plus more as needed

fresh pepper

2 tbs neutral oil, for frying

sour cream, for garnish

2 tbs freshly chopped chives, for garnish

lemon wedges, for serving
Step 1
Flake the salmon and add it to a medium bowl along with the jalapeños, dill, chives, capers, mayonnaise, garlic, mustard, egg, bread crumbs, lemon zest, juice, salt, and a few cracks of fresh pepper.
Step 2
Gently mix everything together until just combined and shape into 7-8 equal sized patties. Dip both sides of each patty in a bowl filled with the remaining 1/2 cup of bread crumbs.
Step 3
Heat the oil in a large skillet set over medium-high heat. Add the patties in batches and cook for 2-3 minutes on each side, or until golden brown.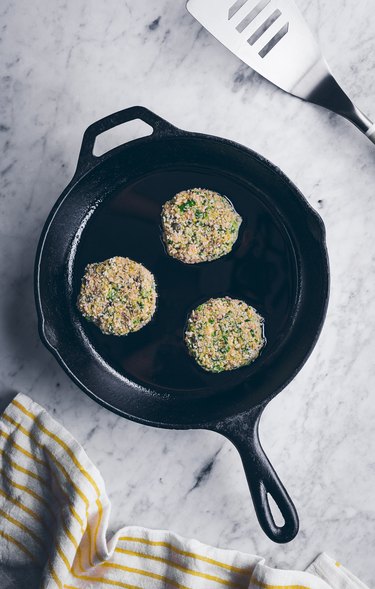 Step 4
Serve salmon croquettes with a dollop of sour cream or tartar sauce, a sprinkle of chive, and a wedge of lemon. Enjoy while hot.