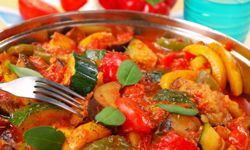 "Don't let French food frighten you away! See more Hemera/Thinkstock
Your forays into French cuisine don't have to be limited to birthday dinners in fine and fiendishly expensive restaurants. Over the years, French cooking has developed snob appeal as well as a reputation for being difficult to recreate in your very own work-a-day kitchen (think cream-based French sauces). Serving French fare can even rile some folks who reject the hype and prefer to call breakfast egg and pastry dishes pies instead of quiches. Despite the potential backlash from down-home chefs intent on losing the falderal, French fare can be fun and surprisingly easy to make.
Just because that stew has a French name and calls for the addition of a soupçon of wine (just a tad), is no reason to drag out the good tablecloth and start stressing. Julia Child worked diligently for decades to make French cuisine accessible to the curious cook — and she succeeded brilliantly. Don't let the unfamiliar vocabulary fool you. Many of the most beloved French dishes are comfort foods that originated with country cooks who weren't afraid to experiment.
In the next few pages, we'll take a look at five simple French dinners that aren't too persnickety when it comes to ingredients. Most of them are one-pot meals, so cleanup won't be a problem, either. Your family (and guests) will be saying, "Oh mon dieu!" (or, "Yikes that's tasty") long before one of these meals is over.
Contents
Coq au Vin
French Onion Soup and Quiche
Ratatouille
Cassoulet
Beef (Boeuf) Bourguignon
5: Coq au Vin
Take one tough old chicken, add some aromatics and cook it in wine for a few hours over low heat. The directions may sound like a mushy and tasteless chicken stew, but the result is one of the most savory one-pot meals ever devised by the sly hand of an ingredient genius. Old chickens are characteristically tough. In the U.S., they're sometimes referred to as "stewing" hens. That tough meat has a lot of flavor, though. Once unlocked, the flavor in the meat (and fat), and the thick richness of the rendered collagen from the bird's connective tissues makes that tough old hen a delicacy worthy of a spot on your holiday meal list. It may be harder these days to locate a stewing hen, though. If you can't find one, look for the largest hen at your market, or ask the butcher to order one special. It'll be worth the wait.
We have a few Coq au Vin recipes that illustrate the delicious might of peasant cooking. The French are masters at it.
Coq au Vin

Simple Coq au Vin (Slow cooker style)

Crockpot Coq au Vin

Tomato Coq au Vin (check out the video)
4: French Onion Soup and Quiche
"Stay true to the basics and you can't go wrong.iStockphoto/Thinkstock
You may be familiar with French onion soup from a can (horrors), or from a freeze dried packet (double horrors). You may even associate this French classic with a restaurant first course buried under a thick layer of cheese and gloppy with sodden French bread or croutons. Good French onion soup isn't about the extras; it's about flavorful broth. It's a prime example of the power of a single ingredient to transform a dish.
To make exceptional French onion soup, you need lots of onions. The next step is to remove as much moisture as possible from the onion slices while browning them to a sweet finish. The last thing you want to do is steam the onions in their own liquid. If you're cooking onions on the stove, use a large skillet or pot with a lot of surface area that will allow steam to escape easily. Cook the onions slowly until they're brown and almost falling apart. That's when they'll release their sugars and other complex and delicious flavors.
French onion soup can be a meal all by itself, but if you want to create a more elaborate repast, quiche is a wonderful compliment to hearty soup. Eggs aren't just for breakfast anymore, and a creamy meat or veggie filled custard nestled into a flavorful crust is certainly worthy of the evening meal. Even better, you can make quiche hours ahead and reheat it. Why not make two and freeze one? Quiche freezes beautifully. If making great crust isn't your hobby of choice, use prepared deep dish crust instead. It'll make quiche pep quick and easy. These tips will help too:
If you're making your own crust, chill all the ingredients as well as the rolling surface and rolling pin. When it comes to crust, cold is good.

Use the freshest eggs you can find.

Rotate quiche half way through cooking to ensure even heating.

Wrap aluminum foil around the exposed edges of the crust during the last 15 minutes of cooking to avoid scorching.

Use a thermometer to test doneness. When the center of the quiche reads 170 degrees Fahrenheit, it's done.

After removing quiche from the oven, let it sit on an elevated rack for 10 minutes to cool and set.
These French onion soup and quiche recipes will get you started:
Classic French Onion Soup

French Onion Soup (Slow cooker style)

Hearty French Onion Soup

Vegetable Medley Quiche

Individual Spinach Bacon Quiches

Broccoli-Salmon Quiche
3: Ratatouille
You don't have to be a vegetarian to love this stewed vegetable dish. It can be served over rice or pasta for a filling meal that's healthy, inexpensive and about as flavorful as mixed veggies have a right to be. Most ratatouille recipes use four popular and abundant Mediterranean vegetables as a base: zucchini, eggplant, bell pepper and tomato. They're usually dressed up with a bouquet garni, a blend of herbs tied in a bag. This could include or be accompanied by parsley, thyme, bay leaf, celery seed, tarragon, marjoram, orange peel, peppercorns, chervil, summer savory or rosemary. A mirepois of onions, carrots and celery is usually added as well.
If you keep a summer vegetable garden or have access to locally grown produce from a friendly neighborhood farmers market, making ratatouille is a great way to experience vine-ripened freshness the way it was meant to be savored. These recipes will show you the basics. This is one dish that invites experimentation, though, so once you get the hang of it, substitute some of your favorite vegetables.
Ratatouille

Balsamic-Herb Ratatouille

Ratatouille Pot Pie

Grilled Ratatouille

Three Mushroom Ratatouille

Ratatouille-Stuffed Pepper Halves
What the Heck is a Mirepois, Anyway?
A mirepois is a combination of ingredients that add flavor and aroma to recipes like sauces, soups and stews. Generically referred to as aromatics, mirepois is the French version that typically consists of chopped onions, carrots and celery. From the bell peppers, onions and celery dubbed the holy trinity of Cajun cuisine to the Spanish sofrito that blends garlic onion and tomatoes, the aromatics of a culinary region help establish the flavor notes for its dishes.
2: Cassoulet
This entry from the South of France is a hearty white bean casserole. If you think red beans and rice make a nice meal, you'll love beans and pork (and sometimes duck, bacon, goose or mutton) prepared slowly to bring out all the rich flavors. Think of cassoulet as the French version of pork and beans without the tomato sauce. It's named for the traditional crock in which it's cooked. This special wide-mouthed pot produces good steam extraction. By adding (and evaporating) broth multiple times through the long cooking process, the beans soak up and store amazing flavor.
Most cassoulet recipes also incorporate classic French mirepoix ingredients: onions, carrots and celery, as well as garlic, bay leaf and thyme. Although you can cook this dish on the stovetop or in the oven, it's a natural for the crockpot. Serve cassoulet with a fresh baguette and a simple side salad. The Americanized versions below will become comfort food favorites at your house. If you like the idea of fashioning your own French baguettes, we've thrown in a recipe for fancy French bread, too. It's easier to make than you might think, and there's nothing cozier than the smell of baking bread.
Hearty Cassoulet (Slow cooker style)

Quick Cassoulet

Oven Pork Cassoulet

French Bread
1: Beef (Boeuf) Bourguignon
"There won't be many leftovers of this classic dish.iStockphoto/Thinkstock
We couldn't finish our round-up of simple French dinners without mentioning the king of beef stews, boeuf bourguignon from the Burgundy region of France. If you're a steak lover who thinks slow-cooked meats are mushy and tasteless, prepare to be amazed.
Boeuf Bourguignon is the best of all possible worlds when it comes to cooking meat. If you've ever ordered a tenderloin of beef only to discover that you can almost cut it with a fork but your well-aged (and expensive) mouthful isn't as flavorful as the flat-iron steak from last week's fajitas, you've stumbled on one of the biggest balancing acts at the meat market, the interplay of tenderness and flavor. Tougher, older cuts have good flavor, and well-marbled, young and tender cuts have desirable texture.
You may have been willing to sacrifice flavor for tenderness in the past, but after trying a well-crafted boeuf bourguignon, you might just change your mind. That's how delectable it can be. Beef bourguignon is usually made with Burgundy wine and typically includes beef chuck (or another less tender cut of beef) bacon, olive oil, aromatics, mushrooms, onions, and occasionally, brandy. The beef is usually sautéed to seal in the juices before simmering in stock, wine and herbs for three hours or more at low heat. This is another perfect crockpot dish. Give it a try. It will raise the bar on what you consider comfort food.
Before you rush out to buy brandy and all the other fixings, try the Americanized versions of hearty beef stew below. They pay homage to beef bourguignon and include a few easy updates.
Beef Stew in Red Wine

Beef and Parsnip Stew

Brisket Stew with Autumn Vegetables
Lots More Information
Related Articles
French Cooking 101

Ultimate Guide to French Wines

What are French Fries?

Stew 101
Sources
Chef Kate. "Boeuf Bourguignon a La Julia Child." Food.com. "12/12/05. (10/24/11). http://www.food.com/recipe/boeuf-bourguignon-a-la-julia-child-148007

Domine, Andre. "Culinaria France." Fall River Press. 2009.

Food Timeline. "Mirepoix." (10/24/11). http://www.foodtimeline.org/foodsauces.html#mirepoix

Freson, Robert. "The Taste of France." Stewart, Tabori & Chang. 2008.

Prepared Pantry. "The Secrets to a Great Quiche." (10/24/11). http://www.preparedpantry.com/Quiche-Secrets.htm

RouBe cooking School. "Beef Bourguignon." (10/24/11). http://rouxbe.com/recipes/2688-beef-bourguignon-boeuf-bourguignon/text

Zeldes, Leah A. "Eat this! Cassoulet, a hearty winter casserole from Southwestern France." (10/24/11). http://www.diningchicago.com/blog/2010/01/13/eat-this-cassoulet-a-hearty-winter-casserole/