It's almost the Fourth of July, and that means retailers like Wayfair, Home Depot, Walmart and Amazon have sweet Fourth of July sales! In this case, we've compiled some of the best deals we've seen on high-quality kitchen products, from major appliances like gas ranges and refrigerators to cookware to countertop cooking appliances. Whether you want to make your kitchen life easier or simply experience huge savings on normally-costly items, take advantage of these limited-time sales.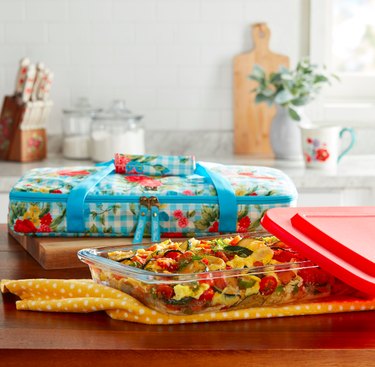 Video of the Day
Smaller Appliances and Gadgets
Nostalgia Retro 19'' 0.9 Cubic Feet cu. ft. Countertop Microwave (Aqua or Red)
Now: $107.16 (Save $22.83) at Wayfair
This beautiful microwave with sleek, retro design features 12 pre-programmed cooking settings and bright LED display. Harnessing up to 800 watts of cooking power, it has an easy-to-use turn-and-push program dial. It measures approximately 19 inches wide, 16.5 inches deep and 11 inches tall.
Galanz Retro 17.8'' 0.7 Cubic Feet cu. ft. Countertop Microwave
Now: $66.95 (Save $13.00) at Wayfair
Another microwave with a great retro look, this one cooks at up to 700 watts and offers auto-cook task buttons for: Pizza, Popcorn, Reheat, Baked Potato and Dinner Plate. It measures approximately 18 inches wide, 14 inches deep and 10 inches tall. It's eye-catching, stylish and equipped with modern functions, so what's not to love?
GE Appliances 17.3125'' 0.7 Cubic Feet cu. ft. Countertop Microwave (Black)
Now: $85.96 (Save $73.00) at Wayfair
This sleek GE microwave features 700-watt cooking power and a turntable diameter of 10.75 inches. There is also a kitchen timer, auto and timed defrosts and a control lockout feature that prevents accidental activation. It measures approximately 17.5 inches wide,1 2.75 inches deep and 10 inches tall.
Anova Sous Vide Precision Cooker Nano | Bluetooth | 750W
Now: $99.99 (Save $30.00) on Amazon
This high-tech sous vide precision cooker uses nanotechnology to circulate water at the exact temperature required for perfectly-cooked meals. You can monitor what's cooking through the Anova app on your phone via Bluetooth. The app also provides access to thousands of free recipes. It's approximately 12.8 inches long, 4.1 inches wide and 2.2 inches thick, small enough to fit in your kitchen drawer and almost 2 inches smaller than the original Anova sous vide cooker.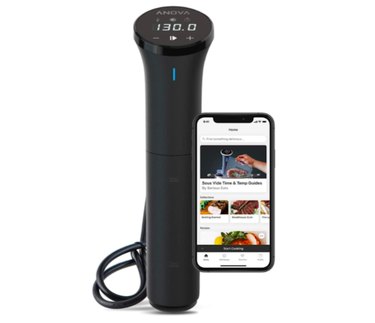 KITCHER 6.8QT Air Fryer, 1700W Toaster Oven & Oilless Cooker With Temperature Control
Now: $99.59 (Save $20.00) on Amazon
This air fryer reduces fat by up to 75% and handily comes with eight of the most-used presets for easy cooking, including: steak, poultry, seafood, French fries, pizza, vegetables, bread and desserts. It features a 6.8 quart-capacity non-stick basket that can fit a 6-7-pound whole chicken! It's also equipped with an automatic shutoff and protection system. This is one of the easiest air fryers to use on the market.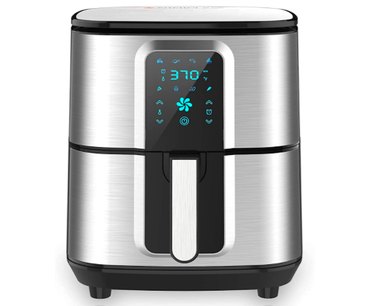 Ninja 4-Quart Air Fryer, AF100
Now: $89.00 (Save $10.00) at Walmart
This air fryer also helps you fry using up to 75% less fat than traditional frying methods and offers a wide temperature range of 105 degrees Fahrenheit to 400 degrees Fahrenheit, allowing you to gently remove moisture from foods or quickly cook and crisp foods with convection heat. It contains a 4-quart ceramic-coated, non-stick basket and a crisper plate that can fit 2 pounds of French fries. The basket and crisper plate are dishwasher-safe, too.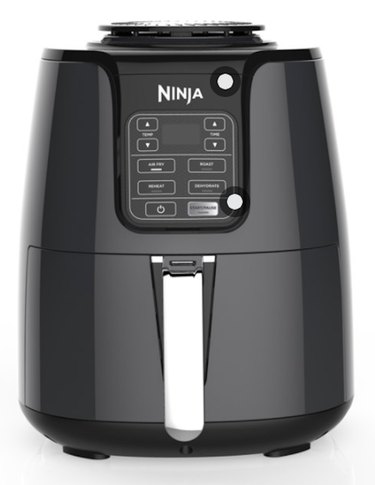 Ninja® Foodi™ TenderCrisp™ 8-in-1 6.5-Quart Pressure Cooker, OP300
Now: $169.00 (Save $60.00) at Walmart
This deluxe pressure cooker's Tendercrisp technology can pressure cook up to 70% faster than traditional cooking methods and locks in juices to give the ingredients a crispy, golden air-fryer finish. It contains an 6.5-quart ceramic-coated, non-stick pot and a 4-quart cook-and-crisp basket. The OP300 combines a pressure cooker and air fryer to make for one formidable cooking machine that is a must-have for your kitchen. It even comes with a 15-recipe book to get you started!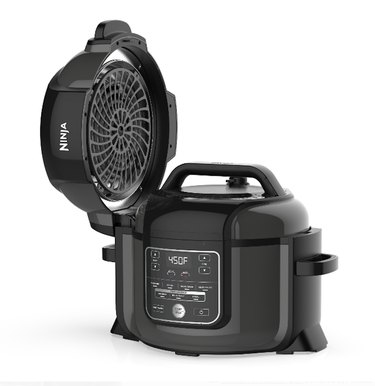 Cuisinart SmartPower™ Duet 500 Watt Blender/Food Processor
Now: $89.95 (Save $75.00) at Wayfair
This versatile duet blender and food processor is two appliances in one, featuring a travel mug that's actually part of the blender, die-cast metal housing, seven-speed electronic touchpad controls with LED indicators, a removable 2-ounce measuring cup on the blender jar lid and a 48-ounce glass blender jar with ultra-sharp stainless steel blade assembly. It can purée, blend, stir, crush ice, chop and mix.
SodaStream Sparkling Water Maker (Rose Gold) Bundle With CO2, 2 BPA free Bottles and 2 Bubly Drops
Now: $87.98 (Save $24.00) at Walmart
You can make your own sparkling water at home with this bundle from SodaStream, which turns plain water into sparkling in seconds. Its compact, cordless design operates without electricity so you can use it anywhere. The bundle includes the sparkling water maker, a CO2 cylinder, two 1-liter BPA-free carbonating bottles and two bottles of Bubly drops for flavor (flavors may vary). It's compatible with all SodaStream flavors and carbonation bottles as well, making it a smart purchase if you already have SodaStream gear.
Large Appliances
ZLINE 30" 4 cu. ft. Freestanding Gas Range
Now: $1,954.96 (Save $4,295.00) at Wayfair
This professional range features four stovetop burners and a deep convection oven. Achieve optimal results with a cooktop power ranging from 4,200 to 18,000 BTUs provided with sealed burners. The extra-deep oven features three layers and insulated glass for even, precise cooking. It measures 30 inches wide, 36 inches tall (up to 38.5 inches with leg adjustment) and 27.5 inches deep. Featuring upgraded features like SmoothSlide ball-bearing oven racks, dual lighting and adjustable legs, this is a gourmet range for a fraction of the price.
Samsung 28 cu. ft. 4-Door French Door Refrigerator in Fingerprint Resistant Stainless Steel
Now: $1,998.00 (Save 33%) at Home Depot
This premium refrigerator features a modern dispenser, polished door, sleek handles and expansive FlexZone drawer with four different temperature settings and adjustable Smart Divider to keep things organized. It stores up to 4.8 pounds of ice, features LED lighting and near-commercial grade cooling and humidity levels. It's even Wi-Fi and Bixby-enabled so you can adjust the temperature with your smart phone. Plus, the stainless steel finish is fingerprint-resistant.
Samsung 28.2 cu. ft. French Door Refrigerator in Stainless Steel
Now: $1,398.00 (Save 26%) at Home Depot
Another high-end refrigerator from Samsung, this one features a generous 28 cubic-foot capacity that fits 10% more groceries when compared to Samsung's similar three-door model. It comes with a 5.5-gallon ice maker, full-width drawer, LED lighting, adjustable shelving, multi-vent cooling technology and EZ-Open handles.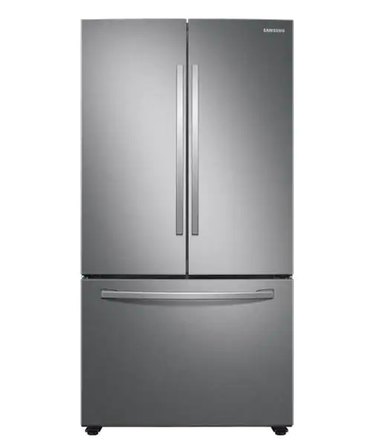 Cookware
Rachael Ray 11-Piece Get Cooking! Pots and Pans Set/Cookware Set, Red
Now: $79.94 (Save $29.00) at Walmart
This 11-piece aluminum, non-stick cookware set includes a 1.5-quart saucepan with lid, a 2-quart covered saucepan with lid, a 5-quart Dutch oven, 3-quart sauté pan, 10-inch skillet and medium and large nylon turners. The shatter-proof glass lids lock in heat and flavor while allowing for food to be monitored while cooking. The pieces are oven-safe up to 350 degrees Fahrenheit and the set comes with a lifetime warranty.
Tramontina Primaware 18 Piece Non-stick Cookware Set, Steel Gray
Now: $39.97 (Save $10.00) at Walmart
If you're moving and need to buy all your cookware, or just want to upgrade your collection, this expansive 18-piece set includes an 8-inch sauté pan, 9-inch deep sauté pan, 11-inch griddle, 1-quart sauce pan with lid, 2-quart sauce pan with lid, 3-quart saucepan with lid, 4-quart saucepan with lid, 4-quart Dutch oven with lid, stainless steel fold-up steamer, plus spoons, solid and slotted turners and a ladle. It's really all you could need and then some. The pieces are compatible with gas, electric and ceramic glass cooktops.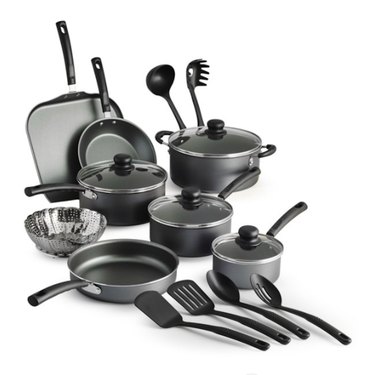 The Pioneer Woman Sweet Rose 3.2 Quart Baker With Tote
Now: $18.98 (Save $7.00) at Walmart
This 3.2-quart glass baker is oven-safe up to 425 degrees Fahrenheit and comes with a snap-tight lid. Best of all, it comes with an insulated carrying case tote that is not only functional, but gorgeously designed with a rustic floral pattern that harks back to life on the frontier. Brought to you by bestselling author, TV personality and entrepreneur, Ree Drummond, the woman behind the popular Pioneer Woman lifestyle blog, this baker and tote are a must for bakers and make dish transportation much easier.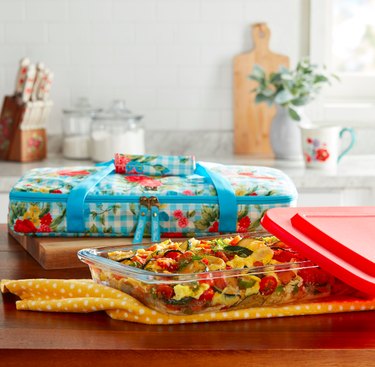 DASH Stainless Steel Mixing Lids, Silicone Non-Slip Base With Measuring Lines and Strainer, 3 Bowl Set
Now: $30.00 (Save 25%) on Amazon
This stainless steel set of three comes with a 15-quart bowl, a 5-quart bowl and a 3-quart bowl. The two larger bowls feature silicone bases to prevent slipping when beating or mixing and the smaller bowl has a silicone foot for easy resting on its side. There are precise measuring lines helpful for cooking and the smaller bowl also comes with a built-in strainer for pasta, washing vegetables or gradually adding dry ingredients. It's a great deal for such a functional set.