"Arguably the most popular clothing item in the world, the blue jean was invented in America in 1873 by Levi Strauss and Jacob Davis.Brand X Pictures/Thinkstock
Denim has been all over the place this year, and it isn't just your run-of-the-mill jeans. Models were strutting down the catwalks in denim jumpsuits, dresses, tunics, long skirts, suits, espadrilles, bright jeggings and acid-wash pants (yes, you read that correctly). Skinny jeans continued to pop up everywhere, but there are plenty of options for those of us who like to be comfortable as well as fashionable.
We're not suggesting that you run out and buy a $700 denim jumpsuit like what was shown on the spring 2011 runway, so while these high-fashion trends make their way into mainstream, get a jump on things by exploring our top trends in jeans.
Contents
Wide Legs and High Waists
Double Denim
Bleached
Skinny Jeans and Jeggings
Men's Denim Shirts
Jean Shorts
Long Skirts
Men's Distressed
Shoes
Jackets and Vests
10: Wide Legs and High Waists
"High-waisted, wide-legged jeans on the runway during Fall 2011 Mercedes-Benz Fashion Week in New York City.Neilson Barnard/Getty Images for IMG
Everyone who's been cursing the skinny-jean trend (we know you're out there) can now rest easy: If you want to look chic in denim, you no longer have to squeeze into something that looks painted on. The jean of the moment is high-waisted, wide-legged and slightly flared, best worn belted at the waist with a neatly tucked in shirt. And the collective sigh of relief starts now.
9: Double Denim
Yes, we said double denim. D on D. This trend, admittedly, is not for the faint of heart — there's a very short distance between fashionista and fashion disaster. To make sure you stay firmly in the first category, steer clear of loose cuts and very light washes of denim. Wear items that are more tailored (such as a tunic and skinny jeans), and mix different washes to avoid the dreaded all-one-color effect.
8: Bleached
We can't believe we're actually putting this in print: Bleached jeans are back — including that scourge of 1980s fashion, the acid-washed jean. The fashion-forward way to wear bleached denim, apparently, is with mixed textures (Elle magazine recommends leather-and-pony-hair Jimmy Choo stilettos), but we would definitely not advocate the double denim look here.
Did You Know?
According to Cotton Incorporated, 96 percent of Americans own a pair of jeans.
7: Skinny Jeans and Jeggings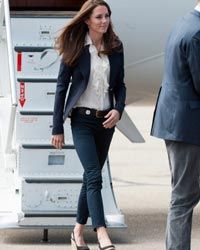 "Catherine, Duchess of Cambridge, tastefully and stylishly sported skinny jeans during a visit to Canada in July 2011.Samir Hussein/WireImage
Even though wide legs are the in thing right now, skinny jeans and jeggings — leggings made to look like ultra-skinny jeans — won't be going away anytime soon. They're beginning to change, though, from the ubiquitous dark wash of the past few seasons. If you're feeling brave, try a pair of neon jeggings (keep the shirt a dark or neutral color, of course) paired with flatforms, which are shoes with a high, flat platform. This look will really put you on the fashion edge.
6: Men's Denim Shirts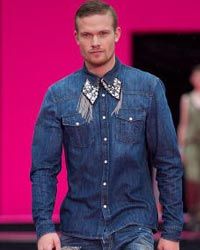 "Men's western-style fashions were seen all over the runways during the Spring/Summer 2011 Fashion Week in Copenhagen, Denmark.Felix Kunze/WireImage
Guys, there is now an acceptable, non-jean way to wear your denim. Button-down, western-style jean shirts have been popping up in all the fashion rags this year. Vintage is the coolest way to wear this trend, so if you buy a new one, make sure it has that worn-in look. And, please, unless you're a real cowboy, skip the boots and jeans with the denim shirt.
5: Jean Shorts
Like several trends we've listed so far, the mention of jean shorts (known somewhat comically as jorts) might send a shiver down the spine of those who lived through their previous incarnation in the '90s. But fear not: Although cutoffs have been deemed acceptable by the fashion gods, we're not asking you to go Daisy Duke-short with the pockets hanging out. Rolled-up cuffs seem to be the way to go, and you can wear them distressed or tailored. And for a particularly current spin, pair them with a sophisticated item such as a cashmere sweater or a structured jacket. It's a fun mix of high and low.
Did You Know?
According to The Wall Street Journal, the Phantom, a new style from True Religion jeans, will cost $375.
4: Long Skirts
For the past few years, short has been the way to go with denim skirts; mid-thigh minis were all the rage for a while, and things didn't get much longer than the dark-wash, knee-length pencil skirt. But long, ankle-brushing denim skirts are suddenly all over the place. As with so many high-fashion trends, though, you need to be careful to buy exactly the right thing. The wrong skirt could send you straight into "Little House on the Prairie" territory.
Did You Know?
According to market-research firm NPD Group, Americans bought $13.8 billion of jeans from April 2010 to April 2011. Only 1 percent of them cost more than $50.
3: Men's Distressed
Men's jeans have been stuck in a bit of a rut for a while. The default wash for years has been dark, dark, dark, but now things are lightening up: Faded, distressed jeans are back. But use caution if you decide to dig into your closet to recycle some early '90s denim. One too many rips, a shade too light or an inch too high on the waist and you're stuck in "Dad jean" territory.
Did You Know?
According to Cotton Incorporated, the average guy owns six pairs of jeans.
2: Shoes
If you've stocked up on jeggings, trouser jeans, skirts and jorts and you're still feeling like there's not quite enough denim in your life, the next step is springing for a pair of denim shoes — and there are plenty to pick from. Espadrilles, ballet flats, lace-up booties, boat shoes…you name it, it's in denim.
Did You Know?
So, you have the shoes — but there's STILL not enough denim in your closet? Well, we guess you need pajama jeans. Not familiar? YouTube it.
1: Jackets and Vests
"It's a safe bet the classic denim jacket will never go out of style.iStockphoto/Thinkstock
This season's denim jackets don't have too much in common with the classic jean jacket. The standard version that we all know will probably never go out of style, but the trend right now is for tailoring and structure. Talbots, for example, is selling a cute cotton-linen denim jacket with a bow on the collar. But if your style is more punk rock, you'll be glad to know that the cropped, ripped-sleeve classic jean vest has made quite a few appearances in the fashion magazines.
Happy shopping!
Lots More Information
Related Articles
5 Fun Back-to-school Outfit Ideas

5 Popular Styles of Back-to-school Shoes for Boys

5 Popular Styles of Back-to-school Shoes for Girls
Sources
Become Gorgeous. "Spring/Summer 2011 Blue Jeans Trends." (July 8, 2011) http://www.fashion-style.becomegorgeous.com/new_trends/springsummer_2011_blue_jeans_trends-3078.html

Binkley, Christina. "How Can Jeans Cost $300?" The Wall Street Journal. July 7, 2011. (July 8, 2011) http://online.wsj.com/article/SB10001424052702303365804576429730284498872.html

Cotton Incorporated. "Lifestyle Monitor." (July 8, 2011) http://lifestylemonitor.cottoninc.com/

Downey, Lynn. "Levi Strauss: A Short History." Levi Strauss. 2008. (July 12, 2011) http://www.levistrauss.com/sites/default/files/librarydocument/2010/4/History_Levi_Strauss_Biography.pdf

Esquire. "How to Steal the Spring 2011 Trends, Now." (July 8, 2011) http://www.esquire.com/the-side/style-guides/mens-spring-2011-trends?click=main_sr#fbIndex1

Harper's Bazaar. "Smart Shopping: Wide-Leg Jeans." (July 8, 2011) http://www.harpersbazaar.com/fashion/fashion-articles/wide-leg-jeans#fbIndex1

Harper's Bazaar. "Spring's New Denim Styles and How to Wear Them." April 25, 2011. (July 8, 2011) http://www.harpersbazaar.com/fashion/fashion-articles/denim-trends-spring-2011

Pailey, Joanne. "Spring Denim Guide." Elle. Feb. 2, 2011. (July 8, 2011) http://www.elle.com/Elle-Shops/Elle-Shops/ELLE-Shops-The-Spring-Denim-Guide/%28imageIndex%29/43/%28play%29/false

Valet. "Wash Cycle." (July 8, 2011) http://www.valetmag.com/style/trends/2011/heavily-washed-lightweight-jeans-062911.php?style_top_lead

Vogue UK. "Do-It-All Denim." (July 8, 2011) http://www.vogue.co.uk/fashion/trends/2011-spring-summer/do-it-all-denim/gallery#

Zwillich, Brittany. "Wear Spring's Newest Wide Leg Jeans Now and Turn the Sidewalk into Your Runway." She Finds. Jan. 24, 2011. (July 8, 2011) http://www.shefinds.com/2011/wear-springs-newest-wide-leg-jeans-now-and-turn-the-sidewalk-into-your-runway/