Black Friday may not officially begin until Nov. 26, but Amazon's kicking things off a few weeks in advance with hundreds of early Black Friday deals. Many items are going for 40% off or more. From smart vacuum cleaners to multi-function kitchenware to snuggly rugs, we've rounded up the best early deals on home goods—available now at Amazon.
Video of the Day
Some deals are subject to change, but we will keep the list as updated as possible.
1. Breville Smart Oven Pro Countertop Convection Oven
$223.95 (save $126.00) at Amazon
This high-performance countertop oven would be the perfect way to add more functionality to a kitchenette or bare-bones kitchen. Its Element iQ system reduces cooking time by 30% and uses smart algorithms to create the ideal cooking environment for perfect, even results. Ten cooking settings include: toast, bagel, bake, roast, broil, pizza, cookies, reheat, warm and slow cook. You can even slow cook for up to 10 hours before the setting automatically changes to warming as a safety measure. Its large interior boasts enough room for six slices of bread, a 13-inch pizza, a whole chicken or a nine-cup muffin tray. Despite its generous capacity, it has a relatively small footprint of approximately 1.86 square feet. Along with the oven, you get an oven rack, a 12-by-12-inch enamel baking pan, a 12-by-12-inch broiling rack and a 13-inch non-stick pizza pan.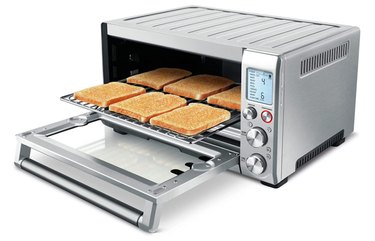 2. Anova Sous Vide Precision Cooker Pro
$199.99 (save $199.01) at Amazon
This high-tech sous vide precision cooker uses nanotechnology to circulate water at the exact temperature required for perfectly-cooked meals. You can monitor what's cooking through the Anova app on your phone via Bluetooth. The app also provides access to thousands of free recipes. Just to illustrate how powerful the Pro is, it's capable of heating up to 100 liters of water in a closed container and running 10,000 hours straight before shutting down. It's approximately 14 inches long, 3 1/2 inches wide and 2 1/2 inches thick, small enough to fit in your kitchen drawer and almost 2 inches smaller than the original Anova sous vide cooker.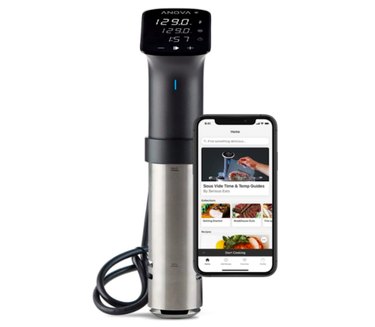 3. Keurig K-Mini Coffee Maker
$59.99 (save $20.00) at Amazon
If your kitchen's tight on space but you've got to have your morning cup of joe, this miniature coffee maker by Keurig has got you covered. Measuring less than 5 inches wide, it'll fit almost anywhere, making it ideal for cramped dorm rooms, small kitchens or studio apartments. While it only brews between 6 ounces and 12 ounces at a time, it's fast, compact and even travel mug-friendly for mugs up to 7 inches tall. Other thoughtful features include a compartment for cord storage and automatic shutoff 90 seconds after your last brew to save energy.
4. iRobot Roomba 692 Robot Vacuum
$199.99 (save $100.00) at Amazon
This robot vacuum by iRobot can pair with Google Assistant and Amazon Alexa to begin cleaning on your vocal command. A full suite of advanced sensors allows the Roomba 692 to navigate dexterously under and around furniture. Its three-stage cleaning system and dual multi-surface brushes grab dirt from carpets and hard floors, while an edge-sweeping brush takes care of corners and edges. The Roomba 692 senses and eliminates dirt and targets high-traffic areas of your home that accumulate more dirt and dust. If you've ever daydreamed about convenient, hands-free cleaning, now's your chance to save big on one of the most reputable brands in the robot vacuum space.
5. Bissell SpinWave Hard Floor Expert Wet Mop and Dry Robot Vacuum
$299.99 (save $100.00) at Amazon
This vacuum-mop hybrid is so good, we included it in The Best Robot Vacuum Cleaners in 2021. Its two-tank cleaning system vacuums or mops your floors, powered by a lithium ion battery that lasts up to 130 minutes on one charge. When it's low on battery charge, it conveniently returns itself to the charging port. If you're worried that it will accidentally mop where it shouldn't, don't be: It contains a sensor that helps it avoid soft surfaces like carpet. In wet cleaning mode, it uses a wood floor formula that restores your floors' natural shine. In the dry cleaning mode, a triple-action cleaning system utilizes dual spinning edge brushes, a rotating brush roll and powerful suction up to 1500 Pa.
Every purchase of this product helps support the BISSELL Pet Foundation and its mission to help save homeless pets.
6. LEVOIT Air Purifier Core 400S for Large Rooms
$197.99 (save $22.00) on Amazon
This sleek and stylish air purifier uses true HEPA (high-efficiency particulate absorbing) filters to trap particulate matter like dust, lint, fur and hair, as well as microscopic particles for clean and pure air inside your home. The purifier provides coverage for rooms up to 400 square feet and its whisper-quiet operation is barely noticeable. You can easily control the Core 400S from your smartphone by connecting it to the free VeSync app.
7. Oster Roasting Oven With Self-Basting Lid
$69.99 (save $50.00) at Amazon
If you've never roasted a turkey in an Oster roaster oven before, you're missing out. This versatile electric roaster oven bakes, slow cooks or roasts, boasts 22 quarts of space and accommodates turkeys up to 26 pounds. It comes with a self-basting lid that continually recirculates moisture, making your turkey or roast perfectly tender and moist, while eliminating the need to baste by hand. You can also easily simmer pan drippings into a gravy right in the oven roaster pan and free up space on your stovetop for other cooking. The roasting pan and rack are removable for easy cleanup.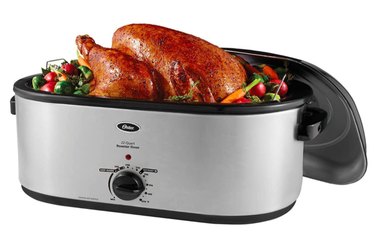 8. National Tree Company Artificial Pre-Lit Slim Christmas Tree
$59.99 (save $30.00) at Amazon
This pre-lit artificial Christmas tree is perfect for anyone who wants to get in the holiday spirit, but has a limited budget and space. Standing 4 1/2 feet tall with a 24-inch base diameter, it features hundreds of individually crafted branch tips to give it a full-bodied look and comes with 150 pre-strung lights. It's easy to set up and just as easy to fold up and put into storage. Made from high quality materials like PVC (polyvinyl chloride), its artificial needles are both hypoallergenic and fire-resistant. It comes with spare bulbs in case of outages and a metal tree stand.
Tip
For the best results, set aside 45 to 60 minutes to properly shape the tree by pulling back the branches and pulling the tips apart.
9. Magic Mill Food Dehydrator Machine
$135.99 (save $65.00) at Amazon
If one of your goals to is to snack more healthily in 2022, now is your chance to save big on this Magic Mill food dehydrator that can make jerky, fruit leather, dried fruit, vegetable chips, granola and more. It's equipped with a rear-mounted drying fan and air circulation technology to promote even drying—no need to rotate the shelves, like some other brands require. Plus, its transparent door window allows you to easily monitor your food. The dehydrator also features a digital thermostat, an adjustable timer and an automatic shutoff when finished. It also comes with seven adjustable stainless steel trays (each 13 inches by 12 inches) so you can dehydrate a variety of foods at once in large quantities.
10. Seseno Stackable Plastic Food Storage Bins, Set of 8
$21.24 (save $13.75) at Amazon
Your refrigerator, freezer, kitchen cabinet, pantry or closet will never be the same again, once you use these stackable plastic storage bins to keep things organized and maximize space. Each bin measures 10 inches long, just under 4 inches wide and 3 inches tall. Made of durable, BPA-free plastic, the bins feature easy-carry handles and can be stacked vertically or be used side by side. The only caveat is that they're not dishwasher-friendly, but a quick hand wash using warm soap and water should do the trick.