"Kurt Cobain's look fronting the band Nirvana epitomized the first wave of grunge style.Jeff Kravitz/FilmMagic, Inc./Getty Images
If combat boots, plaid and eau d' thrift store make you smile, you likely have a little grunge in you — that movement that began with a Seattle music scene and spread to far off lands in the hands of bands like the Screaming Trees, Pearl Jam and Nirvana.
Not that a stranger would know it, to look at you. The grunge mode of dress is not an easy style to maintain given its defining disinterest in all things remotely style-related. Still, grunge does stick around. It's even experienced renewed interest in the style blogs and campus fashions of those for whom "Come as You Are" is an oldie-but-goodie.
For those who wore it the first time, though, the opening bars can make us wistful for that favorite, stained plaid flannel, and all it signified.
Indulging your inner grunge doesn't have to mean going back to shapeless flannels and floral dresses, torn T-shirts and holey jeans, plus big ole combat boots. You can tweak those classically grungy elements into the look you love today.
Here, five options for indulging your inner grunge without looking so, well, grungy. And as Marc Jacobs showed us in his 1993 spring/summer line for Perry Ellis, which sort of got him fired, hybrid-grunge can look positively runway-ready. Not that you're into such things.
To begin, if those gaping holes have lost their rebel appeal …
Contents
Tear It Up. Strategically
Cinch the Bag
Add Leather. Make It Black
Downgrade the Conflict
Revisit Plaid
5: Tear It Up. Strategically
Torn up, 1992: Faded-black shredded jeans, likely stained; graphic tee with gaping holes; hoodie with half-unraveled cuffs
Historically, damaged clothing doesn't make the fashion pages, but over the last decade, some designers have challenged that, showing shredded tops and slashed-up dresses that hint at grunge as high-fashion. But this is not willy-nilly, sloppy grunge. This is faux-grunge. Glam grunge. Pieces are head-turningly torn, tears are interestingly placed, and holes act as counterpoints to an otherwise sleek ensemble.
Torn up, revised: Destroyed boyfriend jeans with (intact) fitted blazer; raw-edge scarf; distressed-leather crossbody bag
Ragged clothing reflects one of the more interesting aspects of the '90s grunge look: So much of it hinted at unisex. But there was also a surprisingly girly side to grunge. And you can work with this …
4: Cinch the Bag
Baggy, 1992: Shapeless floral-print dress; your boyfriend's oversized hoodie
Most of us have trouble making shapeless look chic. It's just so darned shapeless. The trick to updating the flower-covered sack look is give it shape without losing the relaxed, floral irony that said, beneath a floppy old knit hat, "I'm cute. Who cares?"
Just add a cinching accessory or layer that brings your curves into the equation. Belts, sashes (especially in interesting, contrasting fabrics), fitted vests and, if you're crafty, nipping in the waist with a pair of statement brooches can pretty easily pull off the update.
Baggy, revised: Knee-length, bold-print dress cinched with wide, black leather belt; shrunken denim jacket; statement necklace
Now, speaking of that black leather belt …
3: Add Leather. Make It Black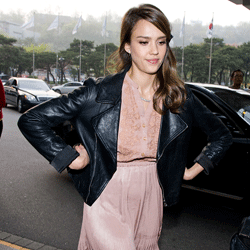 "Actress Jessica Alba tones down the girliness of a pale pink dress with a black leather jacket.Han Myung-Gu/WireImage/Getty Images
Black leather, 1992: Biker jacket
Grunge had a way of making black leather look more careless than tough, even with the punk-remnant studs that sometimes spattered cuffs and collars. As Taylor Momsen can attest, this is about the easiest grunge element to incorporate into a modern look. The biker-style jacket, for one, may just be the most versatile piece of outwear you can own, even when it's not tossed over a stained, torn T-shirt. It simply doesn't go out of style. Wear this jacket. Done.
Or take it up a notch: Black leather pants are unmatchably tough-chic. The leather mini, too, makes a grunge staple sexy. But keep it to a single element (or maybe one large and one small), or else you're looking less glam-grunge and more biker chick than chic.
Black leather, revised: Black leather skinny pants; vintage-feel tee over pop-of-color layering tank
Moving, now, to the feet, and still on the black leather …
2: Downgrade the Conflict
Of all the characteristic grunge elements, two stand out as core looks: Plaid flannel button-downs and black leather combat boots, often the classic Dr. Marten-style. We'll get to the plaid in a moment.
Combat boots, 1992: Flat, clunky, rubber-bottomed lace-ups that hit at roughly mid-calf
These were cool, and they went with everything. They contrasted with the girly floral dress and made ugly a fashion statement. They offered a modicum of protection in the mosh pit. They upped the "Who cares?" ante through sheer force of clunk.
Combat boots, then, may not fit your current, presumably more-refined style. To hint at combat without weighing down your look, keep the black and the laces, and tone down the ugly.
Combat boots, revised: Black leather lace-up or buckle-clad boots, mid-calf, with either a flatform or a wedge platform sole.
Now, fashionably heavy-shoed, leather-clad, cinched and well-torn, we come to the grunge pièce de résistance, the uniform, the shirt heard 'round the world …
1: Revisit Plaid
Plaid, 1992: Lumberjack-plaid flannel, button-down, shapeless, layered over long-sleeve tee.
It made perfect sense, considering the roots of grunge — those chilly, wet winters in the Northwest can chill the bones. The plaid flannel was warm, laid-back, careless and utterly unfashionable. In other words, grunge-perfect.
The look spread to locales where it made much less sense, and '90s youth sweated through in the name of perceived individualism. But there's a reason why the wardrobe relic is probably in your attic, if not donated a decade ago: That lumberjack shirt does nothing for you. Luckily, you can still work the plaid — in more-interesting colors and a variety of patterns; in scarves, vests, head wraps, pants, dresses and even shoes; in silk, velvet, jersey and twill. It's a veritable storm of fashion-plaid out there.
Plaid, revised: Fitted herringbone vest, zipper details, colored lining, layered over slinky jersey tab-sleeve top
Happily, designer labels in the late '70s and early '80s loved the plaid, and you never know when you'll walk into a thrift store to find a mistakenly discarded plaid Gucci skirt or Valentino coat-dress that is truly individualist chic. A stylish tribute to the stringy-haired greats. Your inner grunge, runway-ready. (Not that you care about such things.)
For more information on the grunge movement, vintage trends, and surprising runway looks, check out the links on the next page.
Lots More Information
Related Articles
The Evolution of Military Style

How to Find a Flattering Swimsuit

10 Fashion Icons for Real Women
More Great Links
Marc Jacobs: Perry Ellis Spring/Summer 1993 Runway Show (video)

List of the Day by Rob O'Connor: The 25 Best Grunge Bands — Mar. 23, 2009
Sources
Basye, Ali. "The Day that Grunge Became Glam." On This Day in Fashion. Nov. 3, 2010. (Sept. 3, 2012) http://onthisdayinfashion.com/?p=7759

"Fall 2010: Fashion Glam Grunge Style." Daily Fashion Tips. (Sept. 3, 2012) http://www.dailyfashiontips.com/fall-2010-fashion-glam-grunge-style-1034.html

Oberoi, Mallika. "Fashion Faim: De Grunge Freedom." Fashion de Regle. May 28, 2011. (Sept. 3, 2012) http://fashionderegle.blogspot.com/2011/05/de-grunge-freedom.html

Slone, Isabel. "If Fashion Blogs Were Grunge Bands." The Toronto Standard. May 14, 2012. (Sept. 3, 2012) http://www.torontostandard.com/style/if-fashion-blogs-were-grunge-bands

Walker, Harriet. "Slacker chic: Why grunge is the trend that refuses to die." The Independent. Mar. 14, 2010. (Sept. 3, 2012) http://www.independent.co.uk/life-style/fashion/features/slacker-chic-why-grunge-is-the-trend-that-refuses-to-die-1919285.html