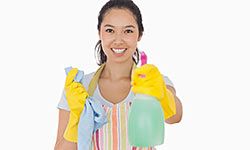 "Arm yourself for successful window washing.Thinkstock
Cleaning windows can be time-consuming housework, but not much inspires more pride in your home than clear, streak-free windows. These supplies make the work easier and faster, so you can spend less time cleaning and more time enjoying the view.
Contents
Squeegee
Sponge or Scrubber
Big Bucket
Old Newspapers
Spray Bottle
Squeegee
Not just for the gas station anymore, home squeegees are a great way to clean the windows in your house or apartment. Available fairly inexpensively at most home stores and online, these make scraping your windows – interior and exterior – a lot easier. Many come with extensions to help you reach higher windows, and you can buy replacement rubber blades so your squeegee is always ready to go.
Sponge or Scrubber
If you have many large panes of glass, a scrubber you can attach to your squeegee is worth the extra money. If your home has divided or smaller windows (inside or out), you'll do just fine with a porous handheld sponge for scrubbing. For higher outside windows, you can even use a clean, new rope mop – just don't use one you've used on your floors, unless you want to double your work.
Big Bucket
For larger cleaning jobs, you'll need a big bucket to hold your cleaning solution (try two teaspoons of dishwashing liquid to every two gallons of water). Just dip your sponge or scrubber into the mix and wipe the windows; then take your squeegee and scrape the water and solution off.
Old Newspapers
For everyday cleaning, keep old newspapers under the kitchen sink or in a stack in the mudroom. You can use them instead of paper towels to wipe off spray cleaner for a quick clean-up. You'll see a lot less streaking than you would with paper towels (this tip also works on mirrors!).
Spray Bottle
For quick clean-ups, it's helpful to keep a spray bottle of cleaning solution — either store bought or homemade — that you can spray on smudges and smears. Wipe down immediately with your newspaper, and you won't need to rinse with water.
Lots More Information
More Great Links
How to Install New Windows

How to Insulate Windows

How Smart Windows Work