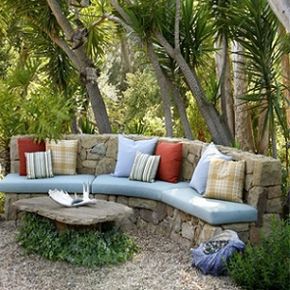 "Bring a touch of the indoors out to create a cozy outdoor living space.ARNOLD Masonry and Concrete/Creative Commons
Whether designing a large yard with acres of land or a tiny city patio, making outdoor spaces feel cozy can seem like a big challenge, but when they are done right, comfortable and functional outdoor spaces add significant square footage to a living space and often increase a home's value. Whether hiring someone to completely overhaul the yard or looking for simple do-it-yourself tricks to install this weekend, these cozy touches make outdoor spaces just as comfortable as indoor ones.
Contents
Clearly Define Spaces
Use Furniture with Upholstered Cushions
Add a Pergola
Hang Curtains
Include a Fire Pit
Clearly Define Spaces
Just as the spaces inside a home are defined, the spaces outside of a home should be, too. Use decking, pavers, fencing, or gardens to carve out different areas for dining, lounging, and playing. Tall plants or fencing also create privacy and can make a space feel more like a room. Clusters of intimate seating arrangements are an easy to help define a space.
Use Furniture with Upholstered Cushions
Outdoor furniture needs to be made from durable materials such as wood, iron, and plastic in order to withstand the elements, but if there isn't a comfortable place to sit outdoors, few people will spend time enjoying it. Adding upholstered cushions to dining chairs, porch benches, and other outdoor seating offers a comfortable spot for people to gather. Be sure to choose cushions made from outdoor fabrics and for best durability, those that are made with flow-through cushions, which dry out faster.
Add a Pergola
While creating an actual outdoor room with roofing and open sides has become a trend in outdoor living, a similar and less-costly solution is to add a pergola. Pergolas are like gazebos, but with just pillars connected at the top to form a roof of sorts, either with slats or wire or foliage. Depending on the size of the pergola, it can either be built simply by securing it to the house or it may require pillars or it can be built freestanding, but no matter how it is done, it creates the feeling of a room because of the overhead coverage. Grow a creeping plant such as wisteria, grape vines, or clematis atop the pergola for added protection from the sun and a beautiful design element.
Hang Curtains
To soften the hard edges of outdoor spaces, flowing curtains are a great option and also offer additional privacy. They can be hung in outdoor rooms, from pergolas, or in the openings on porches. Be certain to choose curtains made from outdoor fabric or they will not be able to stand up to the rain and sun.
Include a Fire Pit
Gathering around a fire pit or outdoor fireplace is one of the coziest ways to spend an evening outdoors. Fire pits can either be built into a landscape design or portable ones can be purchased at thousands of retail outlets. Built-in fire pits and fireplaces can even be tied into existing gas lines for instant fire. Setting up a seating area around a fire is the ultimate in cozy outdoor living.