No matter how cramped or disorganized or dirty your bathroom is, you just can't stay away. It's the first place you visit in the morning and the last you visit at night. This little corner of your home should feel like a welcoming refuge, not a war zone you dread entering. It's probably never going to double for the bathroom at a luxury spa, but you can make your restroom a happier place to pass some time.
Video of the Day
1. Add a Second Shower Rod for Storage
Do you have a traditional shower with too little space to hold everyone's shower gear? Think about adding a second curtain rod across the back of the shower. Hang hooks or loops from the rod to hold things like loofahs, razors and exfoliators.
2. Cut Your Liner to Stop Mildew
You buy a new curtain liner, go to all the hassle of taking the old one down and getting the new one up… and then, two weeks later, you're already seeing gunk and mildew spots appear along the bottom of the liner. A too-long liner will drag in the bath water and stay wet long after the shower is empty. Grab scissors and trim just enough off the bottom so the liner stays in place inside the tub, but doesn't get submerged.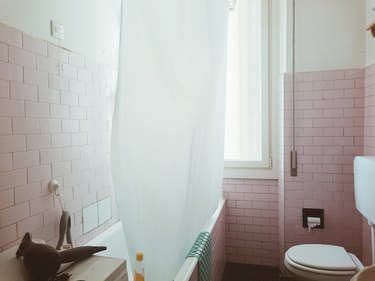 3. Hang Wire Baskets for Towels
Wire baskets are cheap, lightweight and won't make an already-cramped bathroom feel even smaller. They're also an easy storage solution for extra towels. You have a few options here. Screw baskets to the wall with the open side facing up, or place the bottom of the basket against the wall so the opening faces out.
4. Use Eucalyptus for DIY Aromatherapy
We'd all love to have bathrooms that feel spa-like, but few of us can actually make it happen. (Blame the people we live with.) Hanging eucalyptus branches over the shower head will at least make this one corner feel blissfully relaxing. As long as the branches aren't in the spray itself, warm water should release the soothing eucalyptus scent whenever you bathe.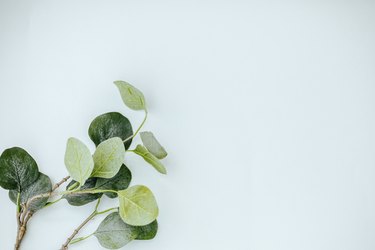 5. Keep a Vinegar Bottle Nearby
It's hard to get excited about cleaning yourself off in a moldy shower. Keep mildew at bay by storing a spray bottle with white distilled vinegar (clearly labeled) in the bathroom. After a shower, spritz the walls with vinegar. When you're ready to leave the bathroom, give the shower walls a wipe with a damp cloth. Doing this a few times a week should keep mildew from building up.
6. Try a Jar Wall Organizer
Glass jars are the perfect bathroom organizer. They come in a variety of sizes, they're pretty durable and they allow you to see what's inside. But you probably don't have the counter space for jars filled with cotton swabs and makeup brushes, so use a jar wall organizer. Crafty folks can make their own with jars, a piece of wood, hose clamps from the hardware store and a few simple tools.
7. Corral Hair Dryers in Magazine Holders
Considering how much space they take up under your sink or in your bathroom closet, hair dryers seem to double in size when you put them away. Plus, the cords tangle around everything in sight, so it's a fight just to get the darn thing out each day. Keep your hair dryer right where you want it by storing it in a wire magazine holder. You can place the holder on a shelf, or even install it to the inside of a cabinet door.
8. Make Hanging Storage Under Shelves
Decorative bathroom shelves tend to be, well, decorative. Translation: They don't hold much stuff. Take advantage of any empty space below these shelves by creating hanging storage beneath them. Install a series of heavy-duty hooks under the shelf to hang hand towels and small items there.
9. Try DIY Toilet Bombs
DIY bath bombs are all the rage, but did you know you could make a similar version for keeping your toilet clean? With baking soda, citric acid and the essential oil or Castile soap of your choice, it's easy to whip up a batch of these deodorizing little marvels. Drop one in the water and let the baking soda and citric acid work on any stains while you keep your hands clean and clear.
10. Organize Vanities With Tiered Serving Trays
With limited space on your vanity, it's important to take advantage of vertical space. You could buy plastic or metal organizers, but they tend to be flimsy and don't add much personality to your bathroom. Scour an antique shop for a tiered serving tray to use for bathroom storage instead. Instead of desserts, fill the tray with soaps, cosmetics and other odds and ends.