Green cleaning is a fairly new concept, so most people are unsure of how to do it. If this sounds familiar to you, then the following list is for you. The best place to start is with a reusable cloth. They're easily going to be your most used tool. This list gives you five outstanding options that provide lasting value and are kind to the environment, which will definitely make that first step easier. Hopefully this will be a great beginning on your cleaning journey.
Video of the Day
1. Eco-Friendly Reusable Cleaning Cloths
These eco-friendly reusable cloths are great choice because they're an easy one. From the name you already know that they're good for the environment. The cloths are also durable and have a high absorbency. They also come in a value pack with 30 sheets per roll, so they could be used in any room or on any surface.
​Notable Features:​
100% natural fibers
Environmentally friendly
Biodegradable
This product is available on Amazon.
2. Casabella Infuse Microfiber Cloths
The Casabella cloths are a fun option because they come in a bright color. These cloths are specified for bathroom use, which would make it easier to identify in your home. You would always know where it's supposed to be. The hi-lo microfiber allows for deep cleaning and scrubbing without scratching your surfaces. It's perfect for porcelain, ceramic and stainless steel and can be used wet or dry.
​Notable Features:​
Multi-surface function
Use both wet and dry
Machine washable
This product is available at Amazon.
3. Waffle Microfiber Cleaning Cloths
Waffle microfiber cloths are made of premium material so they are soft, plush and quick drying. They can catch lint, dust or any dirt, for that matter. You wouldn't need any chemical cleaners because the material is so absorbent. As they get older, they continue to pick up dirt instead of just moving it around. This cloth would be a great addition to your cleaning lineup.
​Notable Features:​
Highly absorbent and quick-drying
Use both wet and dry
Excellent at catching lint and dirt instead of spreading it around
Machine washable
This product is available on Etsy.
4. Bamology Reusable Cleaning Cloths
One cloth is the equivalent to 16 rolls of toilet paper. This option would save you so much money. Bamology reusable cloths have a lifespan of three months, so you would always know when it's time to update your supply. They're made from organic bamboo that was grown pesticide free. It's is also oder free and easy to clean. This is a great choice for those who would like a cloth that has no negative effects on the environment from the very beginning.
​Notable Features:​
Made from bamboo grown without pesticides or chemical fertilizers
Lint-free and streak-free on all surfaces
Extremely absorbent
Reusable up to three months
This product is available at Walmart.
5. Superscandi Swedish Dish Cloths
These cloths are advertised as super absorbent, 100% biodegradable, durable and easy to clean. Talk about getting on the right path to green cleaning! It can be used to wash dishes, as a paper towel or kept in the car for emergencies. Any way you choose you will not be disappointed in this cloth, especially because it could end up saving you money in the long run.
​Notable Features:​
100% biodegradable
Durability of up to 15 rolls of paper towels
Absorbs 20 times more liquid than its weight
Each cloth can be machine washed up to 200 times
This product is available on Etsy.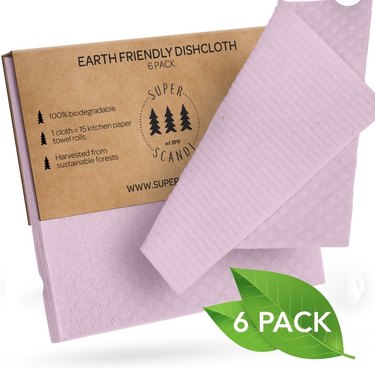 Green cleaning isn't something that's easily accomplished, but these five options should help. Choosing any of these will definitely make a difference in your routine. Some mistake will be made, but that's all part of the process. With these options, not only are you doing your part to reduce waste and use environmentally-friendly products, but you're also getting long-lasting value. Happy cleaning!