These Korean BBQ chicken lettuce wraps feature a wonderfully sticky, sweet and savory homemade sauce. It also has a spicy kick, thanks to red chili paste and fresh ginger. Once the sauce is tossed with chicken and paired with fresh vegetables, everything comes together in light lettuce wraps. Read on to make this easy and colorful meal.
Video of the Day
Korean BBQ Sauce
Things You'll Need
3/4 cup brown sugar or maple syrup (or mix of both)

1/2 cup low-sodium soy sauce or tamari

3 teaspoons minced garlic

2 teaspoons grated ginger

1 teaspoon red chili paste

1 teaspoon sesame oil

1 tablespoon rice wine vinegar

1 tablespoon cornstarch

2 tablespoons water
Tip
For a spicier sauce, use another 1/2 to 1 teaspoon of chili paste.
Step 1
To a small pan over medium-low heat, add the brown sugar, soy sauce, garlic, ginger, chili paste, sesame oil and rice wine vinegar.
Step 2
Whisk until the brown sugar dissolves and the ingredients are fully combined.
Step 3
While the sauce is on the stovetop, combine the cornstarch and water in a small bowl. Whisk together to make a slurry.
Step 4
Add the slurry to the pan. Stir well and bring to a boil, then reduce to the heat. Simmer for 5 to 7 minutes or until the sauce is thick.
Korean BBQ Chicken Lettuce Wraps
Things You'll Need
2 heads butter lettuce (or romaine lettuce)

1 pound ground chicken

1/2 cup cucumber, thinly sliced

1/2 cup shredded carrots

1/2 cup red bell pepper, deseeded and diced

1/4 cup scallions, chopped

1 cup brown rice, cooked

Korean BBQ sauce

Sesame seeds

Fresh cilantro or mint

Olive oil
Tip
For small, taco-like wraps, use butter lettuce. Typically, only the outer leaves are suitable for wraps. For bigger wraps, use the outer leaves of romaine lettuce.
Step 1
Warm olive oil in a large pan over medium-high heat. Cook the ground chicken until it's no longer pink, using a spatula to break it up.
Step 2
Add the Korean BBQ sauce. Toss until the chicken is completely coated.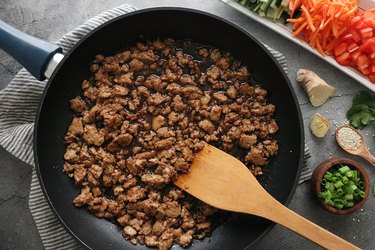 Step 3
Place the lettuce leaves on a flat surface. Scoop brown rice onto each leaf.
Tip
If needed, layer the narrow ends of two smaller leaves to make one wrap. The wider ends should fan outward.
Step 4
Top with chicken, cucumbers, carrots, bell peppers and scallions. Drizzle sauce on top and garnish with sesame seeds and fresh herbs.
For an extra kick, add a drizzle of sriracha. You can also add chopped peanuts for some crunch. Yum!