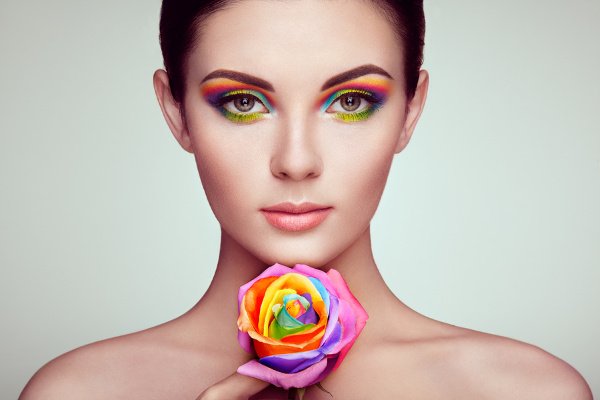 If you're getting bored with your everyday eyeshadow look, you may feel the urge to try something new. Colourful eyeshadow looks are playful and fun, allowing you to get creative with your eye makeup and look gorgeous while doing so. Colourful eyeshadow looks will make your eyes pop in the best way, whether you wear it light and subtle for daytime or bold and vibrant for night! Take a look at our favourite colourful eyeshadow looks!
How Do You Apply Colourful Eyeshadow?
1. Make Sure to Blend
Blending is key for a beautiful eyeshadow look. If you simply apply a bright colour without blending, it's likely to look like eyeshadow gone wrong. Blending the colour will give you a more natural, subtle look while still making a colourful statement.
2. Apply Eyeshadow to the Outer Corners of Your Eyes
When you're applying colourful eyeshadow, you may want to choose one place to use colour, especially if you're going for a look that's not overly colourful but still makes your eyes pop. With this technique, apply a neutral base in the crease of your eye to act as a foundation for your colour shadow. Then apply a small amount of colour on the outer corners of your eyes, with a little in the crease too. Build up the colour slowly until you have the intensity you want.
3. Pair Colours with Neutrals
If you're planning to wear colourful eyeshadow looks to work, you may want them to be a little more toned down and subtle. A great way to make sure your look is work appropriate is to have a neutral colour surrounding a more vibrant colour. This will ensure your eyes pop without being too loud.
4. Add Intensity
If you really want to go bold with your eye look, add even more intensity by wetting your brush before you apply the shadow. When you use a damp brush the bristles pick up a heavier coating of the eyeshadow, giving you a more pigmented look.
5. Use Shadow as Eyeliner
A colourful eyeshadow look isn't complete without the addition of eyeliner. Instead of using a typical liner, use a brightly coloured eyeshadow instead. You can use this with a colourful shadow look, or with a neutral shadow look to add a gorgeous pop!
6. Layer It On From Day to Night
During the day, your colour shadow should play more on the lighter side. It should be more subtle, while at night, you can opt for a more fun, bright and colourful look. Layer the shadow to make it darker when you go out at night, and keep things on the lighter side during the day.
3 Best Colourful Eyeshadow Palettes to Invest In
1. BH Cosmetics Palette, Take Me Back to Brazil
If you're looking for bright, bold colours, look no further than this BH Cosmetics palette. With 35 matte colours that are waterproof and highly pigmented, you'll be able to create a variety of colourful eyeshadow looks to wear from day to night!
2. Haus Laboratories By Lady Gaga, Glam Room Palette No. 1
The perfect combination of colourful and glam, this eyeshadow palette features matte, metallic, shimmer and sparkle finishes in 10 universal shades. With colours ranging from warm peach to rose gold to cool plum, you can get a range of beautiful colour looks with this palette!
3. Huda Beauty Mercury Retrograde Palette
This palette is galactically inspired with dusty coppers, rosy pinks, golden taupe tones, and pops of purples and blues. With mattes, metallics and glitters, you can go as subtle or bold as you like with your colourful eyeshadow.
6 Step by Step Colourful Eyeshadow Looks to Try
Pink Spotlight Eye Makeup Tutorial | Michelle Diaz
This is a gorgeous pink eyeshadow look that is sure to make a statement. It's bold and colourful in the best way, and is actually quite sultry. She uses products such as the 35B Morphe Palette, Tarte Shape Tape Concealer and the Colourpop Super Shock Highlighter to create the look! Follow her step-by-step tutorial for a vibrant pop of colour perfect to wear for a night out!
Purple Glam Eye Makeup Tutorial | Angela Bright
This purple eyeshadow tutorial is perfect for anyone who wants a bright, bold look. It's absolutely gorgeous how she blends matte and glitter shadow shades from the Morphe 39S Such a Gem Palette. She uses a number of Sigma Makeup Brushes to get the look, along with the Sigma Longwear Eye Pencil in Wicked.
How to Get Into Colourful Makeup for Beginners | 4 Easy Tutorials | Annette's Makeup
If you're intimidated by bright eyeshadow palettes and don't know where to begin, this tutorial offers four easy looks using the Jaclyn Hill Morphe Eyeshadow Palette. These subtle colourful looks are perfect for work and daily activities. They're not too bold, but still give your eyes a beautiful dose of colour. She keeps the rest of her makeup neutral with products like the Guerlain Terracotta Bronzer and Cover FX Powder.
Colourful eyeshadow is the way to go if you're feeling tired of your everyday shadow. Use our tips and techniques for rocking bold, colourful shadow!