An antique door is repurposed into an elegant entry table. Image Credit: Tim & Mary Vidra for eHow
We all have old items tucked into the back of closets or taking up space in the garage that we've been meaning to donate or throw away. But what you may see as trash right now could actually be an amazing treasure for your home and life. Here are 11 before-and-after projects that will make you think twice about tossing out old or outdated items around the house.
Video of the Day
Related: Project Details: Turn Door Into Table
Turn a Drab TV Cabinet Into a Kid's Kitchen
Kids can whip up culinary masterpieces in their very own kitchen. Image Credit: Debbie Williams for eHow
Now that bulky tube-style televisions are a thing of the past, old media centers have little value in our homes. Unless you turn them into a super cute kid's kitchen, that is. Where kids used to zone out in front of the TV, they can now practice their pretend culinary skills and get their imagination cooking!
Related: Get the Details: Make Your Own Kid's Kitchen
Give a Retro Side Table a Stylish Makeover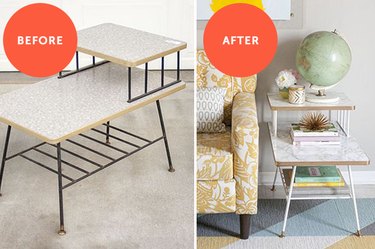 Magazines and other end table items will be proud to perch on this design. Image Credit: Carrie Waller
What's old is new in the world of design these days. And nothing is hotter than mid-century furniture. With a few simple updates, an outdated side table gets a new lease on life as an ultra-stylish side table fit for any room.
Related: Dress up Your Retro Side Table
Help Rusty Cast-Iron Skillets Become Seasoned Pros
A seasoned cast iron skillet is a must-have for every kitchen. Image Credit: Tim Vidra
When it comes to cooking with cast-iron skillets, the rule of thumb is generally, the older the pan, the better the flavor. But what happens when said skillets are completely rusted? We've got you covered with these easy steps to restore your old cast-iron skillets to shiny-new, well-seasoned heights.
Related: Restore Your Rusty Cast-Iron Skillets
Transform an Old Metal Cart Into a Colorful Bar Cart
Dazzle party guests with a fully stocked bar cart. Image Credit: Jessica Begum for eHow
At first glance, an old metal cart might seem like it belongs in the garage or tool shed. But really, it has the potential of being the showpiece at your next party – as a fabulous bar cart. And we know that bar carts are all the rage these days.
Related: Upcycle Old Metal Cart Into Cute Bar Cart
Give a Plain Folding Table a Vibrant Facelift
Folding tables and chairs can be chic, too. Image Credit: Debbie Williams for eHow
An extra folding table and chairs are nice to have for large dinner parties, especially for use as a kids' table. But that doesn't mean you have to settle for bland. A little spray paint and some chic fabric can transform your folding table and chairs into dining room superstars. Everyone will want to sit at the kids' table.
Related: Check out the Makeover: Fabulous Folding Table
Repurpose an Ugly Suitcase into a Vintage Picnic Basket
Punch up the charm on your picnics with a vintage suitcase. Image Credit: Jonathan Fong for eHow
Picnic baskets are great, but many of them can be downright expensive. An old suitcase will work just as well to carry your picnic goodies in style. Some paint and fabric go a long way to adding charm and cuteness – you'll be the hit of the park with a fully custom vintage creation.
Related: Repurpose Old Suitcase into Cute Picnic Basket
Treat a Weathered Wicker Chair to a Bold New Update
Add a pop of color to your outdoor space with a bright wicker chair. Image Credit: Jessica Begum for eHow
Patio furniture has a tendency to get weathered over time. No need to shell out your hard-earned dollars on new furniture. Instead, treat your old wicker chairs to a colorful makeover. Hint: spray paint is your best friend on this one.
Related: Give Your Weathered Wicker Chairs a Facelift
Tranform Dad's Shirt into a Daughter's Dress
Time to raid dad's closet for peasant dress fabric. Image Credit: Debbie Williams for eHow
Daughters generally like to play dress-up in mom's clothes, but dad's clothes are most definitely not off limits. Most guys have shirts they've either outgrown or the collars have become dingy. These are perfect contenders to transform into an adorable child's peasant dress.
Related: Download the Sewing Pattern: Child's Peasant Dress
Create a Vintage Masterpiece from an Outdated Dresser
A shabby chic dresser adds vintage charm to any space. Image Credit: Tim & Mary Vidra for eHow
Think of an old-fashioned dresser as a blank canvas. With a new paint color and some updated hardware, you can transform a bland piece of garage sale furniture into a shabby chic masterpiece. Go ahead, you know you want to channel your inner artist.
Related: Check Out the Technique: Shabby Chic Dresser
Update a Tacky Honey Oak Cabinet with a Sleek New Look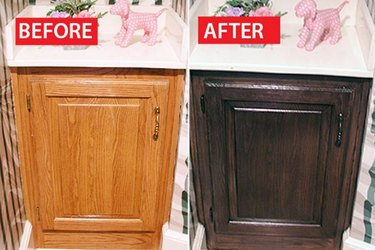 Dated honey oak cabinets get a modern makeover. Image Credit: Debbie Williams for eHow
Knock, knock. It's the 1980s, and they want their honey oak cabinets back. It doesn't take much to update cabinets with a fresh, modern look. Elevate your bathroom cabinets with these simple changes and say buh-bye to tacky.
Related: See How It's Done: Honey Oak Cabinet Makeover
Build an Elegant Entry Table from an Old Weathered Door
Charm visitors at the door with a unique entry table. Image Credit: Tim & Mary Vidra for eHow
There's nothing like salvaging a cool vintage piece and finding a new purpose for it. This old door-turned-table tutorial lends a great flea market vibe to any entryway. It's an unexpected piece to have in your home and sure to spark many great conversations. You'll be surprised to see what this door originally looked like!
Related: Repurpose Antique Door into Entry Table