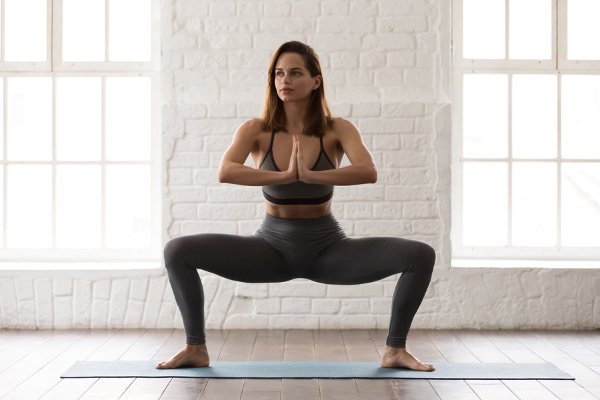 Your inner thighs are a part of the body that don't always get that much attention. Many workouts are focused on arms, core, glutes or quads, but targeting the inner thighs is just as important. Tight and toned inner thighs not only look beautiful, but they can help you strengthen your core, improve your posture and prevent injuries from occurring. Take a look at 10 inner thigh workouts you can do right at home!
What are the Benefits of Inner Thigh Workouts?
The muscles in your inner thighs are responsible for the motion of hip adduction, or bringing your legs in towards the midline of your body. Your inner thigh muscles contribute to your core strength and posture. If you have a weak core, your inner thighs could be to blame. They're the foundation upon which your hips stand, so if the foundation is weak, your core won't be able to function at its best. Training your inner thigh muscles can improve your athletic performance and decrease your risk of injury. It will make your thighs look longer and leaner, and your legs striking and beautiful.
What Equipment Do I Need?
Although most inner thigh workouts can be done without equipment, there are a few pieces you can invest in that will take the exercises to the next level. Ankle weights are a great way to add a challenge to your inner thigh workouts. Since most people have stronger outer thighs than inner thighs, ankle weights will help balance it out and tone your inner thigh muscles. Stability ball exercises such as ball squeezes are also amazing for your inner thighs, and a resistance band can help add tension and resistance to make your workouts more challenging.
10 At Home Inner Thigh Workouts
20 Minute Inner Thigh Isolate Workout | blogilates
This workout focuses on isolating the inner thigh muscles with moves like inner thigh flexed pulses, leg circles, plié squats and heel raise pliés. Pay close attention to the placement of her feet, knees and legs to ensure you get the most effective inner thigh workout possible!
10 Min Inner Thigh Workout | Chloe Ting
This inner thigh workout is only 10 minutes long and can be done from your living room, so you have no excuse not to do it! If you're looking to slim your legs and thighs and avoid bulky legs, this workout is for you! The workout is made up of moves like triangle leg lifts, bent knees circles and heel press lifts. Get ready to feel the burn!
Lazy Girl's Inner Thigh Pilates Workout | POPSUGAR Fitness
We all have those days when we're feeling particularly lazy but still want to get a workout in! Pilates is ideal for toning hard to reach places like your inner thighs. The whole workout is done on the floor and it's only five minutes! With moves like straddle criss crosses, wading water and leg beats, you're going to love this lazy girl's workout.
15 Min Burn Thigh Fat Workout (No Jumping) | Emi Wong
Every exercise in this 15 minute workout will help slim down your thighs, and not bulk them up or make them too muscular. They'll work your entire thigh area, with a special emphasis on your inner thighs! With exercises like scissors, sumo squat pulses, glute bridges and side lunges, this is an awesome inner thigh workout!
Slim Legs and Inner Thighs Workout for Beginners | PsycheTruth
This workout aims to shape and tighten your inner thighs. You'll do a range of pulsing exercises that will ensure you feel the burn! It's a great routine for glute and thigh toning and has some of the top exercises to help you get a thigh gap and thinner legs and thighs.
Extreme Inner Thighs Fat Burn Pilates Workout | Moving Mango
This workout it focused on toning and burning fat on your inner thighs, making them look more toned than ever before! The workout is 30 minutes and has a variety of different inner thigh burning moves, so get ready to feel the burn!
10 Min Inner Thigh Model Workout | Sanne Vloet
Check out this 10 minute inner thigh workout. You don't need any equipment, so you can do it right from your living room. From wide leg squats, to leg lifts, to toe touch and lifts, your inner thighs will feel the heat! Once you get the hang of this workout, you can add an ankle weight to make it more challenging!
3 Minute Inner Thigh Burn | Lottie Murphy
If you need a super quick inner thigh workout, this one is only three minutes! You'll strengthen and tone your inner thighs with ballet inspired moves. She guides you through the right technique so you can get the best out of each exercise and reap the results you're looking for!
10 Minute Inner Thigh Slimmer via blogilates
Another awesome inner thigh workout from blogilates, you'll get a total thigh transformation with 8 slimming moves. From side squats to plié squats to inner thigh lift pointed and flexed, you'll tone and tighten your thighs for amazing results.
Ballet Beach Body Inner Thigh Workout | MaxineHupy
This workout focuses on sculpting and strengthening your inner thighs with moves influenced by pilates and ballet! You'll begin by working one leg at a time, then move into double leg exercises, and you'll really use the strength of your muscles to get you through these exercises rather than momentum!
The benefits of inner thigh workouts are plentiful! Try these routines to tone, tighten and strengthen your inner thighs!