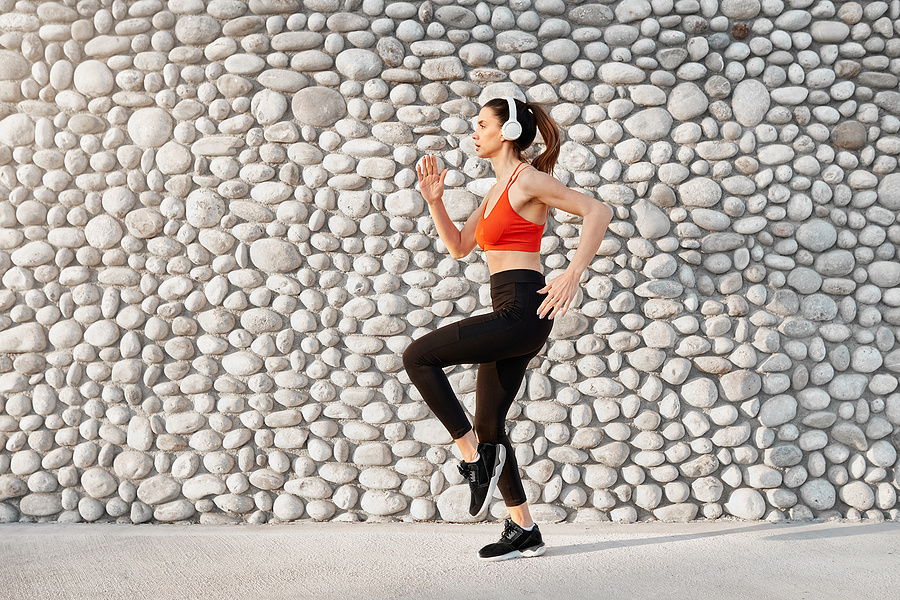 Whether you need to lose 10 pounds or 100 pounds, walking is a great way to shed extra weight. Perfect for beginners and beyond, we're curated tons of walking workouts of various lengths to help you get your steps in, torch calories, and help and look and feel your best no matter how much time you have to spare. Best of all? You don't need a treadmill, nor do you need to leave your house. These indoor walking workouts can be done from anywhere at anytime, and they are completely free to boot!
Do Walking Workouts Help with Weight Loss?
Yes. While many people don't associate walking with weight loss, getting your steps in each day can definitely help you burn calories and lose unwanted pounds. Walking workouts aren't as effective as an intense HIIT class, but they can still be a fabulous weight loss tool. Walking is low impact, making it easier on our joints and muscles, and it doesn't make us as ravenous as high intensity exercises, which definitely has its perks. The trick to losing weight by walking is to be consistent and to ensure you're also consuming a healthy diet.
4 Tips to Get The Most Out of Walking for Weight Loss Plans
1. EAT CLEAN
When it comes to losing weight, the whole calories in versus calories out idea is nothing new, but we have a tendency to overestimate how many calories we burn during our workouts. We also tend to burn fewer calories as we get older. If you're trying to lose weight, I suggest keeping a food journal for a period of time to help you get a better handle on how many calories you're consuming each day. I also highly recommend investing in a fitness tracker so you can determine if you are burning more calories than you are eating. I have tried several fitness trackers over the years, and the Fitbit Charge 4 is by far my favorite.
2. PLAY AROUND WITH LENGTH & INTENSITY
I'm a firm believer that ANY exercise is better than NO exercise, but if you are serious about using walking workouts for weight loss, the length and intensity of your walks matters. An hour-long walking workout will burn more calories than a 10-minute one will, but if time is a luxury you don't have, don't fret! Increasing the intensity of your workouts to get your heart rate up will help you get more out of those shorter walks.
3. DON'T REWARD WITH FOOD
One of the best weight loss tips I've ever received is to completely disregard the 'calories burned' metrics that are assigned to workouts. There are so many factors that determine how many calories we burn while we're exercising – our weight, height, body frame, age, etc. – so if someone says a workout burns X amount of calories, you can't be sure that metric applies to you.
Smart watches offer more accuracy as they take all of your personal details into account, but rewarding yourself with food is never a good option when it comes to weight loss. If you aren't tracking every morsel of food you put into your mouth, you can easily eat more calories than you've burned. Pay attention to your hunger cues instead, and make sure your overall plan has you in a calorie deficit.
4. KEEP IT INTERESTING
When it comes to exercise and weight loss, it's important that you choose an activity you enjoy so you feel motivated to show up each day. Walking workouts allow for a lot of flexibility as you can switch up the length and intensity, and you can find ways to keep yourself entertained in the process so you don't feel bored. You can follow along with the walking workouts for weight loss below (feel free to mute them and play your own music!), or if you prefer to walk on a treadmill or outside, you can listen to your favourite tunes or a podcast, read a book, or catch up on your favorite TV show!
7 Walking Workouts for Weight Loss
When I initially started researching walking workouts for weight loss, I assumed I would find a mix of walking routines that could be performed either on the treadmill or outside. I never considered the idea of walking in place and adding additional, low impact moves to get your heart rate up and burn calories. If you don't have a treadmill and the weather makes walking outside a challenge, these walking workouts for weight loss are just what you need!
15 Minute Walking Cardio Blast | 2000 steps | Get Fit With Rick
What I love most about walking workouts is that there are so many different lengths to choose from, and even if you only have 15 minutes to spare, you can still torch some serious calories! In this 15-minute workout, you'll get 2,000 steps in. Easy, peasy.
1 Mile Walking Exercise | Walk at Home by Leslie Sansone
This is another great 15-minute walking workout that you can do from absolutely anywhere. It's a great way to get some steps in and elevate your heart rate at home, at the gym, at the office, on vacation…the sky is the limit!
20-Minute Indoor Fat Burning Walking Workout | growwithjo
This is a great walking workout for weight loss for those looking for no equipment exercises to do at home, and it's only 20 minutes! She has lost over 50 lbs with these types of workouts, and incorporates so many different moves in such a short time. This workout flies by!
20 Minute Brisk Walk | Walk at Home by Leslie Sansone
If you're looking for a brisk walk and only have 20 minutes to spare, this is also a great one! There are lots of different moves to keep you engaged and it's one of my favorite walking workouts for days you want to move your body without getting TOO sweaty!
FAST Walking in 30 minutes | Walk at Home by Leslie Sansone
If you don't own a treadmill and can't get outside, add this to your list of walking workouts as it's low impact and just plain fun. I love that it incorporates lots of different moves as the workout goes by fast and you have the ability to pick up the pace and make it a little more challenging if you want to.
3 MILE Fat Burning Indoor Walk | growwithjo
If you're looking for longer no equipment walking workouts, this one is 45 minutes and will really get you sweating! It's low impact but it will still torch tons of calories.
10,000 Steps at Home | Get Fit With Rick
If you want to get some serious steps in, this one-hour walking workout is where it's at! He does this workout outside, but you can do it from absolutely anywhere, and I love that the video keeps a running tab of the total steps taken throughout the workout.
Whether you have 15, 30, or 60 minutes to spare, I hope these walking workouts for weight loss inspire you to move your body every single day!