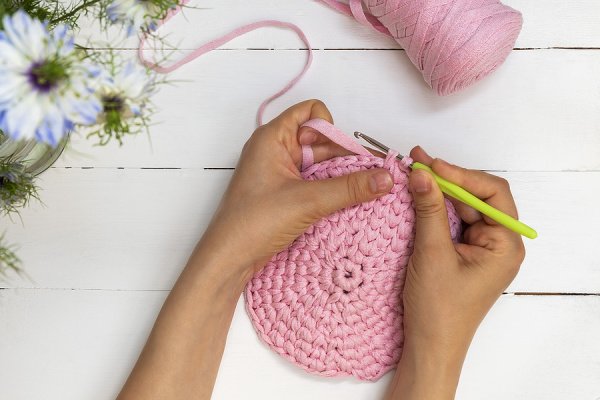 If you want to learn how to crochet, this post is for you! We're sharing everything you need, including essential supplies, step-by-step tutorials to teach you basic beginner crochet stitches, and lots of fun and easy patterns. From coasters and decorative hearts, to a ridiculously easy blanket, to headbands and face masks, to the cutest mini octopuses you ever did see, these step-by-step crochet tutorials are perfect for beginners and beyond!
6 Crochet Essentials To Invest In
1. Crochet hook set
While you'll probably only need a medium 5 mm crochet hook for many of the crochet tutorials for beginners below, a proper crochet hook set is a great and inexpensive investment to consider if you plan on moving onto more complex designs.
2. Double knitting yarn
In case you aren't in the know, yarn comes in many different weights. If you are following a pattern, it will likely tell you which type of yarn to use. If you're unsure, most beginner crochet tutorials use double knitting yarn.
3. Yarn cutter
Yes, you can use standard scissors, but as you progress and start working with finer types of yarn, a yarn cutter will give you a more precise cut. Yarn cutters are also easier and safer to transport if you plan on crocheting on the go as they come with a lid!
4. Yarn organizer
There are lots of stylish yarn organizers to choose from depending on your style as well as whether you intend on traveling with your crochet supplies or keep them at home. I love this one!
5. Blocking board
When you start working on more complex crochet patterns, a blocking board will become your new BFF. 'Blocking' refers to the process of using water to shape your design before fixing it to a blocking board with pins until it dries. Blocking can be used to flatten and remove curls, reshape multiple pieces to ensure they are uniform, and slightly tweak pieces if needed.
6. Stitch markers
As you begin branching out to more advanced crochet tutorials, you'll definitely need a set of stitch markers!
6 Crochet Stitches for Beginners
Half Double Stitch | Tamara Kelly – Moogly
Double Stitch | Fiber Flux
Triple/Treble Crochet Stitch | AllFreeCrochet
Magic Circle | MJ Carlos
Corner to Corner Stitch | Bella Coco
Waffle Stitch | naztazia
12 Step-By-Step Crochet Tutorials & Patterns for Beginners
How to Crochet a Fast and Easy Blanket | Bella Coco
If you're looking for easy crochet tutorials for beginners, this blanket is the perfect project to start with! It's a great gift idea, and if you're really motivated, you can make it under 3 hours. All you need is Bernat Blanket Yarn in the colors of your choice and an 8 mm crochet hook.
How to Crochet Classic Hearts | Club Crochet
Aren't these crochet hearts adorable? They look fabulous displayed in a decorative bowl, and make the perfect Valentine's Day gift for family and friends. You'll need Worsted Weight Yarn, a 4 mm crochet hook, Poly-fil, and a needle.
Crochet X-Twist Headband / Earwarmer | Claudetta Crochet
These x-twist headbands are so adorable, and make the perfect beginner crochet project to try once you've mastered the basics. These headbands offer a stylish way to keep your ears warm in the colder months, and they make fabulous gifts!
How To Crochet a Simple Flower | HappyBerry Crochet
I love these crochet flowers, and they are so easy to make! While some crochet tutorials are a little too advanced for kids, this is a great one for older children who are ready to take their crochet skills to the next level.
How to Crochet a Coaster | Bella Coco
If you're looking for beginner crochet tutorials you can make as gifts, these coasters are super easy and very elegant.
How to Crochet a Scarf | Sewrella
I love these crochet scarves, and they are surprisingly easy to make! They look so stylish, and can be used as a makeshift face covering if you've forgotten your face mask!
How to Make a Coil Crochet Basket | One Dog Woof
These coil crochet baskets are perfect for storing odds and ends, and I love how easily you can tailor the colors to match your space. You'll need Lion Brand Yarn 24/7 Cotton, a 4 mm crochet hook, and cotton piping to make these baskets.
Easy Crochet Scrunchies | Crochet by Bev
Scrunchies are back, and these crochet hair ties are stunning!
How to Crochet a Face Mask | Handmade By Mei
I couldn't possibly publish a collection of crochet tutorials for beginners in the middle of a pandemic without including instructions to crochet your very over face masks! While they may not meet the current guidelines for the type of face coverings you should wear in public spaces, this is still a fun project you can enjoy making with your kids.
Easy Crochet Slippers | Littlejohn's Yarn
My grandma knit slippers for everyone in the family when we were growing up, so when I saw these crochet slippers while searching for beginner crochet tutorials, I knew I had to include it. They look so comfy and cute!
Quick & Easy Baby Octopus | All From Jade
Once you get the hang of crocheting, these beginner-friendly crochet octopuses are a great project to try. You'll need Worsted Weight Yarn, a 3.5 mm crochet hook, safety eyes, Poly-fil, a needle, and a stitch marker.
How To Crochet An Amigurumi Basic Ball | Knit Grit
These amigurumi balls are so adorable, and very easy to make. All you need is your yarn of choice, a crochet hook, Poly-fil, and a needle!
If you're trying to learn how to crochet, I hope the tutorials and patterns in this post prove useful to you!