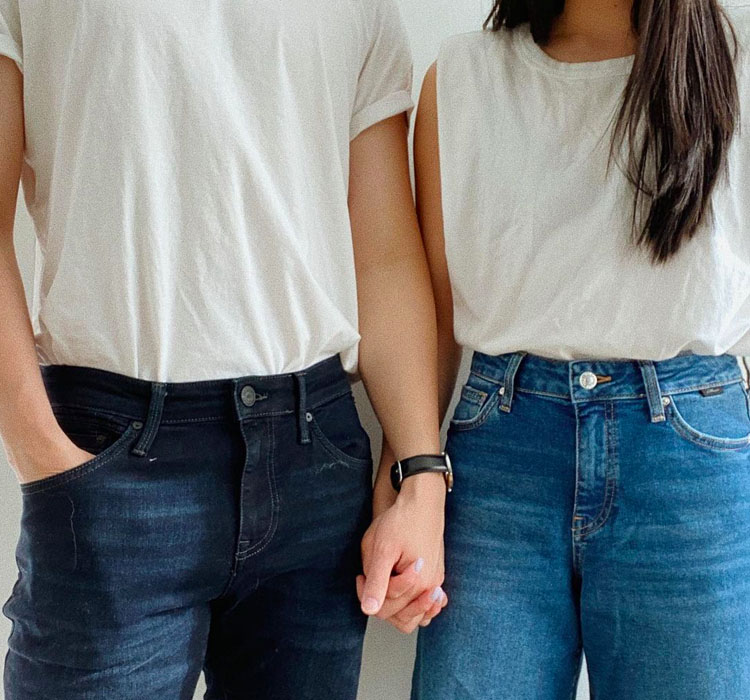 I have to admit: I'm often pretty codependent in my relationships. Sometimes I'll decide to not speak up about something because I'm afraid it might push my partner away, or I'll jump to the worst-case scenario when I don't hear from them. I've even had my fair share of needing constant reassurance and feeling really insecure if there's a moment I don't get it. It's something I'm actively working on, but it's easy for me to slip into these codependency patterns, especially in seasons where I feel more anxious or am struggling with self-confidence.
What is codependency?
As Vicki Botnick, a marriage and family therapist, explained to Psych Central, codependency can be defined as "any enmeshed relationship in which one person loses their sense of independence and believes they need to tend to someone else." While codependency may sound similar to selflessness, it's more of an unhealthy willingness to give yourself up to keep someone else. Joaquín Selva, Bc.S., explained to Positive Psychology that codependency is "a specific relationship addiction characterized by preoccupation and extreme dependence—emotional, social and sometimes physical—on another person."
Research has found many common characteristics of codependent behavior, like lack of a strong sense of self. A study of codependency found that every single one of its participants had a hard time defining who they really are, something this study calls "The Chameleon-Self." In other words, each participant easily adapted to every situation instead of showing up with consistent behavior as their true selves. The participants also described feeling out of control emotionally as well as feeling trapped in the passive role in their relationships in order to please the other person.
Codependency often stems from lack of self-worth, which can then lead to needing external validation. This can show up in every area of life, but it is especially detrimental in relationships. For example, do you find yourself struggling to do things without your partner or find it difficult to pursue hobbies or friendships on your own? Have you ever found yourself changing plans you already had to make sure you can hang with your partner? Or maybe you've diminished your own needs to please the other person? While codependent behavior can be toxic and negative, sometimes normal and healthy emotional needs get mistaken for codependent behaviors (especially in situations where our needs aren't being met, but more on that below).
What's the difference between codependency and having healthy emotional needs?
Since codependency has become a popular term, people often mistakenly use it to describe healthy, normal emotional needs within a relationship. For example, you might worry it's "needy" to express that you want more regular phone communication when you're not together or that you want to know where your partner stands. In reality, expressing your needs and communicating expectations are healthy behaviors, not codependent, needy, or high maintenance (and to everyone who thinks otherwise: thank you, next). Our society has often confused codependency with vulnerability. For example, has anyone ever called you (or have you called someone) "needy" if you ask for more time or affection? Do you think it's "high-maintenance" to let your partner know you need help or have high expectations?
Having emotional needs within the context of a partnership is healthy, and being able to express them and get these needs met is a crucial part of a safe, thriving relationship (it's not codependent!). The difference is the intention: Are you making requests or certain actions based on what you want out of a relationship, or is it because of your own insecurities, lack of self-worth, and fear the relationship won't work out? You shouldn't need your partner to feel good about yourself, but you should be vulnerable and able to depend on your partner. The opposite of codependency isn't independence; it's interdependence.
So how much should you depend on a romantic partner?
Codependency is about losing a sense of self and looking to your partner for all of your needs, while interdependency is the balance of having a strong sense of self while allowing your partner to help and support you. Interdependent relationships are when both partners are able to depend on each other (like knowing the other will be supportive when expressing needs or that you're able to ask for help), but you won't forego your needs for theirs and sacrifice yourself for your relationship.
Expressing emotional needs, like asking for more communication, physical touch, or quality time, does not make you codependent (that's just knowing your love language). These emotional needs within a relationship are normal and healthy, especially when you have honest conversations where the other person respects you and makes changes so your needs can be met. However, it can become codependent when you begin to ask for these things out of a desire to find self-worth or affirmation.
Struggling with codependency? Here's what to do next:
1. Focus on you
If you realize you haven't seen your friends in a while and only see your partner's friends or mutual couple friends, ask yourself why. What makes you prioritize your partner or relationship over the life you've had up until this point? Same with the small things, like hobbies you might've stopped doing or music you stopped listening to. Often, codependency has a lot to do insecurity about not feeling enough without your significant other. To feel enough, prioritize all the things that you love, whether it's watching more sci-fi movies (even though your partner much prefers comedies) or make plans with the friend that always makes you laugh. Fill your life with so many of the people, activities, and things that bring you joy so that your partner is not your entire life and instead just one amazing piece of an already great life.
2. Check in on your partner's part in the codependency
So maybe you've been feeling like you're codependent, needy, or high maintenance, but you realize you've been expressing healthy emotional needs that just aren't being met. Or maybe your partner has done things in the past that made you insecure in your relationship. Sometimes it's not that we're naturally codependent but that other people can make us insecure or question how "normal" our needs are. Don't be afraid to ask yourself the difficult questions like "Is your partner hearing you out?" and "Do you feel like you have a safe place to express your needs in your relationship?" Bottom line: Codependent or not, you deserve to feel heard, valued, and cared for in your relationship.
3. Talk with a therapist or relationship counselor
If you're really struggling with codependency and not having a strong sense of self (in your relationship or otherwise), find a therapist or trusted professional to help you work through these patterns and rebuild your sense of self. Working with a therapist can help you determine the healthy amount of trust, dependence, and vulnerability for you and your relationship. More importantly, working on your own self-identity and building up your interdependence can make you happier, calmer, and better in every aspect of your life.