If you love creamy soups but can't eat dairy, try this vegan cream of mushroom soup. Since it's made with non-dairy milk and vegetable broth, it's perfect if you're allergic to dairy or don't eat animal products. You can also customize it according to your preferred consistency, chunkiness and creaminess. Ready to make this easy vegan soup? Check out the instructions, below.
Video of the Day
Things You'll Need
8 ounces (or 3 cups) mushrooms, chopped

1 tablespoon oil

1/2 onion, diced

1 tablespoon minced garlic

1 teaspoon garlic powder

1/2 teaspoon black pepper

1 to 2 teaspoons salt

1/4 cup flour or cornstarch

1/4 cup water

2 cups plain plant-based milk

2 cups vegetable broth (see note below)

1/2 cup plain plant-based creamer or coconut cream
Tip
If you don't have broth—or want a super creamy soup—you can use another 2 cups of plant-based milk instead of broth (so you'll need a total of 4 cups plant-based milk). Vegetable broth is a great way to add a savory flavor, but it's not essential. Don't be afraid to experiment!
Step 1
Add the oil to a large pot. Over medium heat, sauté the mushrooms, onion, garlic, and spices.
Cook until the onions are clear and fragrant, about 5 minutes.
Step 2
If you'd like, set aside half of the cooked mushrooms and onions. You will add them back in after blending the soup. Alternatively, if you want a very chunky soup, you can leave all the mushrooms and onions in the pot.
Reduce the heat. Add the vegetable broth and simmer for 25 minutes.
If you are only using plant-based milk, add all 4 cups now.
Step 3
While the broth (or milk) is simmering, combine the flour and water in a separate bowl. Mix until combined.
Step 4
Add the plant-based milk, flour paste and plant-based creamer to the pot. Simmer on low for 15 minutes, or until the flour paste is fully dissolved. Mix well.
Step 5
If you didn't set aside some of the mushrooms, you can go ahead and enjoy the soup! Another option is to let it cool, blend in food processor (or blender) and re-heat.
If you did set aside the mushrooms, let the soup in the pot cool first. Next, blend in a food processor or blender. Return to the pot, add the cooked mushrooms and re-heat. This creates a semi-chunky soup.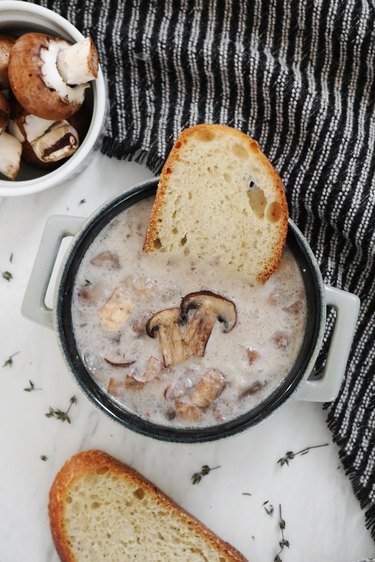 As you can see, there are many ways to prepare this vegan cream of mushroom soup. You can even add a dollop of plant-based sour cream to thicken the consistency. For an extra dose of veggies, consider adding chopped carrots while the broth simmers. You can also stir in a few handfuls of spinach just before serving. Yum!