For something that seems so easy, there has always been debate about how to bring dried beans back to life. After years of trial and testing, it turns out that soaking your beans overnight does very little to help you cook them. For such a long step, it only save about 20 minutes of cooking time, and some believe it even makes the beans less flavorful. More flavor and one less step? That's the method for me. Just bring the beans to a boil, then make sure to add a 1/4 teaspoon baking soda to the slow cooker and that soaking step is entirely unnecessary. It's a good thing since we have enough to do without spending time on things we just don't need to do.
Video of the Day
Things You'll Need
1 pound dried beans of any variety (Great Northern, Pinto, or Black preferred)

5 cups chicken or vegetable broth (or water)

1/4 teaspoon baking soda

1 teaspoon garlic powder

1 teaspoon onion powder

1 teaspoon celery salt

1/2 teaspoon salt

2 bay leaves
Step 1: Boil
This step eliminates the need for soaking. Soaking overnight versus just bringing the beans to a boil only decreases cooking time by about 20 minutes, not enough of a difference to warrant the extra step and time. Add the beans to a pot, cover with 4 inches of water. Bring to a boil, remove from heat. (If using kidney beans, boil for ten full minutes.)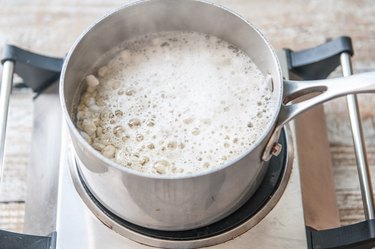 Warning
IMPORTANT: All dried beans have a toxin called lectin (specifically phytohemagglutinin_)_. Some beans, like kidney beans, are extremely high in lectin and can be toxic if not cooked properly. If you're using a high lectin bean you MUST boil for ten minutes to remove the toxins. If you're using a low lectin bean like great northern and pinto, boiling isn't as necessary, the lectin levels are not toxic .
Step 2: Drain
Drain the beans and add to the slow cooker along with the remaining ingredients. Cook on low for 8 hours. Start to check the beans after about 5 hours. Bean cooking time will depend on the type of bean, the size, and how long ago the beans were dried.
Step 3: Store or Serve
Remove the bay leaves, drain, and store in an air tight container, or serve warm. Beans freeze well, don't be afraid to make a large batch and freeze more for later.
Tip
Don't skip the baking soda! It helps soften and cook the beans, especially those that have been stored a long while and are especially tough.