Make every day Taco Tuesday with these delicious taco stuffed peppers. Enjoy them as an appetizer, side dish or main dish! You can even make them dairy-free by skipping the cheese or using non-dairy cheese and sour cream. Whether you're cutting back on refined carbs or simply want to eat more veggies, you'll love this savory recipe.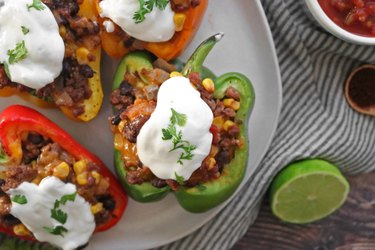 Video of the Day
Things You'll Need
4 bell peppers

Olive oil

Salt and pepper, to taste

1/2 medium yellow onion, chopped

1 tablespoon minced garlic

1 pound ground beef

3 tablespoons taco seasoning

3/4 cup black beans

3/4 cup corn

1/2 cup salsa

1 1/3 cup shredded cheddar cheese

Lime

Fresh cilantro

Sour cream
Tip
Depending on the size of your bell peppers, you might need 5 or 6 in total.
Step 1
Pre-heat the oven to 375° Fahrenheit. Meanwhile, cut the peppers in half and remove the seeds.
Step 2
Transfer the cut bell peppers to a large baking dish. Drizzle with olive oil and season with salt and pepper.
Step 3
In a saucepan over medium-high heat, warm 1 tablespoon of olive oil. Add the onion and cook until soft, about 5 to 7 minutes. Add the garlic and cook until fragrant, about 30 seconds to 1 minute.
Step 4
Add the ground beef. Cook until no longer pink, using a spatula to break it up. Drain the fat.
Step 5
Add the taco seasoning and season with salt and pepper, to taste.
Step 6
In a large bowl, combine the cooked beef, black beans, corn and salsa. If you're using cheese, add 1 cup. Mix well.
Step 7
Generously stuff the bell peppers with the taco mixture. Top with the remaining 1/3 cup of shredded cheese. Alternatively, you can add the cheese 5 minutes before the peppers are done baking.
Bake for 25 minutes or until the peppers are slightly tender.
Step 8
Top with sour cream and fresh cilantro. Enjoy!