Turn up the style and flavor on classic deviled eggs with a fancy version made to look like edible baskets. Don't judge a book by its cover, though — they aren't much more effort to make than the regular kind. Featuring an assortment of gourmet flavors as well as tiny "handles" made out of chives, these impressive appetizers are sure to make your Easter meal (or any occasion) feel special.
Make the Egg Baskets
Things You'll Need
6 eggs

3 tbsp mayonnaise

1 tbsp Dijon mustard

1 tsp white wine vinegar

Salt and pepper

Chives
Tip
This recipe is for half a dozen eggs. Double the ingredients to make a full dozen.
Step 1
Place the eggs in a pan and enough water to cover them by an inch. Bring the water to a boil, place a lid on the pan, and then remove from heat. Let the eggs stand covered for 12 to 14 minutes.
Step 2
Transfer the eggs immediately to a bowl of ice water so they can cool quickly. After a few minutes, peel the eggs and slice the pointy tip off the end to create a flat bottom so the eggs can sit upright. Then slice 1/3 off the other end to expose the yolk.
Step 3
Use a small spoon (such as a 1/4 teaspoon measuring spoon) to gently scoop the yolks out of the egg whites and into a bowl. Add the mayonnaise, Dijon mustard, white wine vinegar, salt and pepper to the yolks. Mix the ingredients together until creamy.
Step 4
Scoop the egg yolk mixture into a piping bag (or plastic storage bag with the corner snipped), and pipe the mixture into the egg whites.
Step 5
Stick the ends of a chive into the yolk mixture (trimming the length if needed) and bend into a basket handle shape.
Spicy Bacon Cheddar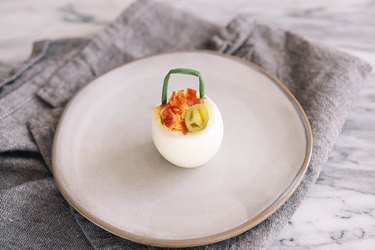 Top the egg with shredded cheddar cheese, crumbled bacon, and a sliced jalapeño.
Salmon Dill
Garnish the egg with smoked salmon, a few capers, and a sprig of fresh dill.
Buffalo
Place blue cheese crumbles on top of the yolk mixture, and then drizzle hot sauce on top of the cheese.
Southwestern
Top the egg with a few kernels of corn, diced avocado, and a spoonful of pico de gallo.
We love all of these flavors, but you could certainly experiment with any combination of toppings. Think Parmesan Truffle, Curry Coconut, Sriracha Lime, and so on. We'd love to hear which flavor is your favorite!