Although shrimp scampi seems like a fancy meal, it's surprisingly easy to make. Simply cook the shrimp in lemon-garlic butter sauce, then top with parsley and Parmesan. You can even add extra vegetables (like we did) for an extra pop of flavor and color. Serve it over a bed of pasta or rice for an attractive homemade meal.
Video of the Day
Things You'll Need
1 pound shrimp, deveined, peeled or unpeeled (see notes below)

6 tablespoons unsalted butter, cubed

4 garlic cloves, minced

1/2 cup broth or dry white wine

Salt and pepper

1 teaspoon lemon zest

4 tablespoons lemon juice

1/4 cup fresh parsley, chopped

1/4 cup shredded Parmesan cheese

3 cups baby spinach (optional)

1 cup grape or cherry tomatoes, halved (optional)
Tip
Some people prefer to cook shrimp with the shell on. This method captures the shrimp's juices, which enhances their flavor. However, you'll need to peel the shrimp just before eating. If you prefer to make a ready-to-eat meal, use peeled shrimp instead.
Step 1
In a large skillet, melt the butter. Cook the garlic for 30 seconds to 1 minute, or until golden brown. Avoid burning the garlic.
Tip
You'll need to use a skillet that's big enough to cook all the shrimp. If you don't have one, divide the sauce ingredients and shrimp between two skillets.
Step 2
Add the broth or white wine. Simmer for 3 to 5 minutes or until reduced by about half.
Step 3
Add the shrimp in an even layer. Add the spices, lemon zest and lemon juice. Cook for 3 to 4 minutes. The shrimp should be light pink.
Step 4
Using tongs, flip the shrimp. Cook for another 3 to 4 minutes.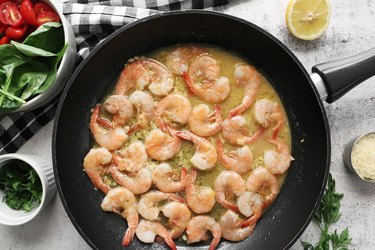 Step 5
Add the baby spinach and sliced tomatoes, if using. Place the lid on the skillet, if you have one on hand.
If you're not using spinach and tomatoes, skip to the last step.
Step 6
Cook for 5 to 7 minutes or until the spinach is wilted and cooked down, stirring occassionally.
Step 7
Sprinkle with Parmesan cheese and garnish with fresh parsley. Serve alone or over pasta, tossing with the sauce until coated.