​eHow may earn compensation through affiliate links in this tutorial.​
When I decide to clean up my diet and eat better, I need one great, easy recipe that also feels indulgent — a recipe that satisfies the requirements of my diet as well as the urge to eat incredibly yummy things, and also doesn't take too long to make. THIS is that recipe for me. It's not only incredibly simple, it's also easy to make in huge batches, portion out, and meal prep for the week. It's a go-to for all of my post-indulgent weeks when I need a good reset.
Video of the Day
Things You'll Need
Large nonstick skillet

1.5 lbs chicken (thighs or breasts) boneless, skinless

2 large bell peppers (any color)

2 tablespoon olive oil, divided

1 packet taco seasoning

1 lbs cauliflower rice or cauliflower crumbles

1 teaspoon salt

1/2 cup salsa

1/4 cup chopped cilantro and green onion

1 jalapeño, sliced

1 avocado, sliced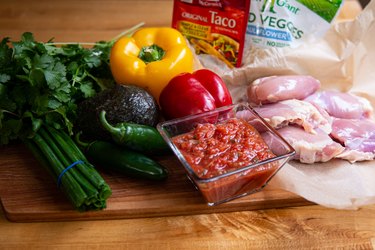 Step 1
Chop the chicken and slice the bell peppers.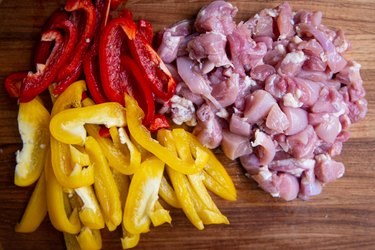 Step 2
Heat 1 tablespoon olive oil in a large skillet. Try the Cuisinart 622-36H Chef's Classic Nonstick Hard-Anodized 14-inch Open Skillet, which can be used for a variety of cooking tasks.
Add the chicken and bell peppers until they start to brown. Add the seasoning, cooking until the chicken is cooked through and opaque.
Step 3
Add the remaining olive oil to a large skillet over medium high heat. Add the cauliflower rice and salt, cooking until the cauliflower is warmed and slightly browned.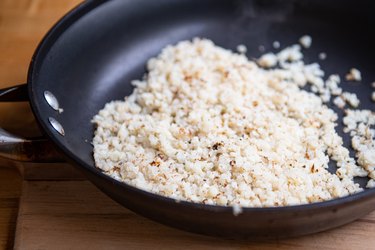 Step 4
Divide the rice between 4 bowls, like these Partito Bella Pro-Grade Porcelain Serving Bowls. They're stylish, stackable and dishwasher safe. You can also use the bowls in the microwave or store them in the freezer.
Top the rice with chicken and peppers. Add sliced avocado, jalapeño, cilantro, green onion and salsa.