It seems as through every year goes by a bit faster, and that means our skin isn't getting any younger. The anti-aging skincare industry is a booming business, but in addition to focusing on what we put on our skin, there are many good ingredients we can eat and drink to nourish our bodies from the inside out. This Fountain of Youth Smoothie focuses on some of those beneficial ingredients, packing a lot of nutritional punch into one drink. There are a couple slightly unusual ingredients, but you can barely taste them, if at all! This smoothie comes together in no time, and it's worth adding to any anti-aging skincare routine as a breakfast, snack or even dessert.
This recipe yields 1 smoothie, but can easily be scaled up as needed.
Things You'll Need
1/2 cup plain yogurt or kefir

1/3 cup pomegranate juice

1/4 cup fresh squeezed orange juice

1/2 cup blueberries

1/2 cup strawberries

1 teaspoon extra virgin olive oil (a mild-flavored one)

1/2 teaspoon matcha green tea powder
Step 1: Gather your ingredients.
Let's go over why these ingredients have been chosen, in order:
Yogurt/Kefir – While specific anti-aging properties have never been scientifically proven, yogurt and kefir are rich in calcium, which helps fight off osteoporosis in later years. They also contain "good bacteria" to maintain gut health. On top of that, they're an excellent smoothie base.
Pomegranate juice – Pomegranates are packed with Vitamin C, which help guard against the effects of sun damage and age-related dryness. They contain ellagic acid, which fights damage from free radicals. The also contain punicalagin, a nutrient that may increase the body's capacity to preserve collagen, which keeps the skin supple. It's great to eat whole pomegranate seeds whenever possible, but for the purposes of a smoothie, the juice is a better option.
Orange juice – Fresh oranges are extremely hydrating to the skin and cells, and they're full of Vitamin C.
Blueberries – The antioxidants in blueberries will give your skin extra protection against free radicals that result from sun exposure as well as emotional and physical stress.
Strawberries – Strawberries, like pomegranates and oranges, are packed full of Vitamin C.
Extra virgin olive oil – Olive oils contain polyphenols, which are powerful antioxidants that may help prevent certain age-related diseases. They also contain omega-3s, which improve circulation, improving the appearance of skin. (Recipe note: some olive oils are bitter! Make sure to use one that has a mild, neutral flavor.)
Matcha green tea powder – Matcha has powerful antioxidant and anti-aging properties (more antioxidants than pomegranates and blueberries, actually!). Green teas contain catechin polyphenols, which fight the effects of cell-damaging free radicals. Research suggests that polyphenols may help fight off certain diseases such as cancer.
Step 2: Combine ingredients in a sturdy blender.
Place all of the ingredients in a blender.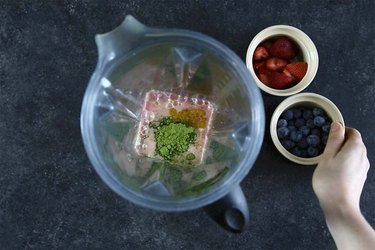 Step 3: Puree.
Puree until very smooth.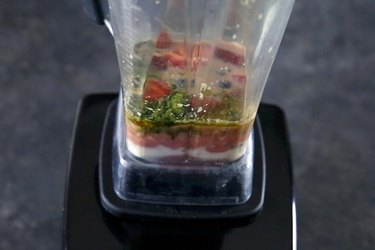 Step 4: Pour and serve.
This recipe makes one serving, but can be scaled up as needed.
Step 5: Enjoy immediately.