Don't let Amazon Prime Day pass you by! Lasting two days, from June 21 through June 22, the event – one of the biggest online sales events of the year – promises millions of deals and some of the year's best offers on Amazon products and services and other goodies featured on Amazon – including all kinds of kitchen products.
Video of the Day
Prime Day itself may be over, but plenty of Prime Day early deals are still active! We've compiled some of the best deals we've seen on quality kitchen products that'll either make your kitchen life easier or add some style, or both. If you missed Prime Day this year or just want to take a second look at some great deals, check out our list of deals that are still active, with some lasting through June 30 or even into early July.
Ninja FD401 Foodi 8-Quart 9-in-1 Deluxe XL Pressure Cooker
Now: $194.87 (Save 22%)
This deluxe pressure cooker from Ninja earns that qualifier with its generous nine cooking functions: Pressure Cook, Air Fry Air Crisp, Steam, Slow Cook, Yogurt, Sear Sauté, Bake Roast, Broil and Dehydrate. Ninja's Tendercrisp technology cooks ingredients to lock in juices and then give them a crispy, golden air-fryer finish. It contains an 8-quart ceramic-coated, non-stick pot and a 5-quart cook-and-crisp basket. The FD401 combines a pressure cooker and air fryer to make for one formidable cooking machine that is a must-have for your kitchen.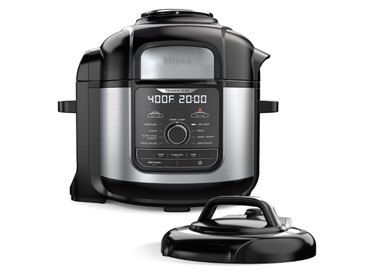 Check out this collection of safe dishware for toddlers by ECR4Kids: All ECR4Kids dishware is certified BPA-free, phthalate-free, lead-free, CPSIA-compliant, made of food-grade plastic and dishwasher-safe.
ECR4Kids Tableware
​Drinking Cup (3-pack):​ Now: $11.83
​Snack Bowl (3-pack):​ Now: $12.90
​Forks (3-pack):​ Now: $7.53 (Save 20%)
​Spoons (3-pack):​ Now: $4.68 (Save 31%)
All ECR4Kids tableware is certified BPA-free, phthalate-free, lead-free, CPSIA-compliant, made of food-grade plastic and dishwasher-safe.
Spice Rack 3 Tier iSPECLE Spice Organizer Standing Rack
Now: $24.99 (Save $11.00)
This multi-tier spice organizer rack is ideal for kitchens with limited space, but you can get creative with it and use it in the bathroom or bedroom, as well. Measuring 16.14 inches x 7.48 inches x 16.92 inches, it holds a lot but takes up minimal space. Anti-slip rubber feet prevent scratches on your countertop. Opt for the classic bronze coating to get the biggest deal.
Anova Sous Vide Precision Cooker Nano | Bluetooth | 750W
Now: $99.99 (Save $30.00)
This high-tech sous vide precision cooker uses nanotechnology to circulate water at the exact temperature required for perfectly-cooked meals. You can monitor what's cooking through the Anova app on your phone via Bluetooth. The app also provides access to thousands of free recipes. It's approximately 12.8 inches long, 4.1 inches wide and 2.2 inches thick, small enough to fit in your kitchen drawer and almost 2 inches smaller than the original Anova sous vide cooker.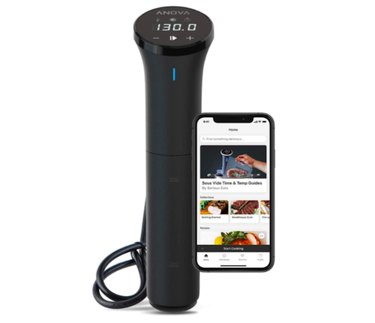 Bodium Bistro Knife Block, Black
Now: $40.02 (Save $29.97)
This knife holder offers convenient storage and is made of premium plastic with a soft touch grip and silicone feet to anchor it. The interior plastic sticks that hold the knives in place are removable and dishwasher-safe.
Prepara Multiple Taco Holder
Now: $6.40 (Save 20%)
Prepara has solved the common problem of hard tacos falling over with this nifty and eye-catching taco holder that can hold two or three tacos, depending on which side is facing up. It has the decorative look of real ceramic, but it's really made with a durable melamine construction. Why not get one for each person at the table and forget the plates?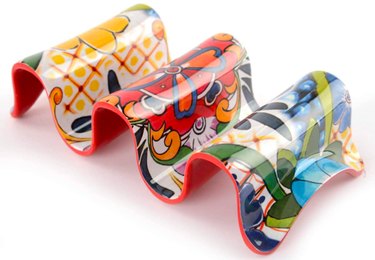 Prepara Ten Taco Carousel
Now: $15.99 (Save 20%)
Yes, more tacos. There can never be too many tacos. To complement the taco holder meant for individuals, Prepara's also got a ten-taco carousel platter that's even more visually striking. It's the perfect party platter. What's that? You could eat all ten yourself? Same here.
SMARTAKE 2-Pack Shower Caddy, 304 Stainless Steel, Silver
Now: $23.99 (Save $2.00)
Ok, the official product name might mention the shower, but this two-pack, rust-proof organizer totally works in the kitchen, too. It's made of stainless steel and includes four hooks and two shelves that can bear up to 30 pounds each. It's really a great way to free up space in your kitchen. Best of all, installation is easy, with no drilling required. Instead, a powerful adhesive does the trick, with two additional adhesives available. Both shelves measure 11.4 inches long but feature different heights and widths (3.9 inches versus 2.7 inches tall and 3.7 inches versus 4.3 inches wide) due to their differing designs.
SHARDOR Hand Mixer Powerful 300W Ultra Power Handhold Mixer
Now: $18.39 (Save 47%)
This powerful and compact hand mixer features five speeds and a turbo function for each speed, making mixing a cinch. All the four accessories are made of stainless steel, which is more resistant to corrosion than other materials. It all comes with two beaters, two dough hooks and a storage base.
Calphalon Classic Nonstick All Purpose Pan With Cover, 12-Inch, Grey
Now: $59.29
If you're ready to make your kitchen feel a little more gourmet, this classic all-purpose pan from Calphalon features a non-stick dual layer for easy food release and quick cleanup. It's made of hard-anodized aluminum with stainless steel loop handles, includes a glass and stainless steel cover and is safe up to 450 degrees Fahrenheit in the oven. There's also a full lifetime warranty to seal the deal. It's available in other sizes at variable prices.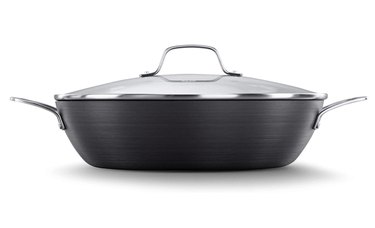 Calphalon Classic Nonstick Dutch Oven With Cover, 5 Quart, Grey
Now: $42.83 (Save 22%)
Another high-end piece of cookware from Calphalon, this classic non-stick Dutch oven features convenient measuring marks, pour spouts and straining lids – how thoughtful! It's made of hard-anodized aluminum and stainless steel and is safe in the oven up to 450 degrees Fahrenheit. The biggest savings are on the 5-quart option, but other sizes are available at variable prices.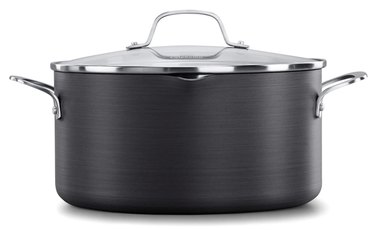 Prepara Latchlock 7.8-Cup Tritan Food Storage Container, Clear
Now: $14.13 (Save 26%)
These interlocking containers (if you buy multiple or a set) feature unique steaming vents and pouring lips and microwave capability. It's 8 inches tall, 6.58 inches wide and 7.25 inches long. It's available in other sizes at variable prices, but this is the biggest price reduction.
DASH Stainless Steel Mixing Lids, Silicone Non-Slip Base With Measuring Lines and Strainer, 3 Bowl Set
Now: $30.00 (Save 25%)
This stainless steel set of three comes with a 15-quart bowl, a 5-quart bowl and a 3-quart bowl. The two larger bowls feature silicone bases to prevent slipping when beating or mixing and the smaller bowl has a silicone foot for easy resting on its side. There are precise measuring lines helpful for cooking and the smaller bowl also comes with a built-in strainer for pasta, washing vegetables or gradually adding dry ingredients. It's a great deal for such a functional set.
Midea WHS-65LB1 Compact Single Reversible Door Refrigerator, 1.6 Cubic Feet (0.045 Cubic Meter), Black
Now: $113.58 (Save $12.31)
This compact refrigerator has a capacity of 1.6 cubic feet with dimensions of approximately 17.7 x 18.6 x 19.4 inches. Its mechanical temperature adjustment ranges from 32 to 35.6 degrees Fahrenheit (-2 to 2 degrees Celsius). The most unique feature is probably the door, which can be adjusted to swing open left or right. Its completed by a one-year warranty.
KITCHER 6.8QT Air Fryer, 1700W Toaster Oven & Oilless Cooker with Temperature Control
Now: $99.59 (Save 17%)
This air fryer reduces fat by up to 75% and handily comes with eight of the most-used presets for easy cooking, including: steak, poultry, seafood, French fries, pizza, vegetables, bread and desserts. It features a 6.8 quart-capacity non-stick basket that can fit a 6-7-pound whole chicken! It's also equipped with an automatic shutoff and protection system. This is one of the easiest air fryers to use on the market.
DASH Turbo POP Popcorn Maker + Measuring Cup for Kernels
Now: $23.99 (Save 20%)
This cute yet sleek popcorn maker makes the perfect amount of popcorn for a snack or for a few people to share. Its cyclonic air flow allows for faster popping, reduces un-popped kernels and eliminates overcooking. It's fast and easy to use – simply measure and add your kernels to the high-capacity heating chamber, add butter on top (the measuring cup doubles as a butter melting tray), turn it on and sit back. Its compact size makes it ideal for a college dorm room or to bring along on a camping or RV trip.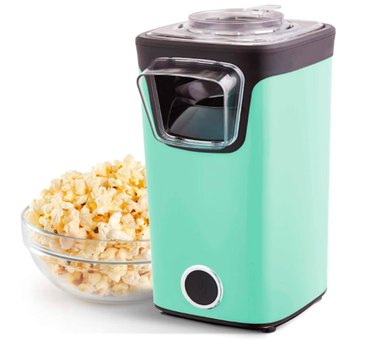 DASH Deluxe Electric Air Fryer + Oven Cooker With Temperature Control, Aqua
Now: $79.99 (Save 20%)
This deluxe electric air fryer is a great way to make fried food that's healthier than traditionally-fried food. Instead of using oil, the Aircrisp technology reduces fat by 70-80% percent without sacrificing flavor. This version comes with a 6-quart capacity, generally enough for a family of four or more in one round, depending on the food. You set the time and temperature according to your recipe and let it do most of the work. It comes with a 50-inch cord and is backed by a one-year manufacturer warranty. As a bonus, it comes with a recipe book and access to a recipe database.
DASH Aircrisp Pro Compact Air Fryer + Oven Cooker With Temperature Control
Now: $54.99 (Save 21%)
The smaller sibling to the Deluxe Electric Air Fryer, the DASH Aircrisp Pro Compact Air Fryer provides the same benefits (reduced fat, easy cooking procedure) as its larger counterpart, but offers 2 quarts instead of six. It's ideal for people with limited space and singles or couples. It's small enough that it won't crowd your RV but will still provide enough food for a couple of people.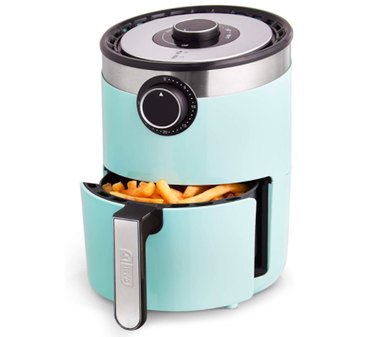 DASH Rapid Egg Cooker: 6 Egg Capacity Electric Egg Cooker, Yellow
Now: $16.99 (Save 15%)
Cook up to six eggs in soft, medium or hard-boiled firmness in this ultra-convenient rapid egg cooker. It's the original and most-trusted egg cooker on the market (according to DASH, anyway!) and helps save time and water while also cooking eggs that easily slide out of their shells. It's compact and lightweight, clocking in at just one pound, and comes with a 33-inch cord. If you're an egg person, this is a got-to-have gadget.
COSORI Electric Kettle With Upgraded Stainless Steel Filter, 1.7L
Now: $23.26 (Save 17%)
This electric kettle is made of food-grade stainless steel and borosilicate glass, which are designed to withstand high temperatures – so no cracking here. It rapidly boils water in 3-7 minutes, perfect for coffee and tea. The cord has been attached to the base in such a way that allows the kettle to rotate 360 degrees to face any direction. Featuring British STRIX thermostat technology to prevent overheating, an auto shut-off turns off the kettle once the water has reached boiling point. There's also a blue LED indicator light that stays on while boiling and turns off when your water's ready.
GelPro Designer Comfort 3/4" Thick Ergo Foam Anti-Fatigue Kitchen Floor Mat
Now: $34.20 (Save 14%)
If you suffer from joint pain or sensitive muscles, this kitchen floor mat can help mitigate discomfort and fatigue while providing excellent support, helping to prevent feet, legs and back pain. The standout features are the 3/4-inch thick ergo foam core and non-skid bottom surface to prevent any accidents. It comes in multiple patterns and sizes, but the deal in question is for the mat measuring 20 x 32 inches. If you hate standing at the kitchen sink doing dishes, this mat might make the chore more comfortable.