While mouthwash is typically used to freshen breath and kill germs have in our mouths, it surprisingly has some other uses that are really cool. Because of it's antibacterial properties and minty freshness, mouthwash can also be used to clean different areas in our homes. You can clean a washing machine using mouthwash, sanitize your toilets, clean stinky sink drains and even extend the life of your fresh cut flowers!
Clean and Freshen Your Washing Machine
To clean and freshen your washing machine, pour one cup of mouthwash into the machine and run a wash cycle on hot.
The antiseptic in the mouthwash will work its way into the drains and hoses of the washer, helping to rid it of any debris or mildew.
Sanitize Your Toilets
To clean and sanitize your toilets, simply pour one cup of mouthwash into your toilet and let it sit for 30 minutes.
Use a toilet brush to scrub any loosened dirt and debris, then flush as normal. Your toilet should be clean and fresh smelling too!
Freshen Stinky Sink Drains
To freshen a stinky drain, pour 1 cup of mouthwash down the drain and let sit for 30 minutes.
After 30 minutes, rinse the drain with warm water. Your sink will smell fresh and clean!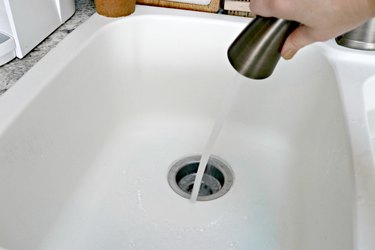 Extend the Life of Fresh Cut Flowers
The antiseptic in mouthwash can help keep flowers fresh longer than normal. To extend the life of your bouquet, use pruning shears to remove at least an inch from the stems. Add 1 tablespoon of mouthwash to clean water, then add your flowers.
Your flowers can last up to a week more using this method!