1 of 15
When the chilly months hit, keeping warm in your home without having to worry about spending a fortune on your heating bill requires a little creativity. Cozy up with these great ideas to keep you comfortable all winter long, or make the most of being snowed in if the storm has already hit!
Image Credit: eHow
2 of 15
Keep the Cold Air Out and the Heat In
Here's one way to insulate your windows and keep cool drafts out: Install shades. We think that classic Roman shades complements just about any style in any room. And our no-sew tutorial will help you get them up in no time. (Yes, we said no-sew.)
Image Credit: Demand Media
3 of 15
Make a Cozy Blanket
Save bucks at the store and make this gorgeous blanket. Not only is it beautiful, but it also offers an extra layer of warmth when needed. Inspired by a traditional Moroccan wedding blanket, it looks like it's straight out of Anthropologie's House & Home collection. Your bed is begging for this!
Image Credit: Demand Media
4 of 15
Cover Up the Cold Floor
You know that chilly feeling of walking on a hardwood floor first thing on a cold winter morning? Big time brrrrs. A handmade shag rug or a rug made from a drop cloth will keep your feet warm and cozy.
Image Credit: Demand Media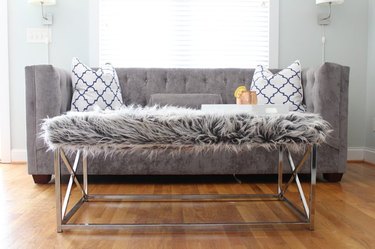 5 of 15
Upholster a Coffee Table with Faux Fur
OK, so you can't wear this or wrap yourself in it, but tables need attention too — and you can never go wrong with surrounding yourself with soft things when it's cold outside. A comfy piece of decor like a faux fur coffee table will add warmth to your living room with it's cool style. Opt for a chic sheepskin throw over the table if you don't want to commit to upholstery.
Image Credit: Demand Media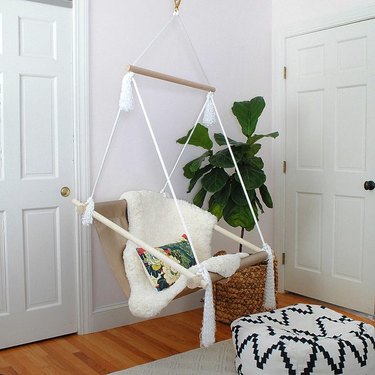 6 of 15
Curl Up in a Cozy Nook with a Good Book
There's nothing better than cuddling up with a warm blanket and a book in a reading nook. Create a cozy corner in your home using this tutorial for a swinging hammock chair. That Moroccan Wedding blanket would look great draped across this, don't you think?
Image Credit: Demand Media
7 of 15
Relax in a Warm Bath
Soaking in a warm bath will feel even more lavish with a candle and a glass of wine or a boozy beer hot cider. (We firmly believe you need to warm your belly, too.) Use a DIY rustic bath caddy to hold these little luxuries. Bubbles not required, but definitely recommended.
Image Credit: Demand Media
8 of 15
Make a Pair of Slippers
Plush slippers are a must-have for the winter months. After all, keeping your extremities covered will ensure that the rest of your body stays heated. Why not upcycle an unused sweater into a pair of fleece-lined slippers?
Image Credit: Demand Media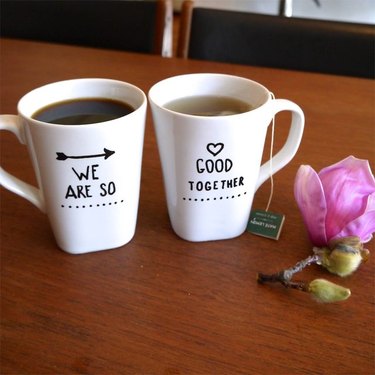 9 of 15
Make a Set of Romantic Mugs
Put a sweet sentiment on a pair of dishwasher-safe mugs that you can share with your significant other. Once you make them, fill them with a hot drink (see below) and then snuggle up with your sweetie to keep warm. (Wink-worthy tip: Why not turn down the heat even more so you can turn up the snuggle factor?)
Image Credit: Demand Media
10 of 15
Mix Up a Gingerbread Hot Toddy
The smell of cinnamon, brown sugar and orange will fill your kitchen when you whip up this traditional winter drink. It's an impeccable choice on a cold night. The whiskey will help you warm up and, if you're feeling under the weather, soothe your sore throat, too.
Image Credit: Demand Media
11 of 15
Knit a Hand Warmer
30 seconds in the microwave gives you 15 minutes of warmth with this adorable heart-shaped hand warmer. Perfect for placing in your pocket as you piddle around the house, or for heating your hands while watching your favorite TV show. Filled with rice, they are the ideal all-natural, reusable alternatives to disposable hand warmers
Image Credit: Demand Media
12 of 15
Pull on a Pair of Fingerless Mittens
The handy design of these convertible gloves makes it easy to eat, drink, or let's be real, check your phone. When you're done, simply cover up your fingers to keep warm. Click the link to learn how to knit your own pair.
Image Credit: Demand Media
13 of 15
Sew a Set of Leg Warmers
Layer in style with faux-buttoned leg warmers made from an old sweater. These are knee-high which means no more socks slipping down inside your cozy boots! Plus, you won't believe how crazy easy this project is to make.
Image Credit: Demand Media
14 of 15
Create a Sweater Cowl
Protect your neck from the bitter cold of winter with a cozy cowl. Give that sweater sitting in the back of your closet another life by repurposing it using this simple step-by-step tutorial.
Image Credit: Demand Media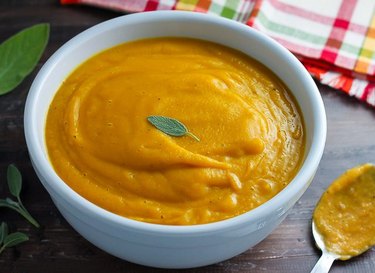 15 of 15
Heat Up With a Bowl of Homemade Soup
There's no doubt about it, when temperatures drop it's officially soup season. Here's the perfect recipe for butternut squash soup made from scratch. Make a big batch and eat it throughout the week.
Image Credit: Demand Media