A little bird told eHow that there are several show-stopping DIY kits online so you can make your very own birdhouse that is both aesthetically pleasing and cheap-cheap. The DIY birdhouses sold on sites like Amazon and Etsy can be completed in just a few steps, and they will be a lovely addition to your backyard. That's not the only peck – we mean, perk – because birds will be flocking over to check it out for themselves. Save the cash, get your arts and crafts on and prepare to be wowed with these DIY projects below.
Video of the Day
1. Cottage Birdhouse Kit
Your backyard birds will be living in style with this adorably chic cottage birdhouse. It's a breeze to assemble and can be done in a matter of minutes. There will be some gluing and painting involved, so have those supplies on deck and take it on as a fun project. Choose a color scheme that will match your backyard or garden and let it dry when you've finished a second coat of paint. All parts will interlock, meaning it should fit nice and snug if you have it placed correctly.
​Kit includes:​
Approximately 18 interlocking wood pieces
Available on Etsy
2. Paintable Camper Birdhouse
As one of Etsy's picks, the Paintable Camper Birdhouse lives up to its reputation. The finished product will have you reminiscing about cruising on the road during one of your favorite trips.
Its model was inspired by a 1974 Scotty, and the seller put a retro spin on it. The construction of the birdhouse is fairly simple, but the details leave endless possibilities to make it customizable. Pop out the pieces, snap them together and voilà! No glue is needed. Note: it does not come painted, but leaves more room for creativity on your part!
​Kit includes:​
Instructions for each of the five punch cards
Over 40 pieces to help you make:

Awnings on three sides
Flowers for the two window boxes
Curtains
A spare tire
A leveling jack
A welcome mat
Two flamingos
A classic Weber-style grill
Available on Etsy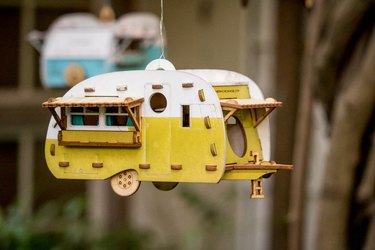 3. Birdhouse Log DIY Kit
It's still summer, but you can go into the holidays right now by purchasing this kit on Amazon. It's rustic and seasonal and has easy-to-follow instructions included in the package.
There will be some assembly required, but it's worth it, and the DIY part can be a blast to do with family. You'll get nontoxic waterproof glue, so it is safe for both the builders and the birds. Prepare it and hang it up with the twine provided. The best placement is either on a tree branch or roof overhang. The floor is removable, which allows access for cleaning whenever you would like.
​Kit includes:​
Birdhouse parts (over 40 pieces)
"U.S.A" and "Canada" signs
Nontoxic white glue
Twine
Instructions
Available on Amazon
4. American Barn Birdhouse Kit
Old McDonald had a farm – E-I-E-I-O! Bring the barn to your backyard with this darling DIY kit. It could be an adorable gift, especially for your birdwatching pals, or maybe you'd love to keep it for yourself. Either way, it is both easy and fun to build. To finish it, you will need to have your own Philips screwdriver, masking tape and some other optional items. It has a 1- to 1/4-inch opening so many species can fly in. If you need a bigger opening, a drill can be used to go up a size.
​Kit includes:​
Thick wood pieces
Instructions
Access to online instructions video
Available on Amazon
5. Wormhole Birdhouse DIY Kit
We give this one an "A" for creativity. It's ready to paint and assemble, so newbies and birdhouse DIYers are welcome. To put it all together, it requires some wood glue and rubber bands. The pieces arrive covered in masking tape, so that will need to be taken off on areas you want to paint, and the placements will help you stay in the lines for a flawless finish. Each birdhouse features a unique "wormhole" entry hole that you can fashion with all sorts of designs and patterns. Holes are predrilled, so there will be no power tools needed for this project.
​Kit includes:​
Ready-to-paint wood pieces
Two 0.25-inch dowels for optional perches
Instructions
Available on Etsy
These are not your everyday birdhouses, and yet we bet they will likely be your favorites. Express your creativity and stay inside your budget with any of these options. There are so many from which to choose, but you can't go wrong!