Etsy is a great site that allows you patronize small businesses directly and there's no better time than now to celebrate a community that deserves our support. The following vendors showcase some amazing Asian-American small businesses. We hope you take the time to explore and appreciate these creations inspired by Asian and Asian-American cultures. Who knows? You may find yourself becoming a new repeat customer!
Video of the Day
1. Story Made by Lisa
Lisa, the owner of Story Made by Lisa, has created some beautiful handmade earrings. These pieces are so unique that they will definitely add something special to any look without overpowering it. If you're looking to add some pieces that spark conversation, then this shop is for you. Lisa's earrings are so well made that the attention to detail is obvious from the first glance. You can see the extra care she puts into each piece.
Click here to check out her creations.
2. Bell and Thread
Boba lovers can rejoice because they can now enjoy their favorite beverage in candle form. Bell and Thread has created a candle that looks and smells exactly like a honey jasmine boba drink. They come in three different sizes: tea light, black cap jar and mini mason jar. The candles are made-to-order and contain coconut waxes, high quality fragrances and essential oils. This candle would be a great way to tie a room together or simply show your love for something you enjoy.
Click here to check out the shop.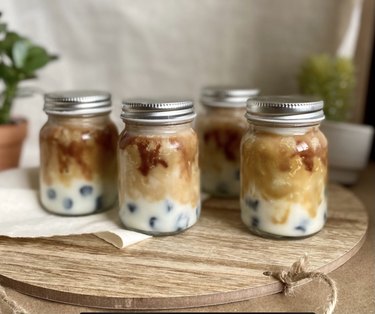 3. Asian Boba Girl
This next shop has so many great products that it's hard to choose only one. A favorite seems to be the jasmine milk tea candle. It's made with freshly steeped jasmine tea leaves that have been infused with soft notes of honeysuckle and milk cream. The scent makeup is mainly fresh jasmine tea with hints of white tea, honeysuckle and milk cream, and the base notes are amyris and violet powder. This candle will surely produce a strong yet comforting aroma that would help one relax. It's tranquility in candle form.
Click here to get a whiff.
4. Paper Cranes Candles
Do you love tea lights but wish they were a little more special? If the answer is yes, then the handcrafted pressed dried flower gel wax candle tumbler holder is for you. Paper Cranes Candles was able to create a tea light holder that showcases dried flowers and use it to show off ordinary tea lights. This would also make a great gift for someone who loves to create ambiance.
Click here to get one for yourself.
5. Boba Green
This next kit would be perfect for the person in your life who absolutely cannot live without bubble tea. It's marketed as a premium DIY bubble tea kit with ingredients sourced from Taiwan, no artificial powders and no excess sugars. The kit contains 8 servings of tapioca pearls, 4 servings of earl grey loose-leaf tea, 4 servings of Jasmine green loose-leaf tea, and two reusable Boba straws. The reviews all rave about the quality and about how easy it was to do.
Click here to get your own kit.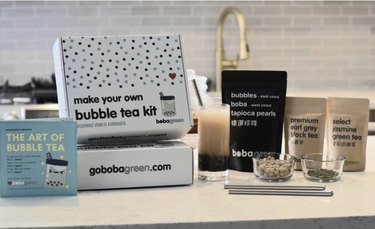 6. Shop Love Blush
Continuing with the theme of boba-inspired products, the next products are cute "Place boba here" coasters. Obviously, they would work for other drinks as well, but it's just more fun to have specialized items. They come in sets of one, two or four and are made of wood sealed with shellac and have a 1mm cork pad on the back. Another plus of the coasters is that since the wood is so unique no, two coasters will look exactly the same, making each piece one-of-a-kind.
Click here to get your one-of-a-kind coaster set.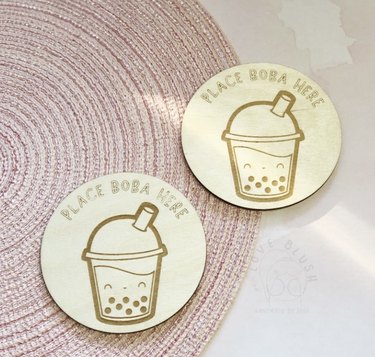 7. Subtle Asian Kitchen
One thing that most people love are reusable cups. They're good for the environment and can usually be customized. The Subtle Asian Kitchen's reusable cup fits the bill with its glass boba tea cup and reusable stainless-steel straw (the straw also comes in four colors). It also has a selection of three different stickers: a corgi, Frenchie or unicorn pride. You can enjoy boba tea, fruit smoothies, soda and water in this adorable cup.
Click here to get your own.
8. HM Care Store
This next item is for those who love their favorite drink so much, they'd like to smell like it, as well. Original bubble milk tea soap is a great idea for the boba lover in your life. It looks and smells like bubble milk tea and is scented with caramel pudding fragrance oil. Each soap bar is hand cut so the sizes may vary a bit, as well as the weight and shape. Just in case you needed more incentive to shop at this store, all of their proceeds are donated to worthy causes.
Click here to get a new soap and to make sure your money does a little good along the way.
9. Candle Gardens
With a name like Candle Gardens, it's easy to guess what this next store sells. One of its most popular candles is the flower candle, which is pink grapefruit scented. It's beautifully crafted, made of soy wax and comes in a mason jar. It contains high quality essential oils and has a burn time over 40 hours. This candle will brighten up any room with its citrus scent or make a great gift.
Click here to check it out.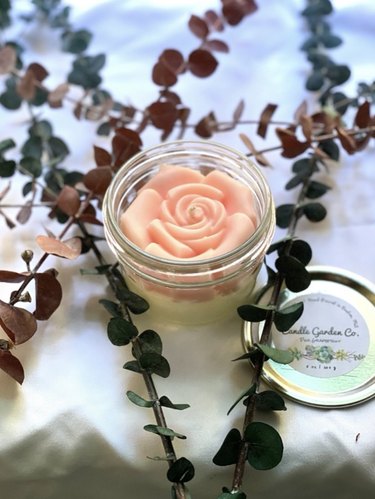 10. Kimcraftery
The last item on this list is another candle, but it's definitely not ordinary. It's a lychee mojito candle that's made of soy wax and has a burn time of over 50 hours. Its scent is described as sweet and fruity with a bit of fresh mint mixed in. This would be a great way to help your mind wander during an endless Zoom meeting or if you're simply trying to relax.
Click here to try it out.
At a time when tensions are heightened and people are going through difficult times, it's important to show support to those in need. All of these stores showcase talent in the Asian American community that should be celebrated, and by patronizing any of them, you would be doing just that. It also doesn't hurt that they have such great products to choose from. The hardest decision may be deciding how many of one item to get!