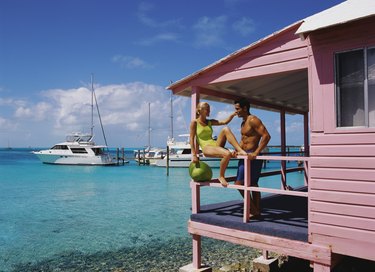 A deck covering adds style and prolongs the life of a deck. Image Credit: Comstock Images/Comstock/Getty Images
Warm summer nights spent with friends and family on the outdoor deck: They don't get any better than these. As a focal point for relaxation, outdoor grilling or just catching some rays, your deck should be pleasing to the eye as well as functional. One way to spruce up your deck is to cover the subfloor (which may be your current deck surface itself) with a new surface. Homeowners have a variety of outdoor deck coverings to choose from that install directly over an outdoor deck.
Video of the Day
Outdoor Carpet
Outdoor carpeting has come a long way since the 1980s, when carpeting your deck meant installing a plastic fake-grass surface that hurt to walk on with bare feet. You can still get that turf look, but you can also choose from plush, loop and low-pile carpeting with marine-backed properties that withstand exposure to water. Outdoor carpeting doesn't require stretching, and most brands cut easily with a utility knife. Opt for glue-down carpeting or wrap and tack the edges of the carpet around the ends of the deck for quick removal later. With a carpet, you'll want to lay plywood subflooring panels on top of the existing decking boards to rid the floor of the decking gaps that would leave your carpet uneven.
Composite Overlay
If your existing deck subfloor is level, you can install an overlay made of weather-resistant composite materials manufactured to resemble real wood or tile. Overlay products come in interlocking tiles or strips and, while they are more expensive than some outdoor decking products, they last for years. The caveat here is that your existing wood decking must be in decent shape in order to install the composite product on top. Replace damaged or cupped subfloor decking before installing a composite overlay. Another option is to pull up the existing decking and replace them with composite boards.
Deck Strip
Deck strip products are relatively inexpensive, and they come in long rolls of linoleumlike strips that cover existing deck boards. Each strip attaches individually. You'll need strips that are the same width as the deck boards. Install this product on a warm day when you can unroll the strips and smooth them flat. Installation requires nailing and might require additional gluing, depending upon the brand of deck strip you choose.
Rubberized Tiles
Outdoor rubber flooring tiles can be as thin as 1/4 inch to keep from adding much height to the current deck, or up to 2 inches thick to provide a cushioned surface. Rubberized tiles are durable and interlocking. If any damage occurs, you can replace a single tile without having to replace the entire deck flooring. Depending upon the brand and quality of the tiles, this outdoor flooring option is usually more expensive than outdoor carpeting and deck strip but still less expensive than composite overlay. You'll want a plywood subfloor for tiles in most cases, too.