Cleaning and organizing your home can seem like a daunting task, but it is so worth it. Having a clean and organized home helps to create a calm space for you to enjoy with friends and family. This beginner's guide to cleaning and organizing will help give you the tools you need to get started with creating the calm, relaxing space you deserve!
Video of the Day
How to Start Organizing
Step 1: Start small.
Starting small helps to eliminate feeling overwhelmed when it comes to cleaning and organizing your home. By starting in one room, or even one small space in a room, you will feel less stressed about getting started. Once you have cleaned and organized one small space, it will motivate you to go further. Cleaning and organizing are contagious…once you start, you will almost always be motivated to keep moving. The feeling of getting that first space clean will spur you on to clean and organize more!
Step 2: Declutter, declutter, declutter.
Before starting the actual process of organizing, you really do need to do a deep declutter. Starting with a small area will help get you in the groove of decluttering. Begin with something like your refrigerator. Start by emptying everything in the refrigerator out, then toss any items that are expired, no longer edible or that you aren't going to eat. Use a clean, damp cloth and your favorite all-purpose cleaner to wipe down the entire inside of your refrigerator, including shelves, doors, drawers and bins. See inspiration below for ideas on how to get your refrigerator super organized so you can see everything you have!
When decluttering other spaces in your home, it's really important to remember that you should only be keeping the things that you need and love. If you are having a hard time parting with some things, just remember that someone else may be able to use them, while they allow you to enjoy more space in your home. You can always donate or sell items that you no longer love.The key is to toss any items that are broken, missing pieces or tattered beyond wear. Donate or sell items that you or your family no longer use like old toys, baby items, clothing, furniture pieces that are no longer needed and other items that are stored in closets that don't get used. Getting rid of these items will not only free up space that can be used for other purposes, it will also help make it easier to access and enjoy the items you actually love and use more often.
Put Together a Cleaning Caddy
Before you start to clean and organize your home, it's always a good idea to have a cleaning caddy that you can easily grab and carry from room to room when you are cleaning. Your cleaning caddy doesn't have to include tons of different cleaners or gadgets. Only fill your cleaning kit with the tools and cleaning solutions that you need. For the actual cleaning caddy, you can use whatever is going to be easiest for you to carry from room to room.You can use a store bought cleaning caddy or make your own using a bucket, plastic bin, canvas bag with a handle, basket or whatever you have around your house.
Things You'll Need
cleaning caddy

rubber gloves

microfiber cleaning cloths

microfiber dusting mop

scrub brush

microfiber blinds cleaning wand

window and mirror cleaner

all-purpose cleaning spray

soft scrub cleaner
Homemade Cleaning Solution Recipes
How to Make DIY Cleaning Vinegars
Homemade Glass and Mirror Cleaning Wipes
DIY Soft Scrub Cleaner
Homemade Streak Free Window Cleaner
DIY Multipurpose Cleaner
DIY Non-Toxic Reusable Cleaning Wipes
Clean Surfaces
Once you have finished decluttering a space, it's really important to clean the space up before you start to organize. Giving the area a nice, quick cleaning will help it feel really fresh, which will help you keep the area clean longer.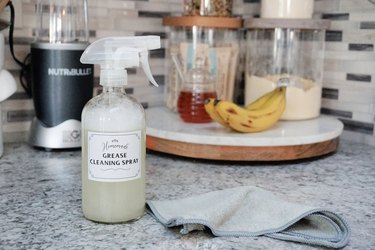 Quick Cleaning Tips
Put together a cleaning a caddy to make accessing cleaning supplies easier.
Clean from top to bottom so that anything you are cleaning falls downward and gets cleaned as you move forward.
Use a vacuum attachment to remove any debris left in drawers or on shelves and in the bottom of cabinets or closets.
Wipe surfaces clean using a damp microfiber cleaning cloth.
Remove any items that won't go back into the area you are cleaning.
Easy Cleaning Ideas
The Ultimate Room by Room Cleaning Checklist
11 Chemical Free Cleaning Hacks for a Spotless Kitchen
The Easiest Way to Clean Wood Blinds
10 Clever Refrigerator Cleaning Hacks
13 Things You Should Be Cleaning Often, But Probably Aren't
Let's Get Organized
When you are organizing your home, the most important thing you can do is group similar items together. Whether you are organizing your refrigerator, food pantry, kitchen cabinets, bathroom, family room, children's bedrooms, closets, garage or any other part of your home, keeping like items together is the key to being able to find and use what you have. When items are spread throughout your home or aren't grouped together, it's really hard to find and really see what you have, and things can become piled up easily. Finding ways to group like items together will give you and your family more direction when putting things away as well.
Kitchen Organization Ideas
When organizing in your kitchen, it's best to start with one small space. Organizing the one space will most likely motivate you to organize other spaces. Starting in the kitchen is great because it is typically the heart of the home and gets used the most. Once you've organized your kitchen, organizing the rest of your home will be a little easier. A good place to start your organizing journey is your refrigerator. As mentioned earlier, getting your refrigerator organized will help spur you to go further.
How to Organize Your Refrigerator
Earlier, we talked about decluttering and cleaning your refrigerator, now let's get it organized. The best way to organize your refrigerator is to group similar foods together. Most refrigerators have adjustable shelves and doors, and adding some bins will also help make your fridge more organized. Using clear plastic bins can help you group these foods together and they are great because you can see what is in them. They are super easy to pull out of the refrigerator when you are packing lunches, you or your children need a snack, and for planning and prepping meals. Here are some examples of foods that should be grouped together in bins or on shelves and in drawers…
lunch meats and cheeses for sandwiches
bagged veggies and fruits for quick snacks
prepackaged snacks and juices for kids
fresh vegetables
fresh fruits
bagged salads and meal kits
condiments and sauces
salad dressings
pickles and other jarred food items
milks, creamers and other drinks
By dividing these items up and storing them together in separate containers, it will make finding what items you have and putting them away after use so much faster and easier. This will not only make cooking and meal prep easier, it could also save you money since you will waste less food when you can actually see what you have.
​More Refrigerator Organization Tips​
Store leftovers in clear containers so you can actually see what's in them.
Clean out your refrigerator at least once per week, removing unused leftovers and expired items.
Remove fresh fruits and vegetables from plastic bags and place in clear plastic bins.
Wash and dry fresh fruits and vegetables when you bring them home so they are ready to use and eat.
Remove any outer packaging from prepackaged snacks like yogurt, juice boxes and dips and place the individual containers in clear plastic bins for easy access.
Label the bins so everyone knows where to put each food item.
Organizing the Rest of Your Home
Once you have organized one space, it's time to move on to the rest of your home. Use the refrigerator organizing tips above and apply them to the rest of your home. In each room the same rules apply…declutter, clean, then organize. Go through each room in your home slowly so you don't get overwhelmed, and do the exact same steps.
Get rid of any unused or unwanted items.
Clean the area.
Group similar items together.
Items to Help You Get Organized
When organizing the rest of your kitchen and home, use items like baskets, bins, stackable drawers and more to help corral similar items. There are so many amazing products available that can help you get organized and maximize space in your home.
Baskets
Plastic Bins
Airtight food storage containers
Small stackable drawers
Drawer dividers for utensils
Shelf steps for canned goods
Lazy susan for spices and small items
Baskets and bins can be used to corral toys, games, towels, clothing, books, and more in every room of your home.
Plastic, stackable drawers can be used under sinks to store cleaning items, in bathrooms to store makeup and toiletries, in children's rooms to store art and school supplies and smaller toys like legos, and can also used to store items like jewelry, cords for electronics and more!
Airtight food storage containers can be used to store dry food items and cereal, but they are also great for storing items like laundry detergent and pods in your laundry room.
The key to getting started with home organization is to start small, corral similar items together and make items easy to find and access. By implementing these tips, you can start to get your home organized and make your home a calm, relaxing space with less clutter!