Few people probably get excited about cleaning (if you're one of them, more power to you!), and if you happen to hate it, we know what ​will​ excite you: robot vacuum cleaners. Yes, you read that correctly. While they may not look as cute as the one in "The Jetsons," the good news is you don't have to live in the year 2062 for an automatic vacuum to be a reality in your home. If you can't stand vacuuming and are interested in hands-free cleaning, we've researched the best robot vacuum cleaners in 2021 for you.
Video of the Day
Just What Is a Robot Vacuum?
These highly advanced vacuums are programmed to do the vacuuming for you, so you only need to lift a hand occasionally to empty their contents or replace a filter. They typically feature a low-to-the-ground design and work on both carpets and hard floors. More basic robot vacuums may simply clean, but some connect to WiFi for advanced floor mapping data and allow you to program its schedule from a smartphone app, and many also connect to Google Assistant and Amazon Alexa.
Considerations When Buying a Robot Vacuum
​Features:​ Some robot vacuum cleaners only suck up dust and dirt, while others have dual capabilities such as vacuuming and mopping. Other things to consider are if the vacuum returns to the charging port itself, uses floor mapping technology or features an automatic shutoff after cleaning for a certain amount of time.
​Connected or not?​: Not all robot vacuums have WiFi connectivity—some are pretty simplistic. While those without connectivity are better for your privacy and security because they don't send data anywhere, you'll lose out on some more advanced features without WiFi connectivity, such as mapping and targeted cleaning.
​Bagged vs. bagless:​ While bagless vacuum cleaners save you the cost of purchasing bags, they also require more filters that need periodic cleaning—and when it comes to HEPA filters, replacing. The dust and mess of emptying the bin of a bagless model can also be problematic if you have asthma or allergies. So, there's not really a "perfect" option.
​Suction power:​ While greater suction power is generally a good thing, it also has some cons: Greater suction power almost always increases noise levels, results in higher power consumption and may wear out the vacuum sooner. It's not a make-or-break criterion unless the suction power is very low. That said, for robot vacuums, around 1,500 Pa (Pascals) is good and anything over 2,000 Pa is very strong.
​Dustbin/bag capacity:​ Robot vacuums typically won't have as much capacity as larger upright or canister vacuums. Most fall within a range of 0.3 liters to 0.5 liters. Some vacuums also have the capability to empty themselves for a certain number of days (often 30 to 60 days) before you have to step in and empty it yourself.
​Height:​ Most robot vacuums are disc-shaped and have a low profile so they can reach under furniture. The shorter it is, the more places it can fit, even if the difference is a fraction of an inch.
​Price:​ While advanced features and impeccable design normally justify a high price, this is all about what you're willing to spend and your needs. A fancy robot vacuum cleaner can easily go for $400 or more, with some inching closer to $1,000. So it just depends on your budget and if you're willing to pay more for convenience, usually.
​The size of your home:​ While this has less to do with the vacuum cleaner itself, it still matters. A small studio apartment probably doesn't need the same vacuuming machine-power as a 5,000-square-foot home, which could probably benefit from a robot vacuum.
The Best Robot Vacuum Cleaners
1. Best Entry-Level Robot Vacuum: INSE Robot Vacuum Cleaner With 400 mL Capacity
$85.00 at Walmart
If you're looking for a budget-friendly, reliable robot vacuum cleaner but don't care about extra bells and whistles, the INSE robot vacuum is for you. While it lacks Wi-Fi connectivity and the advanced floor mapping capabilities of some of the other vacuums on this list, it still offers three cleaning modes and provides a solid 60 minutes of continuous cleaning before needing to recharge. Featuring anti-fall and anti-collision functions and the ability to overcome obstacles up to 3/5 inches high, it can still navigate your home with relative ease. It also comes with a remote control, two side brushes and a cleaning brush. Though its suction power isn't the strongest, it's still capable of picking up surface level dirt and debris. For anyone interested in testing the waters of hands-free cleaning, this vacuum is an excellent starting point.
​At a Glance:​
​Bagless:​ Yes
​Suction:​ 1000 Pa
​Capacity:​ 0.4 liters
​Height:​ 2.83 inches
​Run time:​ 60 minutes
​Charging time:​ Up to 5 hours
​Highlights:​
Budget-friendly
Avoids unnecessary cleaning by recognizing where it's already cleaned
Comes with remote control for convenient activation
Works on hard floors and thin-pile carpet
Avoids stairs and colliding with other objects
2. Best Mid-Level Smart Vacuum: eufy RoboVac 30C MAX
$189.99 at Amazon (was $299.99)
$249.99 at Walmart
If you're interested in a smart vacuum but don't want to overindulge, the RoboVac 30C MAX is our pick. It can pair with Google Assistant, Amazon Alexa and the EufyHome app to begin cleaning on your vocal command. A full suite of sensors, including dual-hall sensors that detect boundary strips that you set, allow the 30C MAX to navigate dexterously under and around furniture, and even along edges. However, it's unable to clean specifically-targeted rooms and lacks the ability to digitally map out spaces, unlike the most advanced vacuum on this list. It utilizes BoostIQ technology to increase suction power within 1.5 seconds whenever it needs extra vacuuming strength to tackle a cleaning job. Its low profile of less than 3 inches allows it to reach under various types of furniture.
Overall, the 30C MAX is an excellent mid-level pick that goes beyond the basics, but lacks some of the cutting-edge features of the most expensive vacuums (and is more affordable as a result).
Tip
A similar model, the 25C, will be on sale for $99 during Walmart's "Deals for Days" event from Nov. 10 through Nov. 14.
​At a Glance:​
​Bagless:​ Yes
​Suction:​ 2000 Pa
​Capacity:​ 0.6 liters
​Height:​ 2.85 inches
​Run time:​ 40-100 minutes
​Charging time:​ 4-5 hours
​Highlights:​
Advanced sensors can detect boundaries you set
EufyHome app lets you control the vacuum from anywhere in your home
Advanced brushless motor reduces noise level
Connectivity to Google Assistant, Amazon Alexa and EufyHome app
Cleans for 100 minutes on hard floor, 60 minutes on thin carpet and 40 minutes on medium-pile carpet
3. Best Budget-Friendly Vacuum-Mop Hybrid: Kyvol Cybovac E31
$149.99 at Walmart
This hybrid vacuum is similar to the RoboVac 30C, but also features mopping capabilities. Compatible with the KYVOL app, Amazon Alexa and Google Assistant, it boasts smart navigation mapping, multiple cleaning modes and powerful suction. Its low profile of just under 3 inches allows it to easily reach under furniture. The 0.6-liter dustbin can be swapped out with the 0.3-liter water tank when you want it to mop floors, and the bottom of the vacuum utilizes a spinning side brush, roller brush that you can remove for cleaning, an omnidirectional wheel, drive wheels and a power switch. It comes with a charging dock and takes up to 6 1/2 hours for the battery to fully charge.
​At a Glance:​
​Bagless:​ Yes
​Suction:​ 2200 Pa
​Capacity:​ 0.6 liters (dust box), 0.3 liters (water tank)
​Height:​ 3 inches
​Run time:​ 150 minutes
​Charging time:​ Up to 6 1/2 hours
​Highlights:​
Can vacuum and mop (at separate times)
Low profile helps it reach underneath furniture
Features smart navigation mapping
Connectivity to Google Assistant, Amazon Alexa and KYVOL app
Returns to charging station using remote control
Competitive price point
4. Best Self-Charging Vacuum-Mop Hybrid: BISSELL SpinWave Hard Floor Expert Pet Robot
$299.99 on Amazon (was $399.99)
This vacuum-mop hybrid features a two-tank cleaning system that powerfully vacuums or mops your floors, powered by a lithium ion battery that lasts up to 130 minutes on one charge. When it's low on battery charge, it conveniently returns itself to its charging port. If you're worried that it will accidentally mop where it shouldn't, don't be: It contains a sensor that helps it avoid soft surfaces like carpet. However, areas with thick area rugs may sometimes confuse its sensors, so it navigates hard floor areas more easily. In wet cleaning mode, it uses a wood floor formula designed to restore your floors' natural shine. In the dry cleaning mode, a triple-action cleaning system utilizes dual spinning edge brushes, a rotating brush roll and powerful suction up to 1500 Pa.
Not to mention, every purchase of this product helps support the BISSELL Pet Foundation and its mission to help save homeless pets.
​At a Glance:​
​Bagless:​ Yes
​Suction:​ 1500 Pa
​Capacity:​ 0.3 liters
​Height:​ 2.2 inches
​Run time:​ 100-130 minutes
​Charging time:​ 4 hours
​Highlights:​
Can vacuum and mop (at separate times)
Sensor prevents it from falling down stairs or mopping on carpet
WiFi connectivity to smartphone app for scheduling and controlling
Automatically returns to charging dock after 130 minutes of cleaning
Quiet operation for a vacuum
Portion of purchase proceeds benefit pet welfare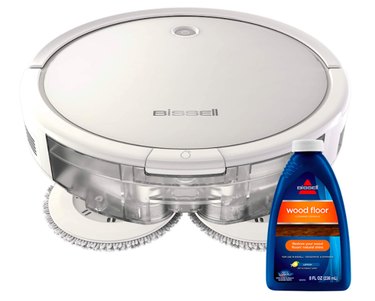 5. Best Overall: iRobot Roomba i7+ (7550)
$549.99 at Best Buy (Black Friday sale price; was $799.99)
$699.99 at Walmart
The Roomba i7+ introduces an exclusive upgrade to iRobot's Imprint Smart Mapping, making it the most intelligent vacuum on this list. Patented vSLAM navigation technology actively captures thousands of precise measurements each millisecond to optimize the amount and detail of coverage. Not only that—the i7+ is always learning, recognizing cleaning patterns and schedules and even giving you recommendations through the iRobot app. It also connects to Amazon Alexa and Google Assistant so you can activate it with a simple voice command.
The i7+ comes with five AllergenLock™ dirt disposal bags and also has a self-emptying feature that lasts up to 60 days before you need to change the disposal bag. Plus, it cleans using dual, multi-surface rubber brushes and a high-efficiency filter that traps 99 percent of dog and cat dander allergens, making it ideal for homes with pets. Though it won't be able to deep clean as well as the best upright or canister vacuums, the i7+, while pricey, is as good as it gets when it comes to convenient, smart technology-assisted cleaning for under $900.
Tip
While the iRobot Roomba series has newer models, like the s9+, we don't find them to be different enough to justify the extremely high prices (over $1,000), so we wouldn't go past the i7+.
​At a Glance:​
​Bagless:​ No
​Suction:​ 1800 Pa
​Capacity:​ 0.5 liters
​Height:​ 3.63 inches
​Run time:​ 90 minutes
​Charging time:​ 2-3 hours
​Highlights:​
Smart mapping technology; also uses cameras to navigate
Reactive sensors to avoid getting stuck
Self-emptying base
Connectivity to Google Assistant, Amazon Alexa and iRobot app
Can clean specific rooms via voice command or the app
Keep Out zones (no-clean zone) feature on app
Recharge and resume capability
Can pair with the Braava jet m6 Robot Mop