Car stickers are a fun way to support your favorite team, vacation destination, brand and so much more. After a while, you may want to remove the sticker from your vehicle, only to find that it will not budge. This easy tutorial will show you how to remove stuck on stickers from cars in minutes!
Things You'll Need
Orange essential oil

Razor blade

Paper towel
Step 1: Score Sticker
Use a razor blade to lightly score lines in the sticker.
Warning
Do not press hard on the razor–just lightly score the sticker so you don't scratch your car's window.
Step 2: Add Essential Oil
Use your fingers to work the orange essential oil into the score lines that you made on the sticker. The orange essential oil will help loosen the sticker from the car window.
Step 3: Remove Sticker in Strips
If the sticker is difficult to remove, add more orange oil around the edges and use your fingers to work it into the sticker. After a minute or two, the sticker should start to pull away from the window.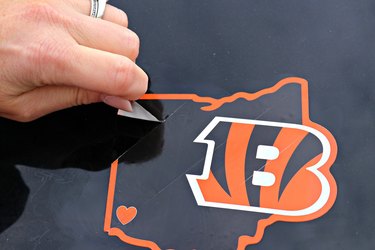 Step 4: Wipe Area
Once the sticker is removed, wipe the area clean. Now you can add a new sticker or leave your window clean and sticker free!