If you only pull out your clothes steamer when you've planning to wear linen, you're missing out on a ton of cleaning potential. Handheld clothes steamers are easy to use, totally portable and make quick work of loosening stains and sanitizing surfaces. Check the manufacturer's instructions before using this handy gadget for cleaning, though. Not only is it important to review safety instructions to prevent burns, but you'll want to know exactly how hot your particular steamer can get. Sorry to all those kids who love doing chores (ha!) – this is one cleaning tool that's really only safe for adults to use.
Video of the Day
1. Deep Clean Your Mattress
It's your refuge from the stressful world, but thinking about how dirty your mattress is could ruin your rest and relaxation. Your handheld steamer can help you set your mind at ease a bit. Running the hot steam over the surface of the mattress should kill some of the contaminants that linger there. Do this task in the morning, as it may take several hours for the mattress to dry.
2. Treat and Lift Carpet Stains
Life is messy, and your carpet is proof of that. Use your clothes steamer to treat old set-in stains and to keep new spills from setting in. Direct a blast of steam at a dirty patch of carpet, then blot with a towel. Repeat a few times if necessary, and follow up with carpet stain solution for really tough spots. Though this strategy won't eliminate all serious stains, it should help loosen any debris to make cleanup easier.
3. Make Your Car Look (and Smell) Like New
There's a reason professional car detailers often use steam as part of the cleaning process. Skip the pricey service and freshen your car's upholstery and carpets using your clothes steamer. Vacuum everything first, then move the steamer over all stained or soiled areas. It should loosen debris, kill germs and minimize any odors lingering in the seats and floor coverings.
4. Scour Tile Grout
There are plenty of grout-cleaning products on the market today. But if you want to banish grime and avoid harsh chemicals, your handheld steamer is one of the better tools for the job. Run the steamer over tile grout in your bathroom and kitchen. Follow with a scrubbing brush to remove all the debris that the steamer loosened.
5. Refresh Draperies
By the time your drapes or curtains are finally mounted, the last thing you'll ever want to do is put them back up again. Let them stay where they are and use your steamer to tackle the dust and odors that gather in the heavy fabric. As long as the label specifies that the curtains can be washed in water (as opposed to being dry clean only), a few passes with your steamer should leave them looking and smelling fresher. You can also use a steamer to smooth away wrinkles in drapes.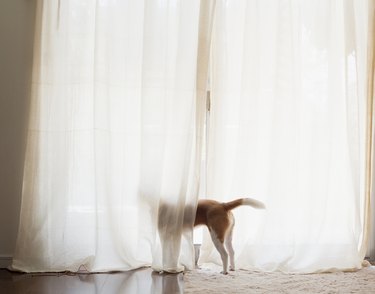 6. Defrost a Freezer
Need to empty out a freezer? If there's a thick layer of ice built up on every surface, it could take days to let it melt away. Speed up the process by repeatedly running your steamer over that stubborn icy buildup. Be sure to put towels under the freezer's opening to collect all the water that will soon come trickling out.
7. Sanitize Exercise Equipment
Whenever you break a sweat in your home gym (aka living room, for many of us), your health gets a boost but your workout equipment suffers the consequences. It's hard to get excited about your next workout when you're picturing all the germs that are flourishing on your hand weights and yoga mat. Does your steamer reach at least 212° F? If so, its heat can be used to sanitize hard surfaces.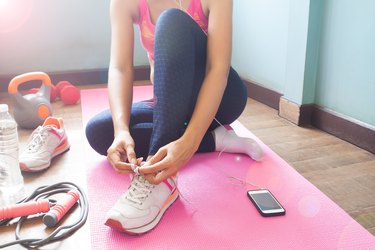 8. Kill Germs on Countertops
By the end of the day, your kitchen counters have taken a beating. Even if you wiped away the crumbs left by dinner prep and cleaned up the spills caused by messy eaters, there are countless germs lingering and multiplying on these surfaces. Skip the chemical-laden sanitizing sprays and use the power of hot steam instead. Make a quick pass over countertops with your steamer and go to bed confident that you'll wake up to a clean kitchen.
9. Clean Marble or Granite Floors
Steam cleaning isn't appropriate for all types of flooring. Wooden floors, for example, shouldn't be cleaned this way. But if your home includes any marble or granite flooring, your clothes steamer can be part of your cleaning arsenal. Use it to spot-treat any stains or spills, then wipe them away with paper towels.
10. Make Windows and Mirrors Shine
Do you put off washing your windows until they're totally coated in grime? Can't blame you; this is one cleaning task that tends to be physically demanding and ultimately frustrating, when the sun shines through and highlights the streaks left behind. After scrubbing away any noticeably dirty spots, use your handheld steamer to coat windows with warm steam. Use a microfiber cloth or squeegee to clean the steam away. The same technique works for cleaning mirrors, too; just keep steam away from wood or painted surfaces.